Caves
Explore Hanh Cave - The Longest Cave in Halong Bay
Location
Hanh Cave is located at the bottom of Quang Hanh mountain, about 20 kilometers (9 miles) from Bai Chay Tourist Wharf. It is known as the longest cave in Halong Bay, measuring at 1.3 kilometers (0.8 miles) in length. The mouth of the cave sits relatively close to sea level, so if you want to visit, you must wait until low tide and then enter on a small sized boat or kayak.
Once inside, the pristine beauty of Hanh Cave will become immediately apparent as stalactites glitter around the ceiling and visitors can take in the wonder of such impressive natural forms.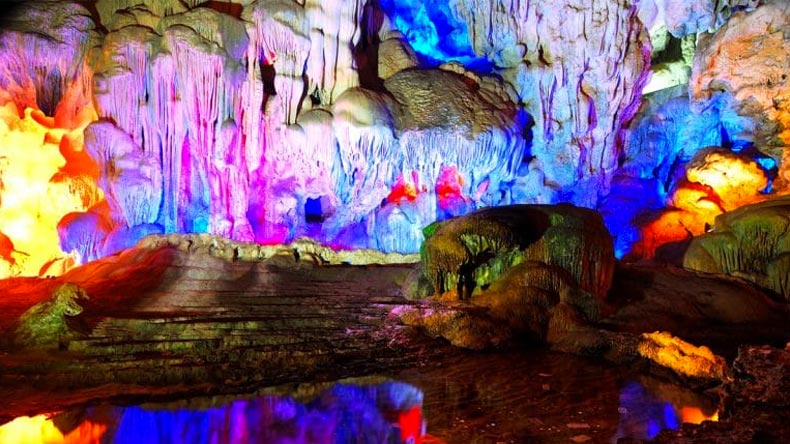 A Legend
The cave is home to Tam Co temple, which means 'Three Girls Temple'. This temple is said to have been built by fishermen who pray for the lost souls of three young girls who got lost and died in the Hanh Cave. The story goes that on a stormy day three girls took refuge in the cave and became so distracted by the cave's beauty that they failed to notice the passage of time and the tide rising, got lost inside and eventually died. Now you may still see locals lighting incense sticks and praying inside the temple.
Hanh Cave is best enjoyed by kayak and is very well-suited to adventurous travelers. Be sure you pay attention to the time and rising tides or you may end up lost forever in the longest cave in Halong Bay! Hanh Cave is well-suited to adventurous travelers who want to experience something new and interesting.
Questions and Answers
(0)
Be the first to ask a question on this page
READ THIS NEXT
Thien Cung Cave is in the south-west of Halong Bay. The story of this cave is an interesting one as, …
Read more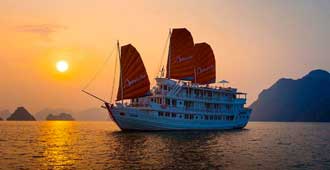 Discover the charming and exotic landscapes of Halong bay on an all-inclusive luxury cruise!
Meet local experts
Need to create your own Halong bay trip?
Call us now: +84 987 24 6600 (Whatsapp)
Customize Your Tour
QUESTION FORUM:
Halong Bay: Questions