Caves
Kim Quy Cave: A Guide to The "Golden Turtle" Cave
The name
Another name for this magnificent cave is the Golden Turtle Cave. Located on the Dam Nam Island, the cave runs from north to south over 100 meters with the Dam Bac Islet on one end and the Soi Sim one on the other. The cave is approximately 5 to 10 meters in width, making it quite narrow, and 187 meters in height.
Legend
Just like all the other caves in Halong Bay, Kim Quy cave has a good story linked to it as well. It is said that after the Golden Turtle aided Emperor Le Loi in defeating his enemies, the Turtle took back the magic sword he had given the emperor and swum back to Halong Bay.
Once there, the giant Golden Turtle found so many evil enemies in his path that it was forced once more to battle. After emerging victorious it so was exhausted that it looked for some shelter to take a rest. While it was taking a rest, it turned into stone resulting in the cave we can admire in Halong Bay today.
To this day we can still admire all the ancient wounds the Golden Turtle had to endure over the course of his many lengthy battles.
Questions and Answers
(0)
Be the first to ask a question on this page
READ THIS NEXT
Thien Cung Cave is in the south-west of Halong Bay. The story of this cave is an interesting one as, …
Read more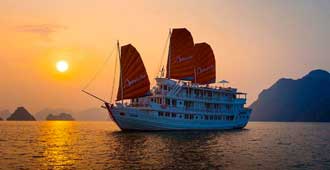 Discover the charming and exotic landscapes of Halong bay on an all-inclusive luxury cruise!
Meet local experts
Need to create your own Halong bay trip?
Call us now: +84 987 24 6600 (Whatsapp)
Customize Your Tour
QUESTION FORUM:
Halong Bay: Questions