For traveler's dropping in on Halong Bay on an international cruise there is limited time to make the most out of their trip. Visitors on international cruises should be clued up on everything they can do to make their overnight stay go smoothly. To help save time, we've gathered all the essential information that travelers need to get all the boring bits out of the way so that the fun can begin!
Requirements to Enter the Mainland
Most foreigners require a visa or other official permit to enter the Vietnamese mainland. This can be applied for by the individual themselves or via the cruise operator. It's easier to allow your cruise operator to apply for your permit for you and this is usually done at no additional cost.
Foreigners also need to be registered with the local police authority to stay overnight in Halong Bay. Travelers need not worry about this if they are taking a Halong Bay cruise whilst there, as the local cruise operator will register you. Cruise operators need their passengers' passport numbers and international cruise ship information (if applicable).
| Nationality | Passport Requirements | Visa Requirements |
| --- | --- | --- |
| United States | Yes | Yes |
| United Kingdom | Yes | No (15 days) |
| Australia | Yes | Yes |
| Canada | Yes | Yes |
| India | Yes | Yes |
| France | Yes | No (15 days) |
| Germany | Yes | No (15 days) |
| New Zealand | Yes | Yes |
Tip: Check out this website for a full list of visa requirements to Vietnam and Halong bay.
How to Get from the International Cruise Ports to the Local Ports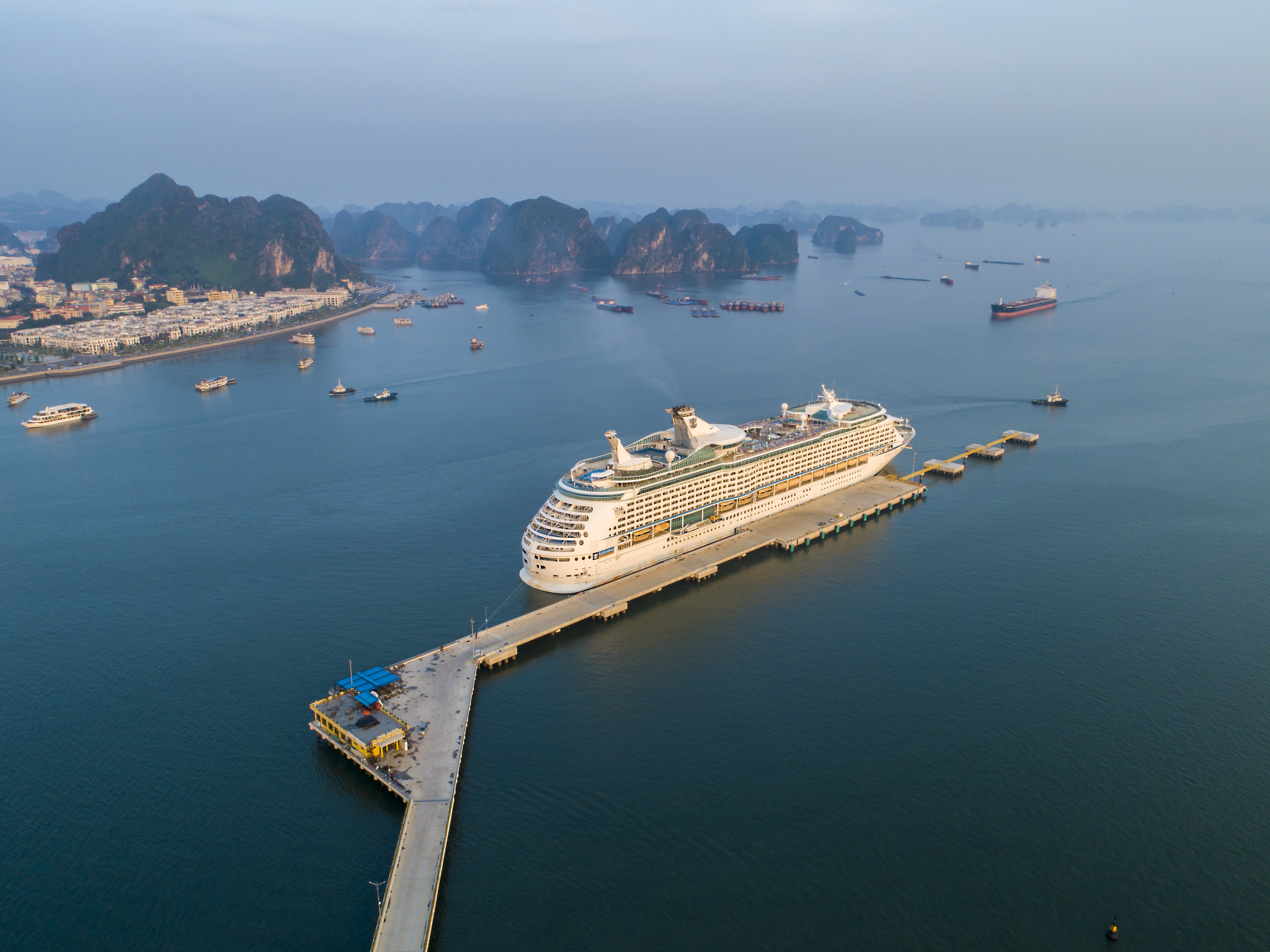 Halong International Cruise Port (http://www.halongport.vn/)
There are currently four possible ports where international cruise liners dock:
Van Hai Port
Cai Lan Port
Vinashin Port
Halong International Cruise Port
From these ports it may be possible for your Halong cruise operator to pick you up by shuttle bus. The distance from the international port to the local ports is around 30 minutes on average.
If the weather is good, it may be possible for the cruise operator to send a small boat to pick up guests from the international cruise port.
Travelers should contact their Halong cruise operator to arrange a transfer from the international cruise port. Be aware that transfers may be charged as an additional fee outside of your cabin price.
If a transfer isn't available, tourists can make use of the taxis that usually stay around the entrance of the port. When taking a taxi in Vietnam always make sure the taxi driver uses the taxi meter.
How to Book a Halong Bay Tour and For How Long?
To book a Halong Bay tour, tourists should book in advance online through a Halong cruise operator's website or via a comparison website. Alternatively they can also contact the operator directly by email or phone. It's highly recommended that visitors book in advance as tours and cruises may become fully booked if left to the last minute.
If it's not possible to book a cruise in advance, we still recommend booking online even if you are physically in Halong Bay. This is because there is a risk of being scammed or overcharged if you try to book in person at one of the ports in Halong Bay.
Tourists can book a day cruise or 2 day 1 night cruise which should enable them to see enough of Halong Bay and get back to the international cruise ship in time.
Whether a day trip or a 2 day 1 night cruise is the best option is down to how long the individual's international cruise is in port. If you can stretch to do a 2 day 1 night cruise we would strongly recommend doing so as this gives you enough time to truly experience a stay in Halong Bay.
If you cannot stay overnight in Halong Bay, choose your day trip carefully and make sure it gives you enough time to return to the international cruise ship.
What International Cruises Visit in Halong Bay?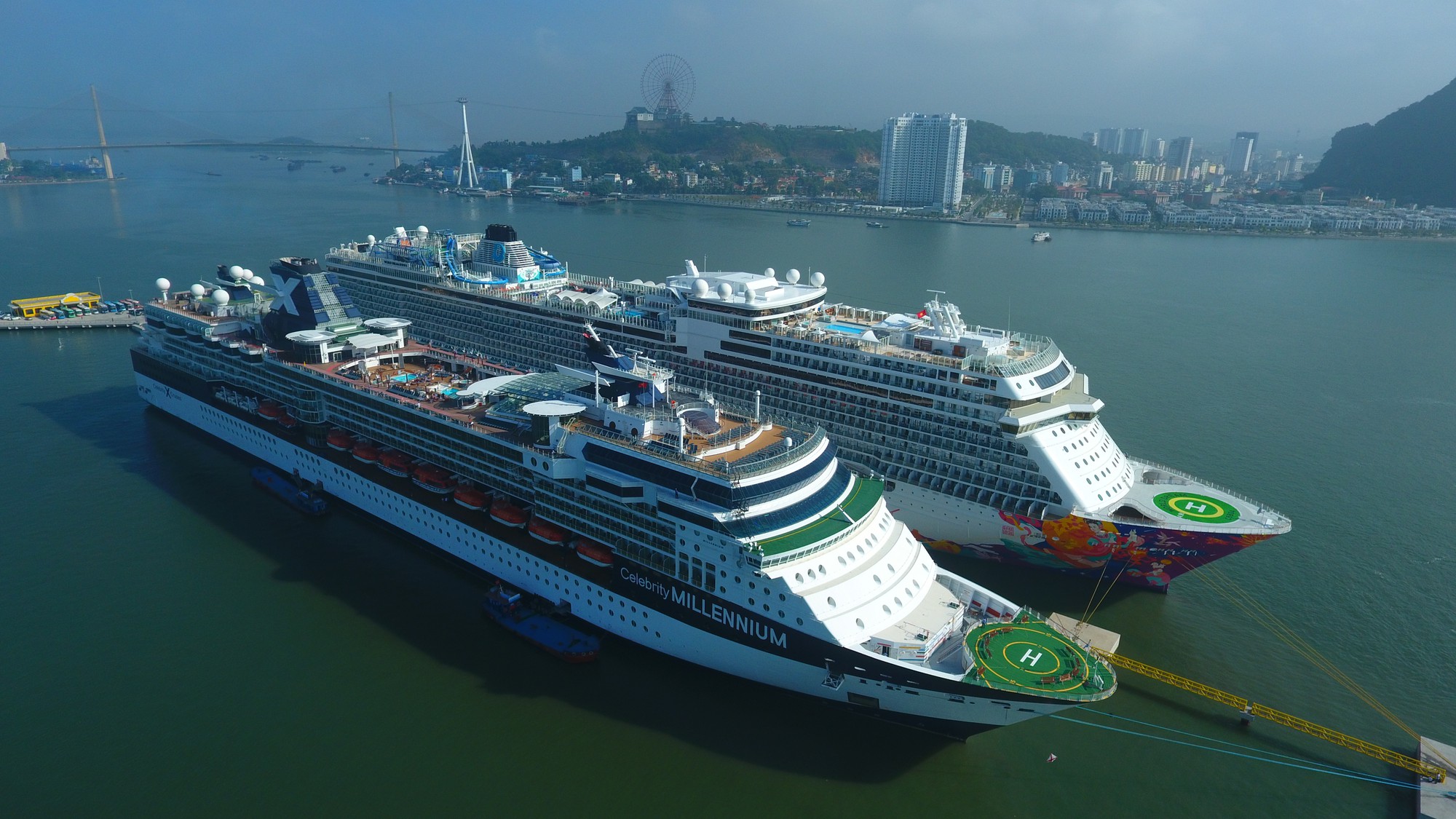 Celebrity MILLENNIUM visiting Halong bay in September 2019
1. Diamond Princess Cruise
Diamond Princess Cruise visits Halong Bay as a port of call on many of their Asia Cruises, stopping at Cai Lan Port. In 2020, they will be visiting Halong Bay on the Southeast Asia Lunar New Year itinerary, starting on January 20th, 2020. This is a 15 day cruise, starting and ending in Tokyo.
The Diamond Princess is an award-winning Japanese cruise line where guests can experience true luxury at sea. Everything from the freshly prepared sashimi to traditional Japanese baths is executed perfectly on this cruise. The staff are accommodating, offering traditional Japanese hospitality at all times. The ship has 7 different types of cabin, with varying levels of luxury, and for guests with limited mobility there are also wheelchair accessible cabins. In terms of dining, they serve a range of cuisines including Italian and Japanese, and guests can also benefit from the 24hr room service.
There is a casino, gym, spa and sports facility onboard for those that like to keep themselves entertained. The Diamond Princess also has a great entertainment program, with an outdoor cinema, clubs and a theater that stages musical productions.
2. Azamara Cruise
Azamara Cruise typically visits Halong Bay for a total of 29 hours, from 08:00 a.m on day 1 to 01:00 p.m. on day 2. At Halong Bay the Azamara will either dock at Cai Lan Port or ferry passengers into Bai Chay Tourist Wharf on smaller boats.
Azamara emphasizes immersive travel, aiming to take its guests deeper into the places they visit, with more overnight stays at smaller and less busy ports. They wish to give their guests the opportunity to see their destination ports authentically from the locals' perspective with excursions run by local tour operators that focus on immersing the guests in local arts, culture and history. Azamara's ships are also slightly smaller, allowing them to travel closer to interesting ports of call where larger cruise ships cannot go. Azamara's accommodation aims to give guests a high level of comfort and a feeling of exclusivity.
This cruise line is perfect for those who wish to get up close and personal with local culture in the destination ports.
3. Celebrity Cruise
Celebrity include Halong Bay on many of their Asia itineraries, often paired with ports in Japan, Taiwan and Thailand. The Celebrity Cruise ship typically docks in Cai Lan Port although this is subject to change.
Celebrity Cruise is an award-winning luxury cruise line, with a beautiful fleet of wonderfully designed ships. Their accommodation is modern, elegant and welcoming. With their 'over-the-top' amenities Celebrity aims to exceed its guests expectations. Celebrity offer premium level service, with a crew member for every 2 guests, they aim to cater to your every whim.
Celebrity also offers an exceptional dining experience, with outstanding food crafted by a michelin-star chef and world-class wines served by experienced sommeliers.
For those who wish to fully unwind and relax, there are spas onboard, as well as a fitness center with classes. Other activities on Celebrity Cruise include a Hot Glass Class where guests can learn to blow their own glass creations, a contemporary art gallery, basketball, ping pong, golf and a galleria where guests can shop 'til they drop.
This cruise is a great choice for families, as they have a unique Camp at Sea program, where children are kept entertained with activities in art, culinary, recreation or S.T.E.M that are run by professional youth counselors.
4. Holland America Line
Holland America Line make port in Halong Bay on several of their 'Far East' cruises, often in combination with cruises that make port in China and Japan, before heading to Da Nang. Holland America usually drop their passengers off at Bai Chay Port.
Holland America Line's cruises offer a traditional approach to cruising. Onboard they have a beautiful selection of elegant bars and lounges with consistently good entertainment options. Entertainment options are varied but include the ships' Music Walk which has four different performance venues where guests can enjoy live rock'n' roll, classical or blues music, or theatrical performances.
Aside from musical entertainment, Holland America also runs a Microsoft Windows Digital workshop, meditation classes and a book club. They also have a special partnership with BBC Earth, meaning that there are many programs and classes offered that are focused on the amazing wildlife and landscape that guests see on their cruise.
There are a number of specialty dining options for passengers to choose from with cuisine ranging from Italian, seafood to Asian Fusion.
The usual demographic who travel on Holland American Line cruises are solo-travelers, families, and older couples. Holland America has good wheelchair access which is great for those who have limited mobility. The kids club makes Holland America a great choice for families.
5. Seabourn Cruises
Seabourn Cruises are an intimate, ultra-luxury cruise line. It visits Halong Bay on several of its Asia-focused cruises such as the 7-Day Pearls of Vietnam Cruise and the 14-Day Thailand and Vietnam cruise. Halong Bay also features on many of Seabourn's famous round-the-world cruises.
As an official partner of UNESCO, Seabourn Cruises often have UNESCO World Heritage Sites or sites of interest as its destination ports, which may be why Halong Bay features so regularly on its itineraries! Due to this partnership, Seabourn's excursions often include a special guest who is an expert who can give more information on the excursion. This could be a historian, archaeologist or other academic.
Seabourn also run 'Seabourn Conversations' where guest speakers join the cruise to talk about one of the destinations and its culture. Whilst in Halong Bay, Seabourn has five of their own organized tours for its passengers to choose from.
The cruising experience on Seabourn is more intimate as it has a higher crew to passenger ratio than many other cruises. The service is ultra-luxury but relaxed and less formal than other cruises. Luxury and comfort are the most important values on this cruise.
Seabourn also stands out from other cruises as absolutely all dining and drinks are included in the cabin fare, including those requested through their 24-hr room service. Whilst enjoying the exceptional dining experience on Seabourn Cruises, passengers might notice the partnership with acclaimed restaurateur Thomas Keller, who has developed some divine dishes for guests to try.
While at sea, guests can make the most of the onboard spa, with mindfulness, meditation and yoga classes, go shopping, play some card games in the Card Room, or spend time in the casino.
6. Norwegian Cruise Line
Norwegian Cruise Line anchors in Bai Chay Ferry Terminal as part of many of it's Southeast Asia cruise itineraries, which usually include Thailand, Cambodia, Singapore and Hong Kong.
Norwegian prides itself on giving it's guest a 'freestyle' type of cruising, offering them more freedom to pick and choose what they want to do on their trip. On Norwegian Cruise Lines families can make their cruise experience their own.
Accommodation on Norwegian Cruise Line is luxurious, spacious and very comfortable. The most expensive cabins come with a 24/7 concierge and butler service to give guests an extra special exclusive experience.
The dining experience on Norwegian is as flexible as their cruise style. Passengers may dress how they feel comfortable and enjoy the kind of food they fancy on any particular day, this may be: Western food, Asian Fusion, buffet or any of the specialty dining restaurants (although these are not included in the cabin fare).
Onboard there is a spa and thermal suite and for entertainment, a choice of broadway shows, a magic show and a variety of clubs including a jazz club and comedy club!
7. Crystal Cruises
Guests of Crystal Cruises enjoy an unrivalled ultra-luxury 6-star cruise experience, and this is why Crystal is chosen by so many savvy world-travelers. The ships in the Crystal fleet are elegantly designed to feel friendly and intimate while maintaining a luxurious atmosphere, they also have the highest space to guest ratio of any cruise ship around.
The award-winning Crystal Cruises offer unparalleled service to guests, aiming to give them the experience of absolute exclusivity.
Dining onboard is always a pleasure as there many specialty restaurants serving Italian, Brazilian and Chinese food. The food is prepared by an army of talented chefs trained by world-renowned Japanese chef, Nobu. Passengers say the food is excellent and the service is superb.
For onboard entertainment, there are lavish Broadway style musicals and cabarets as well as karaoke and a ballroom. Crystal cruises also offer enrichment programs that can teach their passengers a skill for life, such as a new language or maybe some tai chi. At times there are onboard lectures about interesting topics. Other entertainment options include an onboard driving range and indoor gym and spa.
8. Silversea Cruises
Silversea Cruises dock in Tuan Chau port when visiting Halong Bay, where they offer their own 4-star cruise onboard a Silversea Junk ship.
Silversea are the largest all-inclusive ultra-luxury cruise line in the world! This cruise line prides themselves on their personalised service, where staff they aim to anticipate their guests' needs before the guest even knows it themself. There is a staff-to-guest ratio of almost 1:1 which is practically unheard of and helps them to really go the extra-mile to please guests.
The ships are smaller and more intimate and all accommodation options are suite-rooms with ocean views and include butler service. It's impossible not to feel like royalty when staying with Silversea.
They give a traditional cruising experience with a focus on fine dining, luxurious accommodation, premium service, and fun activities and entertainment. Dining options on this cruise are Italian, seafood and steak, Thai, French and Japanese. Silversea ships have a selection of bars and cafes onboard, as well as a casino, a card room and library.
Silverseas' facilities also include an activity center for children and fitness and wellness options such as a pool, running track, gym and spa.
Potential passengers should be aware that Silversea Cruises are a relatively formal cruise line and have smart dress codes enforced in the evenings.
Questions and Answers
(0)
Be the first to ask a question on this page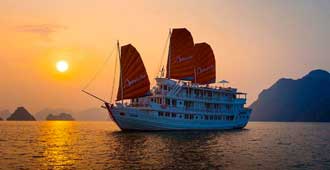 Discover the charming and exotic landscapes of Halong bay on an all-inclusive luxury cruise!
Meet local experts
Need to create your own Halong bay trip?
Call us now: +84 987 24 6600 (Whatsapp)
Customize Your Tour
QUESTION FORUM:
Halong Bay: Questions