How to Save Money: 8 Saving Tips For Your Halong Bay Cruise
These are our top tips to help travelers get the best deal possible for their Halong Bay cruise. It may take some extra work but it is possible to get a great cruise for a good price. To get the best deal, make use of a combination of these tips.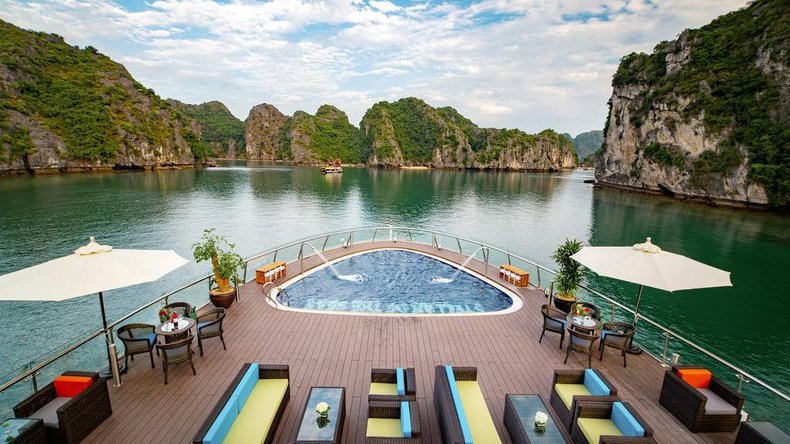 1. Search Price Comparison Websites Before Booking Online
Oftentimes, booking online is the cheapest course of action when booking accommodation. When booking a Halong bay cruise, it's a good idea to browse several price comparison websites to gather information on the best deals before booking.
Travelers should first do research on which cruise line they would prefer to use, and then search the cruise lines on each comparison website, eventually choosing the best deal.
Some price comparison websites to check:
Agoda.com
Booking.com
HalongBayTours.com
2. Book Early to Benefit from Early Bird Promotions
Especially if you would like to take your trip during peak tourism season, you should consider booking your cruise as early as possible. Early-bird bookers sometimes benefit from early booking deals so keep an eagle-eye out for these as soon as you've decided to make your trip to Halong Bay.
3. Look For Last Minute Promotions
Alternatively, it can sometimes pay off to book last minute! Travelers with the flexibility to book a trip at a moment's notice may enjoy some flash deals as cruises try and fill up the empty spaces on their vessels before the cruise date.
4.Talk Directly with the Tour Operator
Another option to save some money on your cruise is to talk directly to the cruise operator to find out if there are any secret deals that you could use to your advantage. Look on the cruise operator's website to find their contact details, or if you're in Hanoi, it's possible to look up the location of the operator's office and go and speak to them in person.
As well as saving money on the cruise itself, cruise operators sometimes offer promotions such as free shuttle to and from Hanoi, free visa letter or a free tour in Hanoi so be sure to ask staff if there are any promotions that could benefit you.
Tip: A smile goes a long way. Be friendly and polite and the staff may be more inclined to help you out.
5. Haggle: Don't Take the First Deal
Sometimes if you want a good deal you have to work hard for it. There is a lot of competition in Hanoi for competing Halong bay tour operators, take advantage of this by visiting a few and using competing offers to haggle the price down as much as possible. This could take time but it could be worth it if you can save $40 USD.
6. Book in a Group and Negotiate a Group Discount
Tourists traveling in larger groups may be able to negotiate a group deal when booking a cruise. A group discount could be negotiated for the cruise itself plus transport to and from hotels.
7. Book the Trip During the Off-Peak Season
Prices become inflated in the peak tourist season as there is a much higher demand for cruises. As the demand is higher cruises can ask for more money per person or cabin. If you don't mind what time of year you visit Halong Bay, consider booking the cruise during the off-peak season to make some considerable savings.
8. Consider a Shorter Trip to Save Money
The 2 day 1 night cruise itinerary is by far the most popular option but if you can't afford that, go for the day cruise option! These can be as cheap as $30 or $40 USD if booked at the right time of the year, possibly even cheaper during off-peak season, and is a great option for those who can't afford to stay overnight in Halong Bay.