Explore The Halong Bay's Cultural Values
Halong Bay has always played an important role in Vietnamese history and is highly valued as a culturally significant area for the Vietnamese people.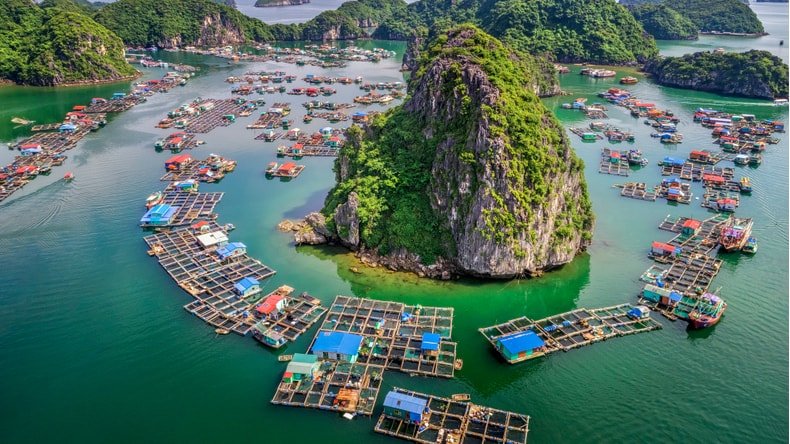 A Lifetime on the Sea 
Halong bay's 1600 inhabitants live primarily on four floating fishing villages named: Ba Hung, Vung Vieng, Cua Van and, Cong Tau. Built originally in the early 19th century to serve as a place for fishermen to sell their daily catch, these floating villages soon became a place to live for many of the fishermen and their families. Since then, people have largely remained in the floating villages, with a break during the First Indochina War from the years of 1946 to 1954 (Source). Today the villagers mainly make a living from the booming tourism that thrives in Halong Bay, but the villages are still a serene and unique place to visit.
Historical Trade 
Throughout the 12th century, the Van Don port in Halong was the busiest port in the North of Vietnam. Foreign traders from faraway lands were welcomed to trade delicacies from their respective countries. The port attracted many international merchants because the rocky islands separated the bay into lagoons and canals which made for the easy and safe mooring of their ships. Halong's status as a hub for sea trade made it the gateway for foreign spices and silks to enter Vietnam. No longer a major seaport, in modern Halong Bay the main business is to be found in the tourism industry!
A Royal Touch 
Bai Tho Mountain is one of the highest mountains in Halong city, Quang Ninh. In the 15th century a poem, written by the great Emperor, Le Thanh Tong, was etched into a cliff on the magnificent Bai Tho Mountain. In English "Bai Tho" roughly translates to "The Mountain of the Poem". Bai Tho Mountain offers spectacular views and it takes approximately 1.5 hours to get to the top.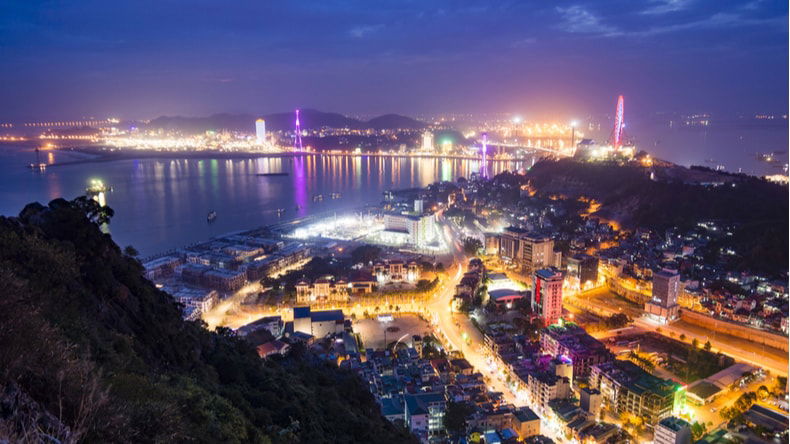 Halong city, a night view from Bai Tho Mountain.

Naval Victory 
On the western side of Halong Bay, you can find Bai Chay. Currently, a popular beach resort in the Quang Ninh province, historically Bai Chay has quite a different story. It was here that the Tran Dynasty enjoyed a resounding victory against Mongol aggression by setting fire to their prized fleet. Another thundering triumph was achieved in the ancient Dau Go Cave when Grand Prince Tran Hung Dao enjoyed a tremendous victory on the Bach Dang River.
Vietnam's history is rich with military confrontation and yet Halong Bay has stood strong throughout the ages. It is perhaps this military past that has helped the Vietnamese people to value resilient natural treasures such as Halong Bay.