Caves
Dau Go Cave: A Guide To The "Wooden Head" Cave
Dau Go Cave or "Wooden Head" or "Wooden Stakes", is on Dau Go Island and is the biggest cave in the Halong area. Dau Go is quite far from Bai Chay Tourist Wharf at around 7 km, and 3.5 km from Tuan Chau Marina.
The cave
Don't let the distance put you off: Dau Go Cave is one of Halong Bay's most famous caves due to its sheer size and volume. When French tourists first explored the cave in the 19th century they called it "Grotte des Marveilles" which means "Cave of Wonders" in English. And a cave of wonders it truly is - words can't do justice to the cave's beauty so you'll have to go and see for yourself!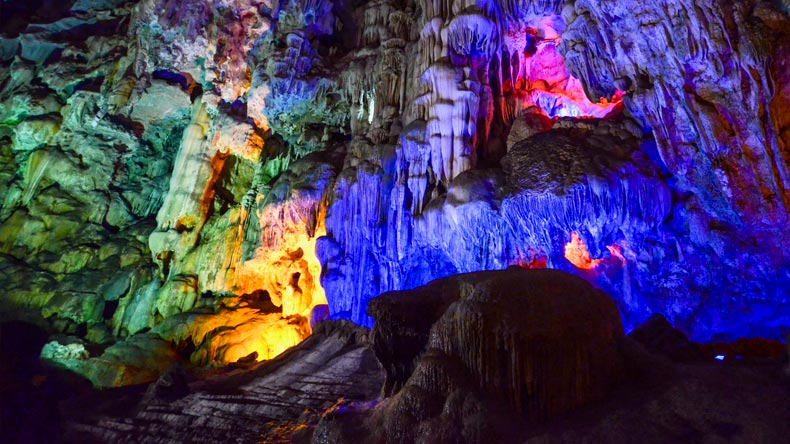 Inside Dau Go cave

Dau Go Cave is 27 meters above sea level and visitors must climb 90 rocky steps to reach the mouth of the cave. It has three large chambers, each containing imposing displays of stalactites and stalagmites and historic graffiti dating back to the excursions of the French. Due to the large open entrance, the cave has a humid atmosphere. In the cave's third chamber there is a large freshwater lake.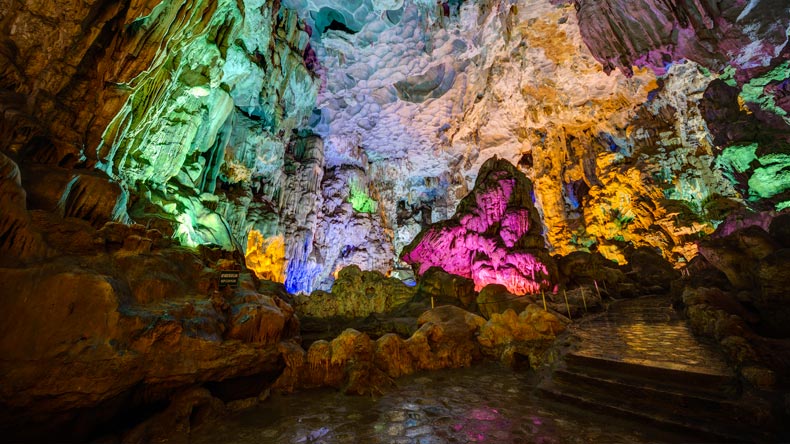 In 1918, the 12th Emperor of the Nguyen Dynasty in Vietnam paid a visit to Dau Go Cave and found it so inspiring that he penned a poem praising its beauty. The poem was etched onto the left-hand side of the cave.
Name origins
As for its name origins, Dau Go Cave is said to be named after wooden stakes because, during a Mongol invasion, the General Tran Hung Dao used the cave to house wooden stakes from the mainland before they were transported down the Bach Dang River to use in battle to destroy the enemy's boats.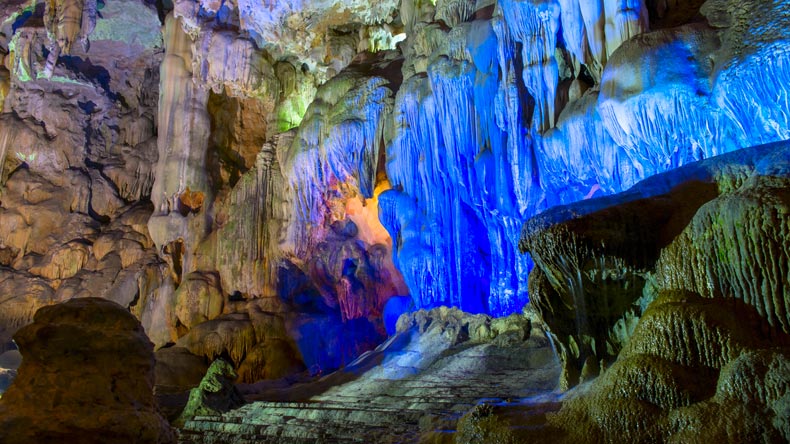 Many consider the visit to Dau Go Cave a highlight of their trip to Halong Bay, it is a breathtaking Cave and worth the 90-step hike!
Questions and Answers
(0)
Be the first to ask a question on this page
READ THIS NEXT
Thien Cung Cave is in the south-west of Halong Bay. The story of this cave is an interesting one as, …
Read more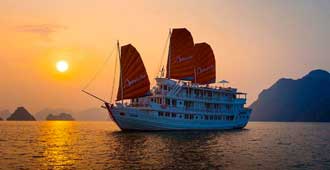 Discover the charming and exotic landscapes of Halong bay on an all-inclusive luxury cruise!
Meet local experts
Need to create your own Halong bay trip?
Call us now: +84 987 24 6600 (Whatsapp)
Customize Your Tour
QUESTION FORUM:
Halong Bay: Questions