Halong Bay Caves: Top 10 Must-visit Caves in Halong Bay
Ha Long Bay has long been known to many foreign tourists. Thanks to its aesthetic, geological, and geomorphological value, the bay has been recognized twice as a world natural heritage and one of the 7 natural wonders of the world. Besides Halong Bay, Lan Ha Bay located to the South, and Bai Tu Long Bay to the North are two extension parts sharing the same geological characteristic.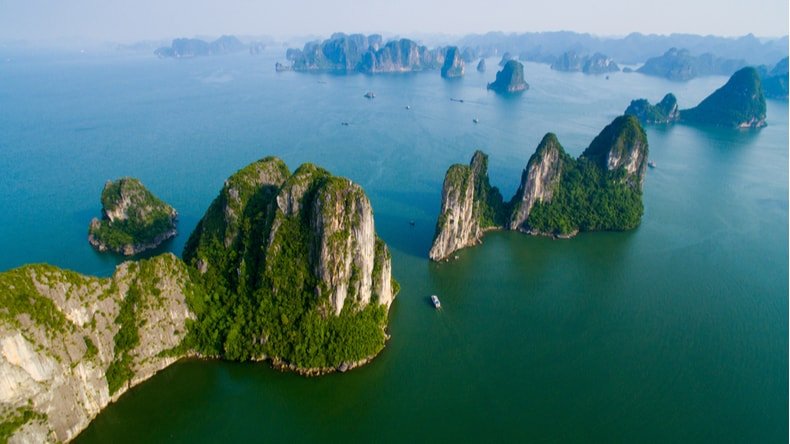 In September 2023, Ha Long Bay (Quang Ninh) and Cat Ba Archipelago (Hai Phong City) were recognized by UNESCO and became the very first inter-province and city World Heritage Site in Vietnam. The crystal clear water is scattered with thousands of karst towers of various sizes and natural shapes. Significantly, many of them hide a cave or grotto that amazes travelers with beautiful stalactites and stalagmites and a magical formation history. Caves are at the top of the must-visit when paying a visit to the heritage site!
What makes caves in Halong Bay a must-visit?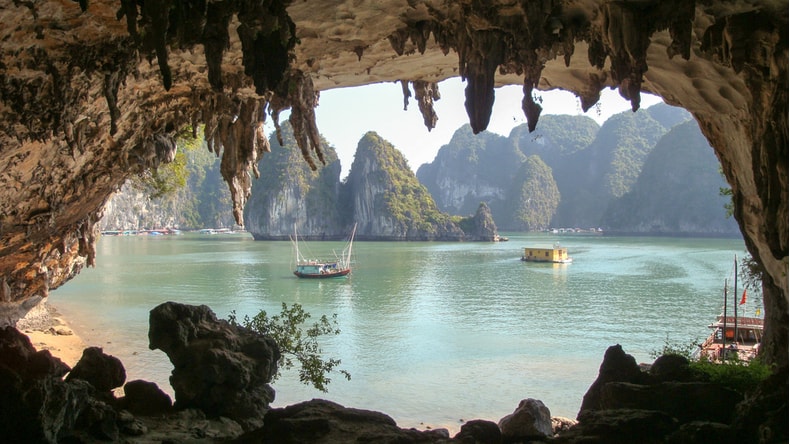 Exceptional landscapes
Presently, 60 caves and grottoes were discovered in Halong Bay and there are certainly many caves still hiding under those mysterious limestone islands. Each cave boasts its own beauty. Some are huge, with lots of light and rich vegetation. Some are small and mysterious. Some contain vestiges of prehistoric people and bring great archaeological value. However, all of them include miracle stalagmites and stalactites that were formed and exist over millions of years and offer mesmerizing scenery.
Unique experience
Besides aesthetic value, Halong caves offer a high value in geology and geomorphology. Whether you are a geologist or an archeologist or not, you will have a chance to learn about the interesting legends, historical stories, and the unique formation of Halong Bay and the cave.
Besides, all the caves in Halong Bay can only be accessed by waterway. Joining a cruise trip is not only a means to visit the cave but also a unique experience that you will never regret. If you have the time and budget, overnight cruises offer an all-in-one experience from transfers, dining, accommodations, modern facilities, entertainment activities, etc. Otherwise, a day trip lasting a few hours usually includes a cave visit and gives you a glimpse but no less impressive view of Halong Bay.
A perfect getaway from the city
Halong Bay is ideal for a natural getaway from the bustling city, and caves will not only feast your eyes but also provide a memorable experience. Enjoy the fresh atmosphere in the calm bay, hike and witness stunning stalactites and stalagmites uniquely shaped by Mother Nature, or kayak through the cave and enjoy the tranquility of the bay! That is perfect for you to get rid of all stress and regain peace after busy and tough days.
Best time to visit
Featuring a typical tropical climate of the Northern region, Halong Bay has 4 seasons: Spring, Summer, Autumn, and Winter. In general, the weather in Halong is pleasant all year round to pay a visit as each season offers different beautiful scenery. However, the most ideal time to visit the caves is from March to April and October to November.
March to April is Spring with the temperature ranging from 18 - 24°C, the lowest rainfall in the year, and light sunshine. October to November is Autumn with cool temperatures from 23 to 27°C, not as hot as summer and cold as winter. These periods of time are perfect for outdoor activities such as walking and hiking in the cave.
See our guide on the best time to visit Halong bay
Travel tips to have the best cave trip
Summer from June to September has lots of sunshine and blue sky which is perfect for sightseeing in Halong. However, there is a higher chance of heavy rains and storms and sometimes it is not very preferable for a cave visit. You can choose June or September which is not yet affected much by rains and storms. The other months are also possible but you should check the weather forecast carefully to book the trip.
Summer is the high season for the domestic market. If you want to avoid crowds, you can choose from September to May next year.
Some caves may have flat stone steps and ground that are easy to walk on, while some may have rough and slippery steps. Therefore, preparing a suitable pair of shoes is essential. Hiking shoes are recommended.
Caves can be very big or small. The paths from one chamber to another can be large or narrow. Some require a climb of around 100 - 200 steps to reach the entrance. If you have any health problems, you should inform the staff to have more details in the instructions.
Some other belongings you may need are insect repellent, a hat, sunglasses, long-sleeve shirts, or a light jacket (the temperature in the cave is a bit lower than the outside).
While kayaking at underwater caves such as Luon or Sang-Toi Cave, swimwear/shorts are suggested. Phone/camera is not recommended but if you really want to bring them, covering them in a dry bag is necessary.