Must-See
Top 5 Most Amazing Caves in Halong Bay
No trip to Halong Bay is complete without touring some of its most famous caves. Carved deep into Halong's limestone karsts, each Halong Bay cave is a grand display of just how beautiful nature can be. The caves found in this area were formed between 11,000 and 70,000 years ago and walking into one is like stepping straight into history.
Ancient tales and folklore surround each of Halong Bay's caves, and this is usually where you can find the origin for the name for any cave. These tales give each cave a kind of mystical, spiritual feel. Read our detailed cave guides to find out more about each cave's given story.
How many?
Nobody knows for sure how many caves can be found in Halong Bay, but there are around 30 that are accessible to the public. These caves differ in size and stature and are spread wide across the bay so be sure to visit a handful of them to get the most out of your trip.
5 most amazing caves:
Many of Halong Bay's caves are massive and have magnificent displays of stalagmites, stalactites, and other crazy rock formations. Some caves are great for exploring by kayak and others even have graffiti dating back to the French occupation in the 19th century. One cave is said to be the home of fairies and in other caves, you may be lucky enough to find some fossils. We have compiled a list of the top 5 most amazing and beautiful caves as follows:
Fact: Located on Bo Hon island, 3km away from Sung Sot Cave and 15 km to the south of Bai Chay wharf.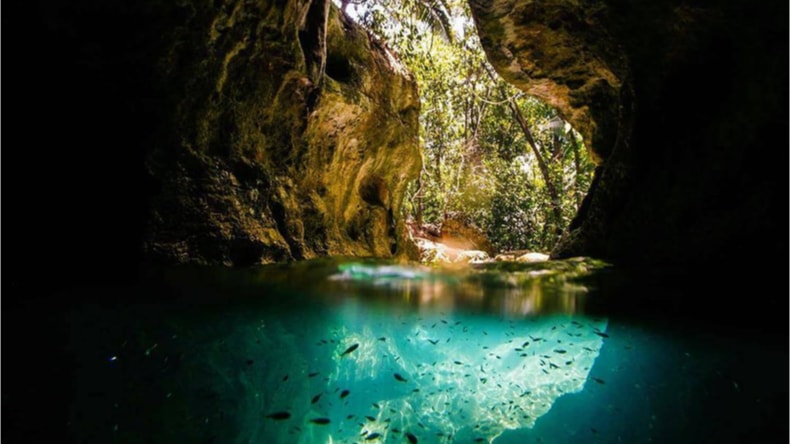 The beauty of Trinh Nu (Virgin) Cave (Photo: Instagram/halong.in.vietnam)
Fact: Located on Bo Hon island, 1 km away from Sung Sot cave and 14 km from Tuan Chau tourist wharf.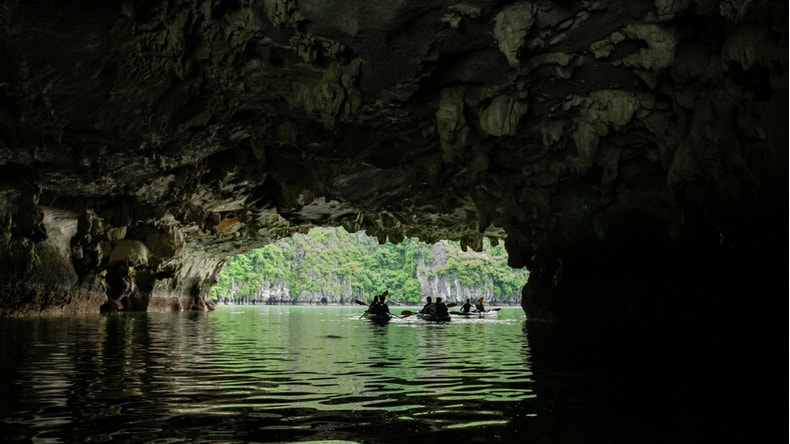 Kayaking through Luon cave (Hang Luồn)
Fact: Sung sot cave was discovered back in 1901 and initially known with the name "Grotte des Surprises".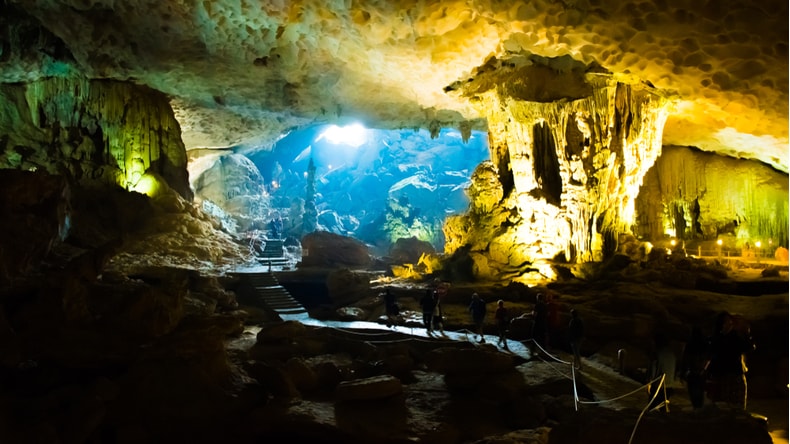 Inside Sung Sot cave - one of the most visited caves in Halong bay!
Fact: Located on Bo Hon island and has an area of 200 m2.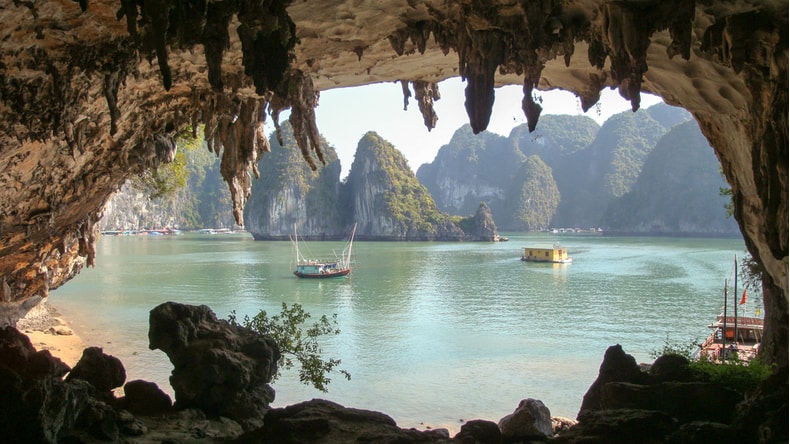 Bo Nau cave, Halong bay
Fact: This is one of the biggest caves in Halong bay, with a total area of 10.000 m².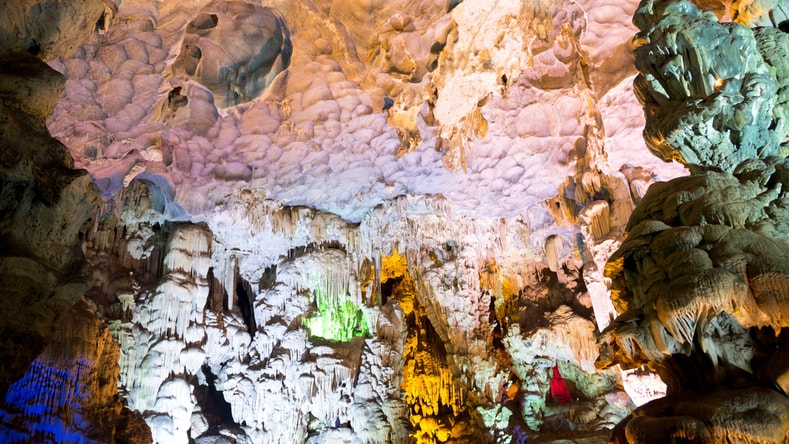 Each cave has its own story and special qualities and should not be missing from any good Halong Bay itinerary.
Useful Information
Opening hours: 06:30 to 18:30 every day.
Entrance Fees: Between 30,000 VND and 70,000 VND. (Many Halong Bay tours include the entrance fee to caves in their ticket price however if you end up exploring Halong Bay independently you'll have to purchase your own tickets and pay for your own boat.)
Boat Tickets: There are various ticket types that you can buy to tour caves, with tours ranging from 4 to 10 hours long. Prices vary depending on demand, the type of boat you take and the length of your tour.
TIP: If you choose to explore Halong Bay independently make sure to clarify with your boat driver exactly what is included in the price of your trip. Some drivers include entrance to caves, while others don't.
Questions and Answers
(0)
Be the first to ask a question on this page
READ THIS NEXT
Lan Ha Bay is made up of around 300 karst islands and limestone sea rocks and can be found southeast …
Read more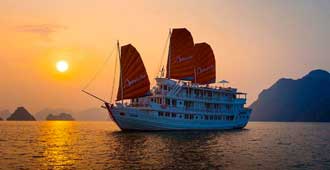 Discover the charming and exotic landscapes of Halong bay on an all-inclusive luxury cruise!
Meet local experts
Need to create your own Halong bay trip?
Call us now: +84 354 64 1421 (Whatsapp)
Customize Your Tour
QUESTION FORUM:
Halong Bay: Questions