The finer details of your Halong Bay cruise will ultimately depend on which cruise you book, who you book it with and even what kind of cruise you book with them. However, there are a few factors that are similar between cruise providers. Here we try to shed some light on the most frequently asked questions regarding cruise timings.
1. What time is pick up/drop off?
Generally there are two windows for cruise pick-ups, an early one and a late one. The early pick-up window is usually from 07:30 a.m. - 08:15 a.m and the later pick-up typically starts from 09:00 a.m. - 09.30 a.m.
The drop off time depends on what type of cruise you have booked. However, cruises usually aim to get back to the dock by 12:00 p.m. on the last day of your cruise after a late brunch.
These times may vary depending on your cruise itinerary and the dock from which your cruise departs from so be sure to check the exact timings with your cruise provider.
2. Can a cruise last longer than 3 days and 2 nights?
Beautiful view from a cruise.
The longest single-trip Halong Bay cruises are 3 days and 2 nights; but this doesn't mean that trips can't be extended. If you're enjoying your trip to Halong Bay so much that 3 days is not enough, you can simply book a second cruise that begins on the last day of your first cruise.
TIP: Make sure that you are dropped off at the dock before your second trip begins so you have time to transfer.
Some cruise operators also offer the option to do a combo package, where guests spend 3 days and 2 nights on a cruise, and then spend the third night in a hotel. This gives guests the option to explore Halong City or book some of their own tours independently.
3. Is a day cruise enough to see Halong Bay?
Small cruise boat for a day trip!
A day cruise is enough to simply 'see' Halong Bay and tick it off your bucket list, but for a more meaningful and memorable experience taking a cruise for at least 2 days and 1 night is recommended. On a cruise of this length, guests typically get to see a cave, a floating village and go on a kayaking activity.
4. What time do I need to arrive at the airport?
It takes about an hour to get to Noi Bai airport from Hanoi center (Photo: Shutterstock)
Before taking a flight from Hanoi Noi Bai airport, it is advised that you aim to arrive at the airport 2 hours before your flight departure time. Also take into account likely delays such as traffic, which can at times be a big problem in certain areas of Hanoi.
5. How much time should I wait after the cruise finishes to take a flight?
Hanoi traffic during rush hours (16:30 to 19:00)
Most cruises finish around midday on the last day of the cruise itinerary, and drop-off guests back in Hanoi by 04:30 p.m (depending on traffic). Taking a taxi from Hanoi's Old Quarter to Hanoi Noi Bai Airport can take up to 1 hour and 30 minutes depending on the traffic and it's recommended that travelers arrive at the airport 2 hours before their flight departure time. We also recommend adding 30 minutes to your travel time to account for time spent moving luggage and checking out of your hotel. Therefore, the earliest flight we recommend you take from Hanoi Noi Bai airport should depart no earlier than 08:30 p.m.
Last updated: November 03, 2019
Questions and Answers
(0)
Be the first to ask a question on this page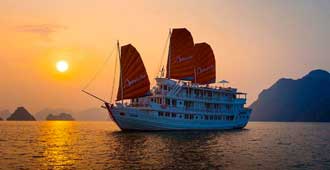 Discover the charming and exotic landscapes of Halong bay on an all-inclusive luxury cruise!
Meet local experts
Need to create your own Halong bay trip?
Call us now: +84 987 24 6600 (Whatsapp)
Customize Your Tour
QUESTION FORUM:
Halong Bay: Questions