Popular things to do and onboard activities on a cruise trip around Halong bay.
Overview
When browsing the selection of cruises in Halong bay that are available it can be easy to get overwhelmed by the amount of choice. There are around 100 cruise companies currently in operation in the Halong Bay area, and each offers a somewhat similar experience of Halong Bay. What makes each cruise individual and unique, is the range of activities it offers to give its passengers to make sure they have the best cruise experience possible. Not only will a good range of activities keep guests entertained, but they will also help guests learn about Vietnamese culture and practices.
Here we discuss the most popular activities offered on cruise trips, to help travelers make an informed decision on what they'd like to get up to on their trip.
1. Kayaking
Kayaking on emerald water in Halong bay (Photo: orchidcruises.com)
Most cruises will include a kayaking portion on their itineraries; it's certainly not compulsory but all travelers are recommended to have a go because it's such a once in a lifetime experience. There's nothing like kayaking on the waters of Halong Bay, enjoying the stunning scenery at your own pace and taking the opportunity to explore some of Halong's hard-to-reach hidden locations. The conditions for kayaking are great in Halong Bay as the sea is generally calm. As an added bonus, some lucky Kayakers even spot dolphins in Halong's waters.
2. Hiking
Cat Ba National Park: best place for hiking in Halong bay area (Photo: Shutterstock)
Sticking with the theme of exhilarating adventure activities - the next on our list is hiking. If you enjoy trekking through lush forest to the sounds of innumerable exotic animals, Halong Bay is the place to do it! There are thousands of islands and islets in Halong Bay, many of which are included on various cruises' itineraries, as they are prime locations for hiking excursions. Cat Ba National Park is a great pick for prospective hikers as it offers some of the finest hiking trails in the Halong Bay area, and the opportunity to see many beautiful creatures local to this area, including the critically endangered Cat Ba Langur.
3. Bamboo Boating
Visitors explore caves on a bamboo boat!
Gliding over the sea in a bamboo boat is a great option for those who don't feel like kayaking. Exploring in a bamboo boat is a perfect choice for families or other groups of travelers who'd like to stick together on their boating venture. This traditional Vietnamese boat is a popular choice for locals and is used for fishing and transporting goods by these people who live upon the sea. The smaller bamboo boats typically carry around 4 to 6 people, and while the owner of the boat will usually row for you, many travelers like to give it a go themselves too! For those on Halong cruises, bamboo boat tours are usually arranged for the floating fishing villages, beaches and some of the more hidden caves.
4. Swimming
Man jumping into water from a cruise boat (Photo: Shutterstock)
Swimming is almost a no-brainer when on holiday near the sea, and a trip to Halong Bay should be no exception. Halong Bay is bursting with paradisiacal beaches that are just waiting for people to come and swim in its cool waters. Most, if not all, cruises will include at least one beach visit to give its patrons a chance to make the most of the gorgeous ocean.
5. Cooking Classes
Passengers joining a cooking class session on Orchid Cruise
In every country food brings people together, and Vietnam is no different. Food plays a very important role in Vietnamese culture. Both the way people eat as well as what they eat reflects aspects of Vietnamese lifestyle and culture. Some cruises offer a cooking class where guests can learn how to cook a traditional Vietnamese dish. The result is often fun and delicious - a winning combination.
6. Tai Chi
Early morning Tai Chi exercises on a Halong cruise boat!
Tai Chi is an ancient Chinese martial art that is often practiced for its health benefits, for both the body and mind. It is said to help with muscle strength, balance and flexibility as well as reducing stress and is touted as a great way to start the day. Some Halong cruises offer early morning Tai Chi classes on the deck of their ship. The classes usually start early, from around 06:00 a.m. to 07:00 a.m.
Last updated: November 01, 2019
Questions and Answers
(0)
Be the first to ask a question on this page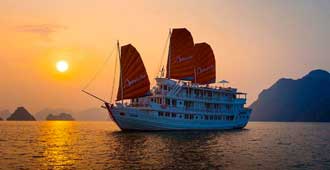 Discover the charming and exotic landscapes of Halong bay on an all-inclusive luxury cruise!
Meet local experts
Need to create your own Halong bay trip?
Call us now: +84 987 24 6600 (Whatsapp)
Customize Your Tour
QUESTION FORUM:
Halong Bay: Questions