9 Safety Tips for Swimming in Halong Bay
Halong Bay is said to be one of the best places to swim in Vietnam with numerous beaches. The bay is not only an ideal place for sunbathing with dazzling sunlight, but also a beautiful beach with calm tides, clean, and green water. It would be even much more enjoyable if you have a chance to swim far away from the beach, maybe diving from a cruise, because the water there is much more clear.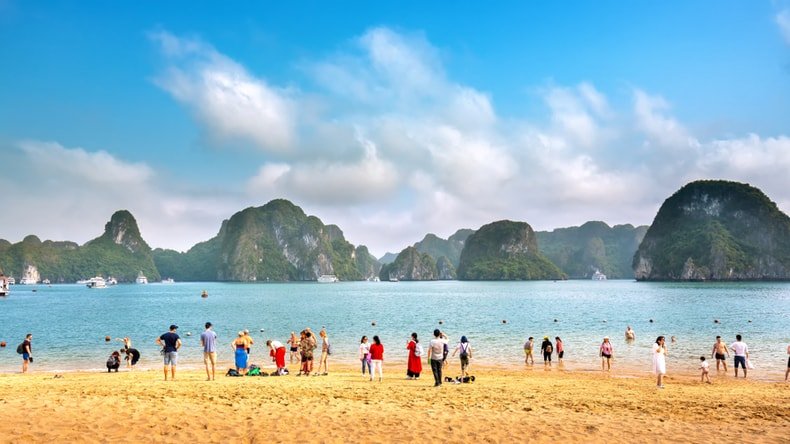 Safey Tips
Swimming in Halong Bay is a unique experience that must not be missed. Imagine cooling off in the clear green waters of Halong Bay, surrounded by colossal limestone karsts, white sand beaches and lush jungle forests. The water is clean, calm and refreshing and you would have to be crazy to cruise around Halong Bay all day without wanting to take a dip.
To ensure the safety of those who swim in Halong Bay, it is important to follow these few safety rules:
Don't go swimming alone, if possible. It's better to swim in groups as there will be people around to help if something goes wrong.
Do not swim where there are known to be strong currents.
Know your own ability - don't swim in deep water, or far from the shore, if you have a low fitness level and cannot tread water for very long.
If you get caught in large waves, the best course of action is to dive down as deep as possible as each wave comes. Then once there is a break in the waves, swim to shore.
Don't swim after drinking alcohol! The effects of alcohol slow down your reactions and could lead to accidents.
Interestingly, there is research to suggest that human swimming ability is impaired in cold water, so if possible you should avoid swimming late at night and in the early morning when the water is colder than during the day.
Children swimming in the water should be monitored by their parents at all times.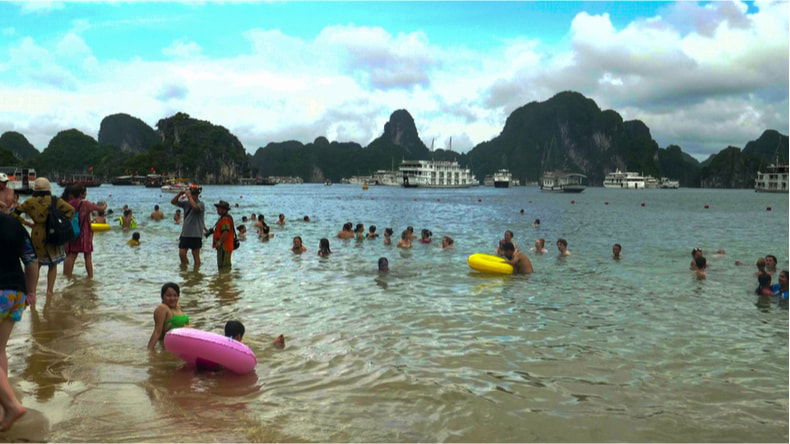 Swimming on Ti Top Island (Photo: Shutterstock) 
Best Spots for Swimming in Halong Bay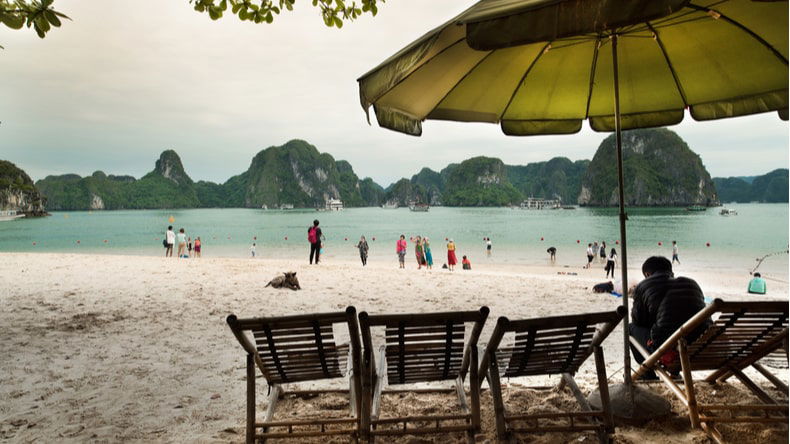 Beautiful Halong view from beach!
There are many places to swim in Halong Bay, including popular spots such as:
Ti Top Island: A small island with a white sandy beach and crystal-clear water. It's a perfect place for swimming and snorkeling.
Soi Sim Island: A secluded island with a long white sandy beach and turquoise water. This island is a great spot for swimming, sunbathing, and relaxing.
Tuan Chau Island: This island features a long beach with clear water, good for swimming and water sports.
Ba Trai Dao Beach: It's a group of three small islands that offer a white sandy beach and clear water. It's a great spot for swimming and snorkeling.
Please note that the swimming areas in Halong Bay may change seasonally and by regulations.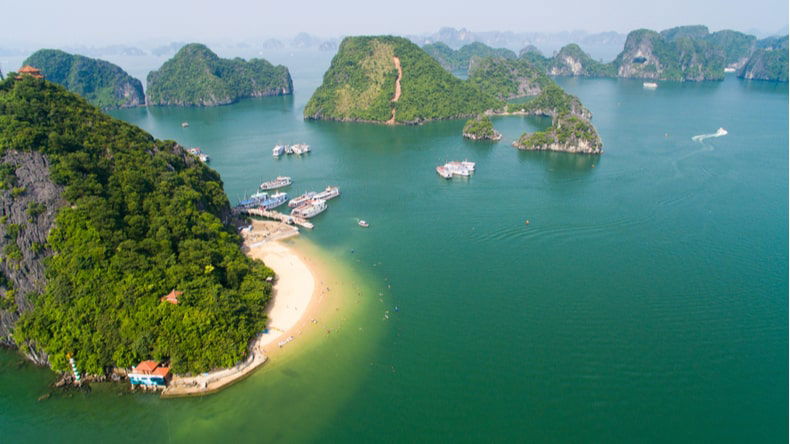 Ti Top island crescent beach from above!
Halong Bay water is pretty warm during winter so feel free to swim or dive from your junk, however, try to cover yourselves immediately when you are done with the swimming because you might catch a cold. The temperature during winter can get as low as 10-15°C.
Frequently asked questions
1. Can I swim in Halong bay?
Yes, it is possible to swim in Halong Bay. However, swimming in some areas may not be safe due to strong currents or pollution.
2. When is the best time to swim in Halong bay?
The best time to swim in Halong Bay is from May to September, when the water is warm and the weather is sunny. However, the bay may be more crowded due to the high tourist season during this time.
3. Are there jellyfish in Halong Bay?
There are jellyfish in Halong Bay, but they are not typically a major concern for swimmers. The jellyfish found in the bay are generally not harmful to humans, and it's rare to experience a jellyfish sting. 
Tips: Be cautious and pay attention to any warning signs posted or advice given by local authorities or tour guides.