Halong Bay is said to be one of the best places to swim in Vietnam with numerous beaches. The bay is not only an ideal place for sunbathing with dazzling sunlight, but also a beautiful beach with calm tides, clean, and green water. It would be even much more enjoyable if you have a chance to swim far away from the beach, maybe diving from a cruise, because the water there is much more clear.
Safey Tips
Swimming in Halong Bay is a unique experience that must not be missed. Imagine cooling off in the clear green waters of Halong Bay, surrounded by colossal limestone karsts, white sand beaches and lush jungle forests. The water is clean, calm and refreshing and you would have to be crazy to cruise around Halong Bay all day without wanting to take a dip.
To ensure the safety of those who swim in Halong Bay, it is important to follow these few safety rules:
Don't go swimming alone, if possible. It's better to swim in groups as there will be people around to help if something goes wrong.
Do not swim where there are known to be strong currents.
Know your own ability - don't swim in deep water, or far from the shore, if you have a low fitness level and cannot tread water for very long.
If you get caught in large waves, the best course of action is to dive down as deep as possible as each wave comes. Then once there is a break in the waves, swim to shore.
Don't swim after drinking alcohol! The effects of alcohol slow down your reactions and could lead to accidents.
Interestingly, there is research to suggest that human swimming ability is impaired in cold water, so if possible you should avoid swimming late at night and in the early morning when the water is colder than during the day.
Children swimming in the water should be monitored by their parents at all times.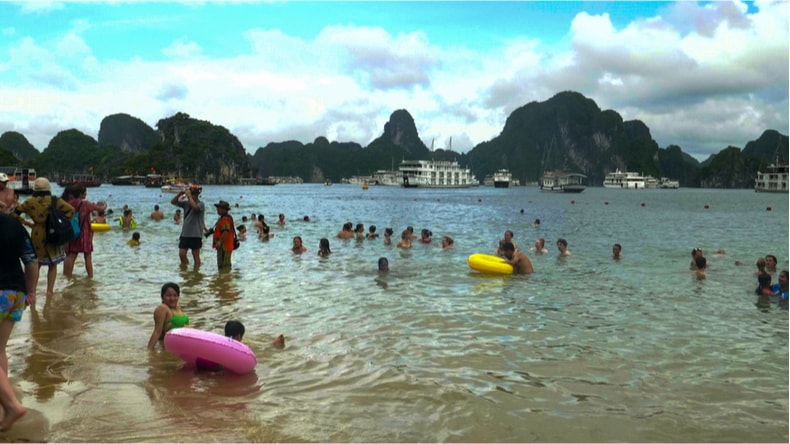 Swimming on Ti Top Island (Photo: Shutterstock)
Best Spots for Swimming in Halong Bay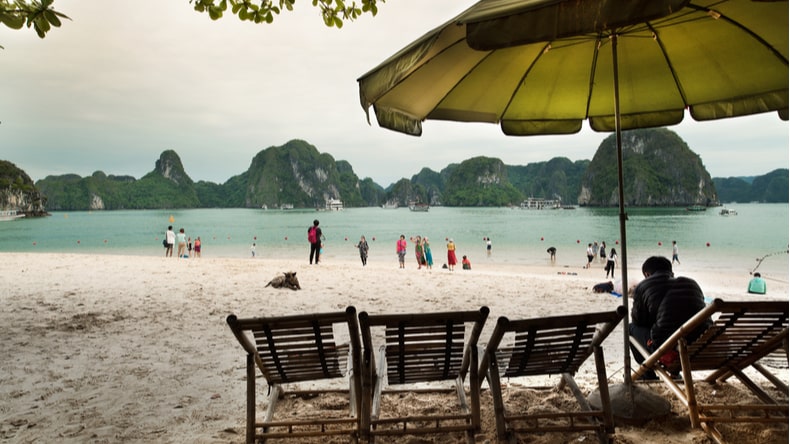 Beautiful Halong view from beach!

The best spots for swimming in this area are locations where the water is calm and the beaches are not too crowded.
Ba Trai Dao Beach is a perfect location for swimming activities, as it is a relatively private beach with pristine waters and white sands. It's both picturesque and secluded and provides the perfect spot for swimming and sunbathing.
Other prime swimming locations include:
Cat Co 1 Beach
Ngoc Vung Island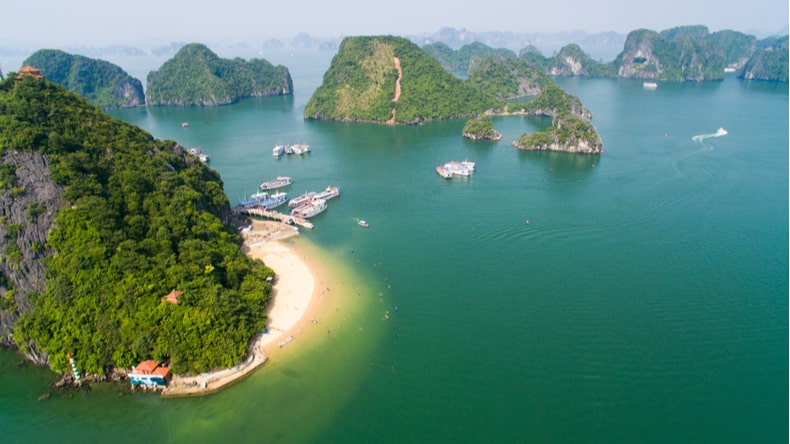 Ti Top island crescent beach from above!

Halong Bay water is pretty warm during winter so feel free to swim or dive from your junk, however, try to cover yourselves immediately when you are done with the swimming because you might catch a cold. The temperature during winter can get as low as 10-15°C.
Last updated: September 23, 2019
Questions and Answers
(0)
Be the first to ask a question on this page
READ THIS NEXT
Exploring Halong Bay nightlife is probably the best way to complete your journey in this land of natural wonders. In …
Read more
Featuring a complete information about Bai Tu Long bay and a handpicked list of the best cruises in Bai Tu …
Read more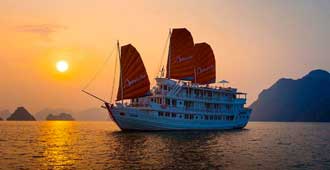 Discover the charming and exotic landscapes of Halong bay on an all-inclusive luxury cruise!
Meet local experts
Need to create your own Halong bay trip?
Call us now: +84 354 64 1421 (Whatsapp)
Customize Your Tour
QUESTION FORUM:
Halong Bay: Questions