Weather
May in Halong Bay: Weather and Event Guide
May marks the start of a hot summer although the heat in this month is by and large endurable. It is in fact one of the best months to visit Halong.
IN A NUTSHELL
Temperatures are rising in May; summer is in full swing.
As the temperatures rise, so does the humidity! Expect it to be a bit stickier in May.
There will be a higher chance of rain so don't forget to pack your raincoat.
Fewer visitors are expected in May as this is the beginning of off-peak season.
May Weather in Halong Bay
May is arguably one of the best months to visit Halong Bay, the weather is hot and sunshine is abundant creating ideal conditions for water-based outdoor activities. However, the Monsoon season is not far away and rainfall and humidity will see a jump in this month. While the weather is still a far cry from the real Monsoon season, you should still consider checking weather forecasts in the lead up to your trip to make sure your bookings have not been canceled or delayed. Weather in May is notoriously unpredictable so be prepared for the unexpected.
| Month | High / Low (°C) | Average rainfall (MM) | Rain Days |
| --- | --- | --- | --- |
| May (2018) | 30° / 24° | 156mm | 8 days |

May weather averages (Last 3 year summary)
Pros & Cons for Visiting in May
Pros:
Rainfall is still not a big problem in May and the warm weather and lots of sunshine will give you lots of opportunities to enjoy the outdoors.
Fewer visitors means you may experience a slight drop in prices and fewer crowds.
Cons:
As the weather gets hotter and humidity rises there will be a higher chance of rainfall and possibly typhoons. This means that you should keep an eye out for bad weather in the lead up to your trip in case any travel disruptions happen.
Events
In Vietnam Labor Day is celebrated on May 1st, as a public holiday and many businesses will be closed. Buddha's birthday is celebrated on the 8th day of the 4th Lunar month so keep an eye out for the exact date around your visit.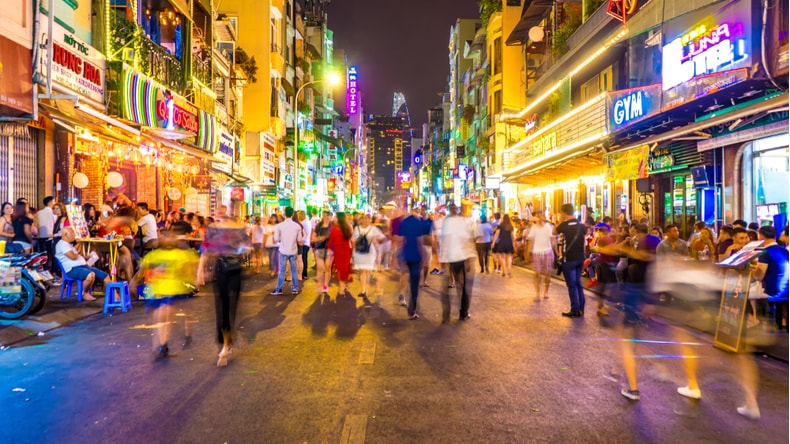 30 April and 01 May is a long holiday in Vietnam, there are large numbers of domestic visitors in major tourist attractions. (Photo: Shutterstock)

What to Pack
May promises to be a hot month. Pack your lightest summer clothes and make sure your eyes and skin are protected from the sun. Bring lots of sunscreen or a parasol. Don't forget your swimsuit and goggles as water activities may be on the cards - the heat will make the water seem especially attractive. In anticipation of wetter weather, bring a raincoat or other waterproofs to stay dry!
READ THIS NEXT
October is one of the best months to visit Halong Bay for the amiable weather.
Read more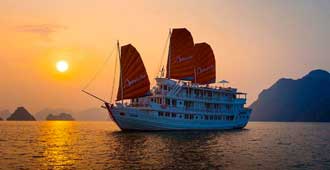 Discover the charming and exotic landscapes of Halong bay on an all-inclusive luxury cruise!
QUESTION FORUM:
Halong Bay: Questions
Free ITINERARY planning with us!
Planning your trip with our Halong local experts, we will help you with:
Accomodation: Find the best hotels/homestay or BnB.
Tours: Connect you to the trusted tour operator in Halong bay.
Cruises: Find the best cruise on your date!
It is all FREE