Weather
September in Halong Bay: Weather and Event Guide
IN A NUTSHELL
In September the weather starts to slowly cool down.
But, temperatures reaching over 30 degrees are still not uncommon.
Even though rainfall might still be frequent, it's not as heavy as in August.
September marks the end of the tourist off-peak season.
The weather can still be quite agreeable at times so it's a great month for water activities like swimming, kayaking, and snorkeling.
September Weather In Halong Bay
It's the end of summer and even though things are cooling down, it's still quite hot! Be sure to expect some extremely hot days, with the mercury hitting well over 30°C. Humidity levels do start to slightly decrease in September though, with an average level of about 72%. It rains less in September compared to August but with 190mm of rain in 14 days, it still can be quite wet!
| Month | High / Low (°C) | Average rainfall (MM) | Rain Days |
| --- | --- | --- | --- |
| September | 31° / 24° | 190 mm | 14 days |

September Weather Average
Pros and Cons for Visiting in September
Pros:
There's less rain in September but beware, a heavy downpour or two may still occur.
Temperatures are still nice and warm in September making it a good occasion to get your swimsuit out.
Popular activities include kayaking, snorkeling, and swimming. September is the end of the off-peak season so there are still not a lot of tourists visiting Halong Bay.
Cons:
Stormy weather is still a possibility. Some cruises may still operate during bad weather, but a storm can hinder the planned activities and excursions.
The temperatures during September can be still quite hot, this is not for everyone.
Events
On September 2nd Vietnam celebrates the Independence Day, this is a full public and bank holiday so expect some businesses to be closed.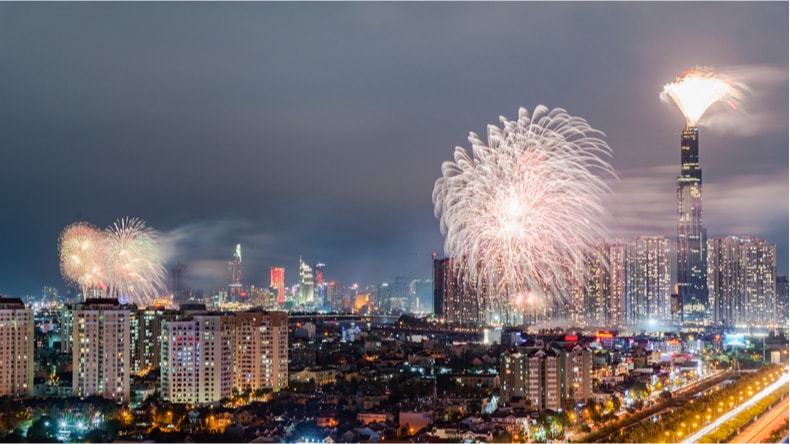 Fireworks on the Independence Day in Vietnam.
What to pack
For your September visit, you should pack light clothes, don't bother packing anything too heavy or warm as you probably won't use them. As September is still a great time for water activities, be sure to bring your swimming gear. The sun can be quite menacing, it's important that you bring adequate protection from the sun - a high factor sunscreen is recommended.
READ THIS NEXT
May marks the start of a hot summer although the heat in this month is by and large endurable. It …
Read more
October is one of the best months to visit Halong Bay for the amiable weather.
Read more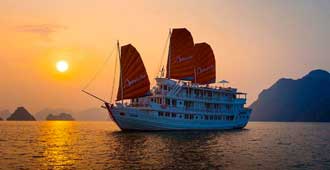 Discover the charming and exotic landscapes of Halong bay on an all-inclusive luxury cruise!
QUESTION FORUM:
Halong Bay: Questions
Free ITINERARY planning with us!
Planning your trip with our Halong local experts, we will help you with:
Accomodation: Find the best hotels/homestay or BnB.
Tours: Connect you to the trusted tour operator in Halong bay.
Cruises: Find the best cruise on your date!
It is all FREE