Travel Tips
A Guide to Visiting Halong Bay for the First Time
Before You Go
Halong Bay features on many a traveler's Bucket List for good reason. It's a true gem of the East. The landscape is extraordinary; the atmosphere is serene and a trip to Halong Bay is sure to provide an unforgettable experience.
If you're planning on traveling to Halong Bay but don't know where to begin, look no further - in our Ultimate Guide, we will give you all the information you need, and more, to make your trip as easy as possible. Here you will find everything you need to plan a perfect trip to Halong Bay.
Things to know before visiting Halong:
The best way to discover Halong Bay is by cruise. Choose at least a 2 day/ 1 night cruise to give yourself enough time to really enjoy the bay. If you have time to stay for 2 nights, then you definitely should!
If you choose to take a cruise around Halong Bay you should choose the time of yearcarefully as the summer months bring volatile weather and could lead to cruise cancellations.
Bai Tu Long Bay and Lan Ha Bay are two alternative options to Halong Bay, that are equally as beautiful but less visited.
If you have dietary restrictions or allergies be sure to let your cruise operator know ahead of time and again when you are on the ship.
Pack smart! The weather can be very unpredictable in this region so bring things appropriate for rain and shine.
There is little-to-no phone reception in the Halong Bay area so be prepared to be disconnected for the duration of your trip.
Don't take any electronics with you if you go kayaking unless they are waterproof. You WILL get wet and so will your belongings.
If you have any issues don't be scared to talk to your cruise operator or even your hotel in the city you started in. Vietnamese people are friendly and will be happy to help you out if you need it.
Getting There
It takes only 45 minutes to get to Halong bay with a seaplane flight from Hanoi (Photo: Shutterstock)
1. Plane - Estimated duration 30 - 45 minutes
Tourists from Hanoi who opt to travel by more luxurious means have the option to take a seaplane to Halong Bay with Hai Au Airlines. The seaplane seats 12 passengers and the travel time is around 30 minutes, with the option of adding an additional 15 minutes for an aerial tour of Halong Bay. Prices can range from around $45 to $150. To book a seaplane you must visit seaplanes.vn or book tickets using this phone number: 096 296 0689.
2. Private Bus - Estimated duration 3 - 4 hours
A private bus from Hanoi to Bai Chay Bus Station in Halong, should take around 3 or 4 hours. You can take a private bus from My Dinh bus station every hour from 06:00 to 17:00, and the cost should be around USD $10. Once in Bai Chay you should take a public bus to Tuan Chau Marina, buses leave every 5 to 15 minutes. Alternatively, you can take a taxi for a quicker and more convenient journey.
3. Motorbike or Private Car - Estimated duration 3 hours.
Option A (Shortest): Hanoi - Bac Ninh - Halong Bay via QL1A (150km)
Depart from Hanoi to QL1A to Bac Ninh, then take the QL18 to Pha Lai, Sao Do and then Halong Bay
Option B: Hanoi - Hai Duong - Halong via QL18 (160km)
Depart from Hanoi, follow the QL5 to Hai Duong city, then from Sao Do take QL18 to Pha Lai, Dong Trieu, Uong Bi and Halong.
Further reading: How to get to Halong bay
Where to Stay
There are two main accommodation options for those visiting Halong Bay. You can either take an overnight cruise or stay on one of the bigger islands such as Cat Ba.
If you choose to take a cruise, then you should do a thorough google search and make sure to read other travelers' reviews so that you can know what to expect. We recommend you choose a mid-range or luxury cruise as the experience is generally a lot more pleasant and fulfilling than the budget options.
If a cruise is not for you and you choose to stay on Cat Ba Island there are many options available to suit different budgets, from budget hostels to nice hotels. You can find a bed in a hostel dormitory for as little as USD $2.50 or get a comfy hotel room with included breakfast for around USD $15.
What To Eat
Seafoods are served in all meals on an overnight cruise.
Ngan: This is a mollusc found in abundance in the Halong Bay region. It looks like a large clam and is delicious when cooked in wine or soup.
Tu Hai: Tu Hai is a rare and special type of shellfish that can be eaten in many ways; steamed, baked, spiced, and in soup or salad.
Gat Gu: This is a cake made from rice flour and cold rice. It's sticky and soft and served with a special dipping sauce made from fish sauce, chicken fat, onion and chili.
Sa Sung: Sa Sung is another type of seafood, more commonly known in English as 'Sandworm'. Often stir-fried with celery and leek, the sandworm is crunchy and has an almost buttery flavor.
Three-spined Stickleback: This fish is often described as the tastiest fish found in Halong Bay. It can be cooked in many ways and can be found in many restaurants. Don't pass up an opportunity to try this local favorite.
Must-try Experiences
Discover Halong bay on an overnight cruise.
This is our list of things you should do at least once when visiting Halong bay:
Sleep on board a junk ship.
Kayak through the towering limestone karsts.
Climb the limestone islets on a rock-climbing excursion.
Visit the floating villages.
Ride a bicycle across Cat Ba Island.
Explore the caves and grottoes.
Spot monkeys on Monkey Island.
Try your hand at some night-time squid fishing.
Relax on one of the thousands of unspoiled beaches.
Go zip lining on Cat Ba Island.
Visit the Tung Sau Pearl Farm.
Further reading: 11 Best Alternative Things to Do in Halong Bay Other Than Taking a Cruise
What to Pack
For your trip to Halong Bay you should pack smart and be prepared. The number one item you will need is your travel document (i.e. passport or ID card) as any boats or hotels you stay on will need this to let you stay.
Depending on the season you should pack clothes that are weather appropriate and always take a waterproof jacket in case of any unexpected torrential downpours. Make sure to take some comfortable shoes as you may be visiting caves, as well as some swimwear as you may go kayaking or to the beach. Sunscreen is also an absolute must, even when it's cloudy, the sun can be very strong in Vietnam.
Don't take your large suitcases as the boat cabins on cruises are usually quite small and typically won't fit more than one. Additionally, you should take any snacks or drinks you may want on your trip, as most cruises only provide meals and water.
Finally, don't forget to pack your camera! Any trip to Halong Bay will be full of unforgettable experiences but still, wouldn't it be nice to look back on your holiday snaps?
READ THIS NEXT
Featuring a complete information about Bai Tu Long bay and a handpicked list of the best cruises in Bai Tu …
Read more
In the southeast coast of Cat Ba Island, Lan Ha Bay is a quieter and more pristine alternative to the …
Read more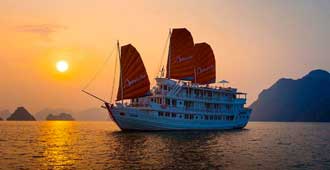 Discover the charming and exotic landscapes of Halong bay on an all-inclusive luxury cruise!
QUESTION FORUM:
Halong Bay: Questions
Free ITINERARY planning with us!
Planning your trip with our Halong local experts, we will help you with:
Accomodation: Find the best hotels/homestay or BnB.
Tours: Connect you to the trusted tour operator in Halong bay.
Cruises: Find the best cruise on your date!
It is all FREE