7 Best Beaches in Halong Bay, Vietnam [Updated 2023]
Halong Bay's beaches are an incredible draw to the area. While the magnificent limestone karsts that make Halong Bay famous are amazing, and certainly attract tourists in, you just can't beat a good beach.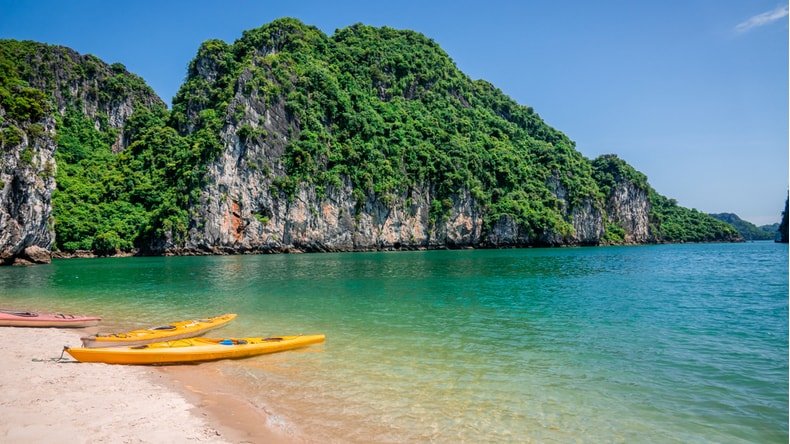 Overview
Halong Bay has literally thousands of islands and islets; which means thousands of beaches! Varying from tiny and desolate, to big and busy, the beaches in this area are among the best in Vietnam.
Distance from Halong bay to the nearest beaches:
| Beach | Distance (Km) | Mileage |
| --- | --- | --- |
| Tuan Chau | 20 km | 12 miles |
| Ngoc Vung | 22 km | 14 miles |
| Minh Chau | 60 km | 36 miles |
| Ba Trai Dao | 42 km | 27 miles |
| Ti Top | 08 km | 5 miles |
| Co To | 72 km | 45 miles |
| Quan Lan | 34.2 km | 5 miles |
There are lots of great beaches near the Bai Chay tourist wharf that are convenient to reach as they are so close to this thriving tourist center, however some of the best beaches do require a longer travel time. This is because the further the beach is from the coast, the more likely it is undisturbed and left in pristine condition.
Map of beaches near Halong bay
Read on for our list of the best beaches in Halong Bay.
1. Tuan Chau Beach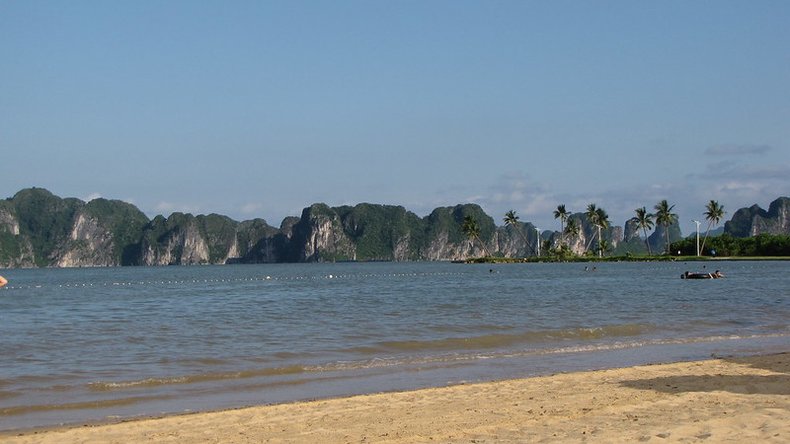 Tuan Chau Beach is actually one of the very few man-made beaches in Halong Bay. It's quite busy year-round with foreign and domestic tourists due to its prime location on Tuan Chau Island, a developed tourist destination. The beach itself is charming and well-equipped for many beach activities such as jet-skiing, canoeing and fishing. Visitors are also spoiled for choice in terms of food options as there are many restaurants in the area.
Address:  Tuần Châu, Hạ Long, Quảng Ninh (Maps)

Entrance fee: Free
2. Ngoc Vung Beach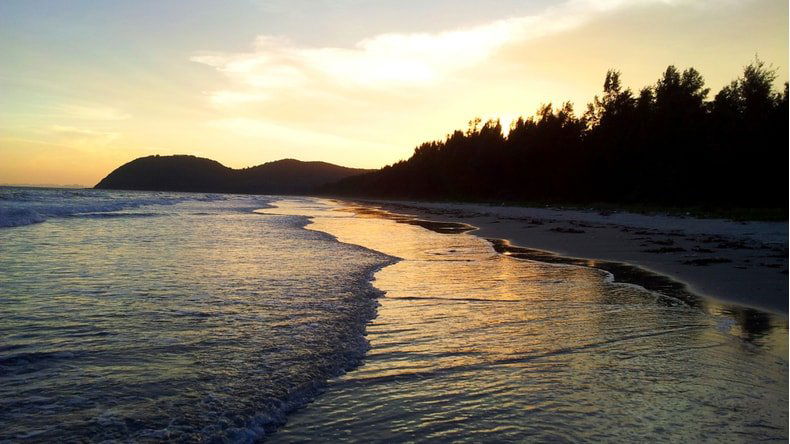 On the south of Ngoc Vung Island there is the beautiful Ngoc Vung Beach, an unspoiled piece of heaven in Halong Bay. The beach is pristine, with clean white sands and clear waters. At Ngoc Vung, visitors can sunbathe, swim and enjoy the idyllic surroundings. Visitors who want to do something more active can take the opportunity to cycle away from the beach and around the island.
Address: Ngọc Vừng, Vân Đồn District, Quảng Ninh (Maps)

Entrance fee: Free
3. Minh Chau Beach
Minh Chau Beach is a perfect beach in every way - the sand is white, the sea is clear and the wind blows cooly in the humid heat of summer. Minh Chau is located on Quan Lan Island, where you may also find Quan Lan Beach just 7 miles from Minh Chau. Some visitors opt to camp on the beach overnight, which can be a magical experience.
Location: Đảo Quan Lạn, Minh Châu, Vân Đồn, Quảng Ninh, Vietnam (Map)

Entrance fee: Free
4. Ba Trai Dao Beach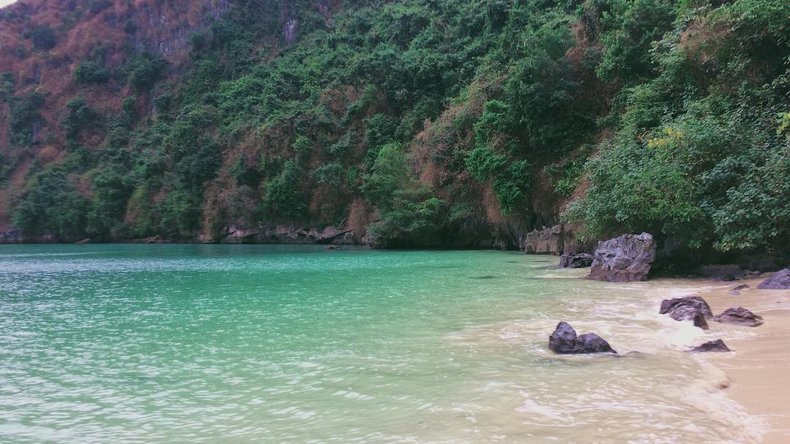 Ba Trai Dao Beach is in the cove of Ba Trai Dao Island, where it sits sheltered from the elements. The beach is sandy and never very busy - the perfect place to relax while visiting Halong Bay. The beach disappears at high tide which gives visitors a window of just 2 or 3 hours a day to visit this beautiful beach.
Location: Việt Hải, Cát Hải, Hai Phong, Vietnam (Map)

Entrance fee: Free
5. Titop Beach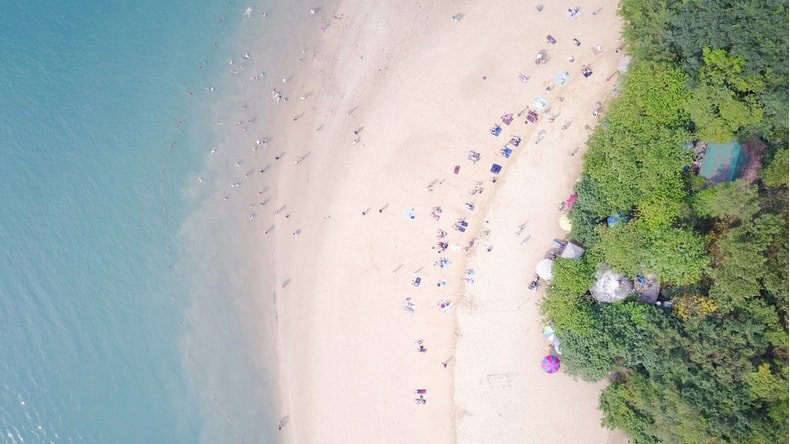 Titop Beach is a wonderful option for visitors to Halong Bay as it is conveniently located on Titop Island - a popular cruise stop. The beach is relatively small but well-equipped for visitors with deckchairs, showers and refreshment stalls selling fresh coconuts.
Location: Cát Hải, Hai Phong (Map)


Entrance fee: Free

6. Hong Van Beach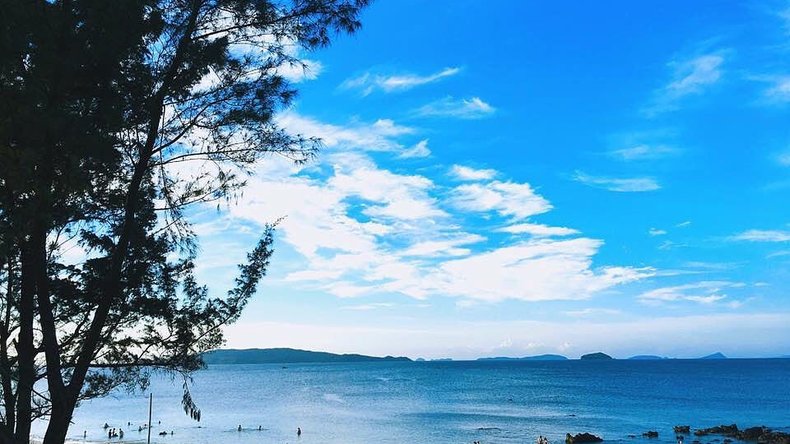 Hong Van beach is an ideal destination for visitors looking to partake in fun beach and water activities. Surfing and snorkeling are possibilities at Co To and come highly recommended as the sea is beautifully clear and clean.
Location: Đồng Tiến, Cô Tô District, Quảng Ninh, Vietnam (Map)

Entrance Fee: Free
7. Quan Lan Beach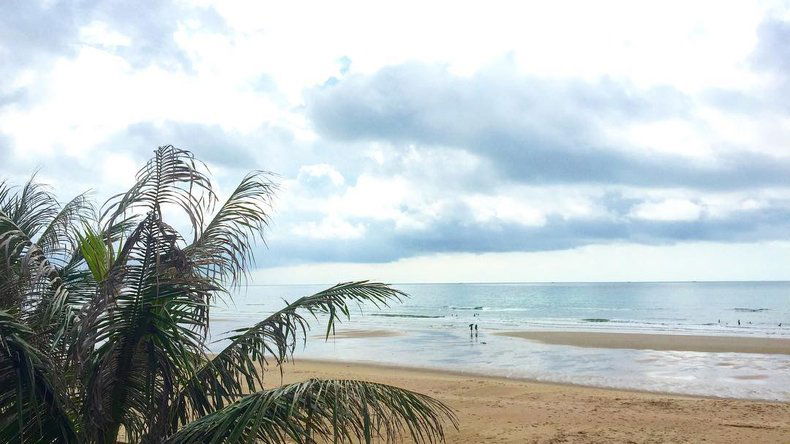 Quan Lan beach is, of course, on Quan Lan Island, located in Bai Tu Long Bay. This heavenly beach stretches for miles along the coast of Quan Lan Island. There are tourist developments close to the beach such as hotels and hostels, but they are hidden from the view of the beach so as give visitors the feeling of being in a lost paradise.
Location: Vân Đồn District, Quảng Ninh, Vietnam (Map)

Entrance fee: Free
Notes: It is cold in Vietnam during Janary-February, therefore swimming is not recommended.
Last updated: January 02, 2023