Weather
July in Halong Bay: Weather and Event Guide
July is one of the rainiest months in Halong Bay. However, you will benefit greatly from the many promotions for cruise trips here.
IN A NUTSHELL
It gets very hot and sunny in July so be sure to have sun protection.
Pack your swimsuit and a towel, a nice dip will be a welcome refreshment.
Even though the weather is generally hot and humid, the weather can be fickle.
Storms occur frequently so a poncho might be a good addition to your backpack.
July is the perfect month to do some kayaking or snorkeling.
July Weather In Halong Bay
In July, you can expect up to 7-8 hours of sun every day. Because of the high temperatures and humidity (often hitting 80%), it often feels a lot warmer than it really is. Even during night-time, it's very hot as it doesn't cool down much overnight. Even though it's hot and sunny, Halong Bay experiences frequent downpours in July. A total of 201mm of rain in 15 days makes its way down from the heavens. Typhoons are not uncommon so be sure to carefully check the weather forecast and try to keep in close contact with your cruise operator.
| Month | High / Low (°C) | Average rainfall (MM) | Rain Days |
| --- | --- | --- | --- |
| July (2018) | 32° / 26° | 201 mm | 15 days |

July Weather Averages (Last 5 year period)
Pros and Cons for Visiting in July
Pros:
Due to the great weather, July is prime time for water sport enthusiasts to visit Halong Bay. Swimming, snorkeling, and kayaking are all activities enjoyed by many a tourist.
In July, it's the off-peak season. This means there won't be as many other tourists, allowing for a quieter and less hectic Halong Bay experience. As July is in the off-peak season, this also means it's usually cheaper to visit.
Cons:
Typhoons and severe storms can interfere with your travel plans. For some, the summer temperatures might be a bit too hot.
Events
There are no public holidays or festivals in July.
What to pack
Don't worry about packing any warm clothes, you won't need them in July, although you might want to bring a waterproof poncho to keep your clothes protected from the heavy rains. It might be wet, but it's still hot; be sure to bring swimsuits. You should also, always remember to bring protection from the sun as it's particularly strong in July: a high factor sunscreen, caps, hats, and sunglasses are always a good idea.
READ THIS NEXT
May marks the start of a hot summer although the heat in this month is by and large endurable. It …
Read more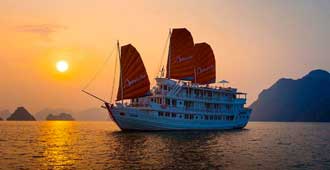 Discover the charming and exotic landscapes of Halong bay on an all-inclusive luxury cruise!
QUESTION FORUM:
Halong Bay: Questions
Free ITINERARY planning with us!
Planning your trip with our Halong local experts, we will help you with:
Accomodation: Find the best hotels/homestay or BnB.
Tours: Connect you to the trusted tour operator in Halong bay.
Cruises: Find the best cruise on your date!
It is all FREE