Weather
June in Halong Bay: Weather and Event Guide
June is a rather hot month for travel to Halong Bay although it is perfect who loves the sun.
IN A NUTSHELL
June is hot, hot, hot and wet, wet, wet! Expect high temperatures and plenty of rain.
While rainy days outnumber dry days(*), it won't rain all day so there is still room for plenty of fun.
Many outdoor-activities could be canceled due to weather so read your refund policies carefully before making bookings.
June Weather In Halong Bay
If you crave a tropical climate, then June is the best month for you. Visit Halong Bay in June and witness average temperatures in the 30s and high humidity levels. June gives Halong Bay the warmth and stickiness that you typically associate with summer. Rainfall in June is higher than in May but still lower than in July and August. Due to the higher humidity and rainfall there are usually fewer visitors to Halong Bay during June. There is also a higher chance of storms so it's a good idea to check with your tour provider for weather updates and possible travel disruption.
| Month | High / Low (°C) | Average rainfall (MM) | Rain Days |
| --- | --- | --- | --- |
| June (2018) | 32° / 26° | 179 mm | 10 days |

Halong bay in June: Weather (Last 5 years)
Pros & Cons for Visiting in June
Pros:
Halong Bay is very warm in June and there is still a good amount of sunshine so it's a great time to go if you enjoy swimming.
June is in the off-peak season so you may be able to take advantage of some promotions and discounts for your tours and accommodation.
Cons:
The hotter weather can be uncomfortable for those who are not used to a tropical climate.
Unpredictable weather can bring a higher risk of travel disruption so there is more chance that your bookings could be affected by the bad weather.
Events
On the 5th day of the Fifth month in Lunar calendar, there is a summer solstice celebration, in Vietnam it is called Tet Doan Ngo.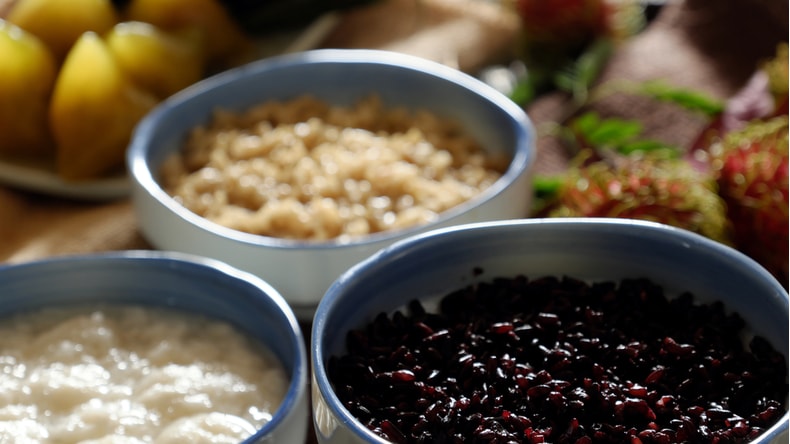 Foods for Tet Doan Ngo. Though it is not a public holiday, it will be a good chance for visitors to see an interesting tradition when visiting Vietnam during this time of the year.
Tet Doan Ngo by year:
2019 - June 07, Friday
2020 - June 25, Thursday
2021 - June 14, Monday
2022 - June 03, Friday
2023 - June 22, Thursday
What to Pack
June is the hottest month of the year so far. Pack only light, breathable clothing that will keep you cool in this hot and humid weather. Jeans and warm clothes will not be needed. Rainfall is relatively high so bring a light raincoat. Pack your swim gear as the hot weather will surely make a dip in the sea seem inviting.
READ THIS NEXT
May marks the start of a hot summer although the heat in this month is by and large endurable. It …
Read more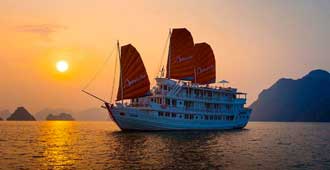 Discover the charming and exotic landscapes of Halong bay on an all-inclusive luxury cruise!
QUESTION FORUM:
Halong Bay: Questions
Free ITINERARY planning with us!
Planning your trip with our Halong local experts, we will help you with:
Accomodation: Find the best hotels/homestay or BnB.
Tours: Connect you to the trusted tour operator in Halong bay.
Cruises: Find the best cruise on your date!
It is all FREE