Weather
October in Halong Bay: Weather and Event Guide
October is one of the best months to visit Halong Bay for the amiable weather.
IN A NUTSHELL
October marks the end of summer, expect sunshine and a fresh, cool breeze.
Because the weather is quite comfortable, therefore it's a great time to explore some caves and visit some of the floating villages.
It's still off-peak season so there's still time to get some discounts.
October Weather in Halong Bay
Even though October is not as suffocatingly hot as in the height of summer, with an average of 27°C it's still nice and warm. As the temperature drops, a light cool breeze makes its way into Halong Bay allowing for comfortable cruising conditions. During October, we have nearly 12 hours of daylight between sunrise and sunset with 7 hours of effective sunlight. The humidity is around 70%, in combination with gentle temperatures and an easy breeze, the weather is quite agreeable. Even though the temperature has not dropped that much, we see much less rainfall. Where we still had 190mm of rain over 14 days in September, that number goes down to around 50-58mm of rain over 10-12 days in October.
| Month | High / Low (°C) | Average rainfall (MM) | Rain Days |
| --- | --- | --- | --- |
| October | 31° / 24° | 50-58mm | 10-12 days |

October Weather Averages
Pros and Cons of Visiting in October
Pros:
The weather in October is nice and warm but not as humid as in the previous months. There's a lot less rainfall than in September.
Large crowds can be avoided as we're still not in peak season.
Cons:
There's a slight chance you might experience the Northeast monsoon towards to end of the month, but Northeast monsoons are not nearly as wet as the Southwest monsoons we have during the rainy seasons.
Temperatures can drop a bit as it's edging towards November.
Events
There are no public holidays or festivals in October.
What to pack
With the sea temperature still being a comfortable 27°C, in October it's still quite nice to go for a swim or do some snorkeling. Pack your swimming gear to make sure you don't miss any good opportunities. The sun can still be quite strong, so bringing some sunscreen is recommended. You should pack a sweater as it can be quite chilly towards the end of the month or when a rainstorm hits. Besides that, some light summer clothing should suffice.
READ THIS NEXT
May marks the start of a hot summer although the heat in this month is by and large endurable. It …
Read more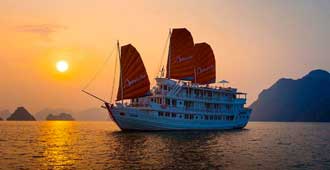 Discover the charming and exotic landscapes of Halong bay on an all-inclusive luxury cruise!
QUESTION FORUM:
Halong Bay: Questions
Free ITINERARY planning with us!
Planning your trip with our Halong local experts, we will help you with:
Accomodation: Find the best hotels/homestay or BnB.
Tours: Connect you to the trusted tour operator in Halong bay.
Cruises: Find the best cruise on your date!
It is all FREE