Weather
November in Halong Bay: Weather and Event Guide
November starts seeing chilly wind in the Bay of Halong although the dry weather may make the trip a lot better than one in the summer months.
IN A NUTSHELL
Winter is upon arrival! Rainfall is significantly lower and there's a slight drop in temperature.
November is still a great time to visit Halong Bay.
It's one of the best times to visit the caves and explore the islands.
November Weather in Halong Bay
With an average temperature of 23°C, November is nice and temperate. For people who want to avoid the high temperatures of summer, November is the perfect month to visit Halong Bay. We get about 8 hours of sunshine in November, these are the most hours of sunshine Halong Bay gets together with December and from March to June. November is a lot less humid than the yearly average, with a daily humidity level of around 68%. The weather is more agreeable than in previous months. With only 12mm of rain over 7 days as compared to 55mm over 11 days in October, there is a significant decrease in rainfall.
| Month | High / Low (°C) | Average rainfall (MM) | Rainy Days |
| --- | --- | --- | --- |
| November | 26° / 19° | 12-17 mm | 7-12 days |

Halong Weather Averages in November 2018
Pros and Cons for Visiting in November
Pros:
With agreeable temperatures, the weather is still nice and warm but not too hot. Rainfall levels are significantly lower.
You can expect rare showers and clear and sunny skies. It's not nearly as humid as the previous months. Visiting the caves and islands is much more pleasurable in November.
Cons:
November marks the start of peak season. There's a large influx of tourists around this time. It can be quite chilly in November.
Events
There are no major public holidays or festivals in the month of November.
What to pack
In November, the sea temperature is at its warmest, together with March, at a delightful 28°C. Make sure to bring your swimsuits as it's a great time to go for a swim or to go snorkeling. Just in case you experience a chilly day, pack some warmer clothing like a sweater and a scarf. Even though the temperature might not feel very hot, UV radiation can still be quite strong, be sure to bring sun protection.
READ THIS NEXT
May marks the start of a hot summer although the heat in this month is by and large endurable. It …
Read more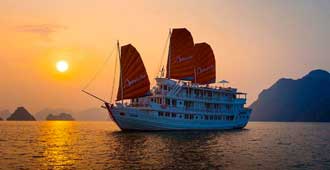 Discover the charming and exotic landscapes of Halong bay on an all-inclusive luxury cruise!
QUESTION FORUM:
Halong Bay: Questions
Free ITINERARY planning with us!
Planning your trip with our Halong local experts, we will help you with:
Accomodation: Find the best hotels/homestay or BnB.
Tours: Connect you to the trusted tour operator in Halong bay.
Cruises: Find the best cruise on your date!
It is all FREE