Weather
Halong Bay Weather in November
November starts seeing chilly wind in the Bay of Halong although the dry weather may make the trip a lot better than one in the summer months. There is very little rainfall and you will mostly experience clear and sunny days, which are perfect conditions for getting outdoors.
IN A NUTSHELL
Winter is upon arrival! Rainfall is significantly lower and there is a slight drop in temperature.
November is still the peak tourist season to visit Halong Bay.
It is one of the best times to visit the caves and explore the islands.
November Weather in Halong Bay
Temperature
Halong Bay in November is typically characterized by cool temperatures. With an average temperature of 23°C, November is nice and temperate. You can expect lows of around 18°C and highs of 25°C. It often gets colder at night.
For people who want to avoid the extreme heat of summer, November is the perfect month to visit Halong Bay.
Rainfall
The weather is more agreeable than in previous months. With only 12mm of rain over 7 days as compared to 55mm over 11 days in October, there is a significant decrease in rainfall.
Humidity
November is much less humid than the yearly average, with a daily humidity level of around 68%.
Sunshine
We get about 8 hours of sunshine per day in November. This is the highest number of sunshine hours that Halong Bay gets together with December and from March to June.
| Month | High / Low (°C) | Average rainfall (MM) | Rainy Days |
| --- | --- | --- | --- |
| November (2020) | 27.54°C (81.57°F) / 16.32°C (61.38°F) | 32.02mm / 1.26in | 7 days |
| October (2019) | 28.56°C (83.41°F) / 15.3°C (59.54°F) | 58.64mm / 2.31in | 8 days |
| September (2018) | 28.56°C (83.41°F) / 18.36°C (65.05°F) | 14.27mm / 0.56in | 3 days |

Halong Weather Averages in November 2018
Pros and Cons of visiting Halong in November
Pros:
With agreeable temperatures, the weather is nice and warm, comfortable for a majority of visitors.
Rainfall levels are significantly lower than in the previous months.
You can expect rare showers and clear and sunny skies. It is not nearly as humid as the previous months.
Visiting the caves and islands is much more pleasurable in November.
Cons:
November is the peak season in Halong Bay so there is a large influx of tourists around this time.
It can be quite chilly in November, especially toward the end of the month and at night.
Events in Halong Bay in November
There are no public holidays or festivals in November.
Best things to do in Halong Bay in November
Visiting museums
In case the weather in November is too cold for you or you want to avoid the tourist crowds, you can choose an alternative option to visit local museums in the city center. Quang Ninh museum tops the priority list with a lot of fabulous exhibitions relating to Quang Ninh's historical values, archaeological artifacts, or the province's achievements. The museum is located on Tran Quang Nghien Street and opens from 8:00 - 11:30, 13:30 - 17:00. In addition, if you are keen on 3D art, you can visit the 3D Funny Art Museum inside Marine Plaza which hosts many beautiful paintings and photos of the wildlife.
Discovering caves and grottoes
Exploring caves in Halong Bay in November is a fun-filled activity as you will have a chance to feel the coldness inside the caves, and admire marvelous stalactites and stalagmites formed thousands of years ago. Halong Bay is best known for Surprise cave, Dark & Bright cave, Thien Cung cave, to name a few.
Taking an overnight cruise
Although the sky in Halong Bay in November is not sunny and clear as in summertime, it is still bright enough for cruising and admiring the bay views from a close distance. The cool weather calls for a cup of hot tea or coffee on deck while enjoying the fresh atmosphere. Besides, onboard entertainment activities such as cooking demonstration, morning tai chi, squid fishing, and live music are also exciting and can be good alternative options if you do want to go out.
Visiting floating villages
A leisure and relaxing activity in Halong Bay is to sit on a bamboo boat rowed by a local or do kayaking to explore ancient floating villages namely Cua Van fishing village, Viet Hai fishing village, and Vung Vieng fishing village. The journey will be added more interesting things as you can get to know more about the local culture, their livelihood, and daily activities.
Hiking
You do not need to worry about heat stroke like in summer while hiking through dense forests or to the top of the mountains. You will be rewarded with the splendid scenery of the surrounding Halong Bay. Some of the best hiking routes are Bai Tho mountain, Titop mountain, and Ngu Lam mountain in Cat Ba national park.
Activity ratings
Activities

Best places to do

Pros and cons in November

Rating

Visit museums

Quang Ninh museum, 3D Funny Art Museum

- Pros: a good alternative for those who do not like outdoor activity or during some wet days




- Cons: it can be crowded in the peak season

7.5/10

Cave exploration

Surprise cave, Thien Cung cave, Dark & Bright cave, Thien Canh Son cave

- Pros: enjoyable weather conditions, less chance of rain




- Cons: it can be a bit chilly inside the cave, the sites are often crowded with tourists

8/10

Overnight cruise

Heritage Binh Chuan cruise, Scarlet Pearl cruise, Elite of the Seas, Paradise Elegance, Orchid cruise

- Pros: dry and cool weather, clear vision of the bay




- Cons: high season, price can be higher, overcrowding

9.5/10

Visit floating village

Cua Van fishing village, Tung Sau Pearl Farm, Vung Vieng fishing village

- Pros: less chance of rain, not too hot or cold weather, suitable for getting outside




- Cons: the villages can be touristy

8.5/10

Hiking

Bai Tho mountain, Titop island, Ngu Lam mountain, Yen Tu mountain

- Pros: dry and cool weather that you will not be exhausted or sweaty too much, less crowded than other tourist attractions




- Cons: not suitable for everyone, especially children and the elderly

8/10
What to pack when traveling to Halong Bay in November
In November, the sea temperature is quite enjoyable. Make sure to bring your swimsuits as it is a great time to go for a swim or to go snorkeling.
Just in case you experience a chilly day, pack some warmer clothing like a sweater and a scarf. Even though the temperature might not feel very hot, UV radiation can still be quite strong, be sure to bring sun protection.
Packing list
Activities

Weather

Packing list

Visit museum

Cool and dry (humidity level is low, at 68%)

Camera
Light and breathable clothes

Cave exploration

Low chance of rains
Dry weather

A pair of sports shoes
Camera
Insect repellent
Sunscreen

Overnight cruise

Cool weather
Low humidity
Low amount of rainfall
Bright skies

Light clothes and some sweaters
Camera
Swimsuit
Sandals

Visit floating village

Bright and sunny skies
Low chance of rains
Warm sea temperature

Comfortable clothing
Sun hat
Sunscreen
Insect repellent
Camera

Hiking

Enjoyable, cool temperature
Dry
Almost no chance of rain

A pair of sports shoes
Bottle of water
Sunscreen and sun hat
Insect repellent
Camera
Local tips
Needless to say, November is a perfect month to visit Halong Bay, there are only a few things to remind you:
The peak tourist season may require you to book services and cruises far in advance.
The price can be higher, especially in the weekends so you should book through travel agencies to get better deals.
The weather can be cold on some days so you should pack some warm clothes.
Although the sunshine is less extreme, sun protection is still necessary to avoid sunburnt.
If you are not keen on cruising, you can choose trekking, visiting museums or playing in the amusement parks.
FAQs
1. Is it better to go to Halong bay in November or December?
Although both months are great times to visit Halong Bay, the weather conditions in November are a bit better. It is not too hot nor freezing cold so you can wear breathable clothes and enjoy outdoor activities.
2. Is it too cold in Halong Bay in November?
No. The average temperature is November is around 23°C which is very cool. It can be a bit chilly at night but still bearable. This type of weather is wonderful for outdoor trips and water-based activities.
3. What are the necessary items should I bring along to Halong Bay in November?
The temperatures are cooling down so apart from light clothes, you should also pack some sweaters and long pants. Although the sunshine is less extreme, you still need sun protection. A pair of sports shoes and cameras are also necessary.
4. Is November a low or high season?
November falls in the high tourist season so you'd better book the cruise and service in advance to avoid being overbooked or a price rise.
5. Does it rain a lot in Halong Bay in November?
Actually no, the amount of rainfall in Halong Bay in November is very little, just only 12mm on an average of 11 days. Thus, you will be likely to enjoy the dry and sunny weather with almost no rains interrupting your excursions.
Questions and Answers
(0)
Be the first to ask a question on this page
READ THIS NEXT
Get the latest on Cat Ba Island's climate information, geography, seasonal weather and average monthly temperatures.
Read more
September signals the arrival of autumn on Halong Bay and is still in the rainny season. The temperatures and rainfall …
Read more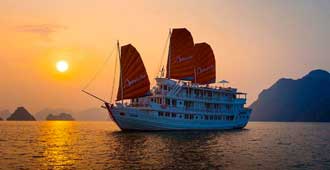 Discover the charming and exotic landscapes of Halong bay on an all-inclusive luxury cruise!
Meet local experts
Need to create your own Halong bay trip?
Call us now: +84 354 64 1421 (Whatsapp)
Customize Your Tour
QUESTION FORUM:
Halong Bay: Questions