Weather
April in Halong Bay: Weather and Event Guide
April is a good month to visit Halong Bay as there are few risks of storm and the weather is very accommodating for an outdoors trip.
IN A NUTSHELL
April signals the end of the peak season so it will be less busy than previous months.
Temperatures are higher but so is rainfall, but don't expect it to rain every day.
Another great month to enjoy the waters of Halong Bay, bring your swimsuit and goggles.
April Weather in Halong Bay
April is much warmer than previous months so you can finally don your shorts and flip flops and really enjoy that sunshine and warm breeze. April is one of the months with the highest amount of daily sunshine and keeps to similar levels of humidity as those seen in March, at around 75%. This isn't too bad compared to the rest of the summer which can see humidity levels rise to above 90%. Rainfall rises in April, especially towards the end of the month, but it isn't enough to cause much disruption so don't let that put you off!
| Month | High / Low (°C) | Average rainfall (MM) | Rain Days |
| --- | --- | --- | --- |
| April (2018) | 27° / 21° | 48 mm | 6 days |

Weather in Halong bay in April (Summary of the last 3 years)
Pros & Cons for Visiting in April
Pros:
April's warm sunny days are perfect for visiting Halong Bay. All activities get a green-light in April, there is very little likelihood of any disruption due to weather.
It's a great time to partake in water sports and snorkeling as both the air and the sea will be warmer and more suitable.
Cons:
Similarly to March, the good weather in April does tend to attract a high amount of visitors so be sure to book your tours and accommodation far in advance where you can.
Events
Two national holidays are celebrated in Vietnam in April.
The first is the Hung Kings Commemoration which is observed on the tenth day of the third lunar month so keep an eye out for the exact dates as this changes from year to year.
The second is Reunification Day which is celebrated on the 30th of April.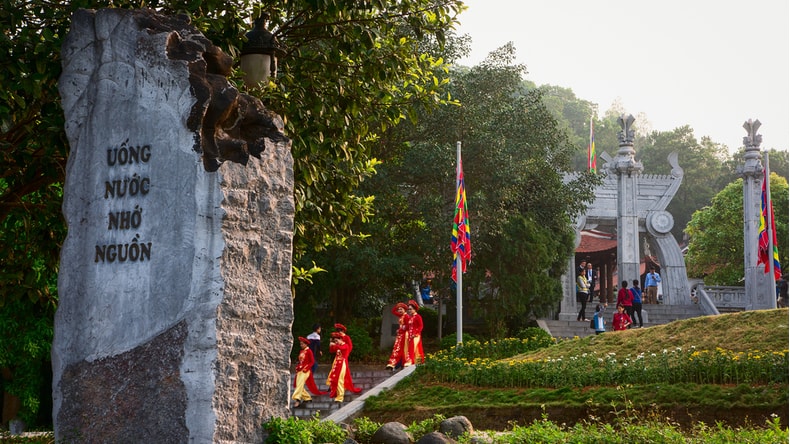 Hùng Kings' Festival in Phu Tho, Vietnam (Photo: Shutterstock)
Hung Kings Festival by year:
Thu, Apr 2, 2020
Wed, Apr 21, 2021
Mon, Apr 11, 2022
What to Pack
With highs of 28°C in April, you should prepare to bring summer clothes; shorts, t-shirts, dresses, and skirts. The sun will be strong so bring a hat if you have one and, as always, where there is sun you should bring sunscreen! It is unlikely that there will be any cold days, but if you catch a chill easily you might want to bring a light sweater.
Pro tips: Bring a swimsuit if you enjoy swimming or water activities.
READ THIS NEXT
May marks the start of a hot summer although the heat in this month is by and large endurable. It …
Read more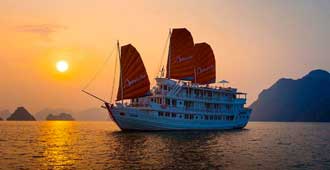 Discover the charming and exotic landscapes of Halong bay on an all-inclusive luxury cruise!
QUESTION FORUM:
Halong Bay: Questions
Free ITINERARY planning with us!
Planning your trip with our Halong local experts, we will help you with:
Accomodation: Find the best hotels/homestay or BnB.
Tours: Connect you to the trusted tour operator in Halong bay.
Cruises: Find the best cruise on your date!
It is all FREE