Weather
December in Halong Bay: Weather and Event Guide
December is a festive month and why not celebrate your important event in Halong Bay? Winter officially arrives at Halong bay in December. The highest temperature reaches to only 22°C while the temperature can drop to about 15°C.
IN A NUTSHELL
With the weather being very well suited for outdoor activities, December is one of the most popular months to visit Halong Bay.
No snow and frost in December in Halong Bay! With an average temperature of 19°C the weather is very mild.
Great time to visit the caves and go for hikes around the islands.
Halong Bay Weather in December
In December, we see the second lowest temperatures (February is coldest) of the year. Be sure to bring some warm clothes because once out of the sun it can be quite chilly.
December has an average of 8 hours of sunlight every day. Making it one of the sunniest months of the year. The copious amounts of sunlight and the small amount of precipitation makes December the ideal month to pay Halong Bay a visit! Humidity levels in December are down to 66%. Making it much more enjoyable to do exercise and outdoor activities as compared to the muggy summer months.
Even though November has less rain in volume, December does have fewer days where it rains. On average, it rains about 10mm over 4-8 days as compared to November where it rains 12mm over 7 days.
| Month | High / Low (°C) | Average rainfall (MM) | Rain Days |
| --- | --- | --- | --- |
| December | 22° / 15° | 10-15mm | 4-8 days |

Weather averages for December

Pros and Cons of visiting Halong Bay in December
Pros:
It's true that December is one of the coldest months of the year, but despite this fact, the temperature is quite agreeable.
The temperature combined with the low humidity levels makes December the perfect month for outdoor activities. Sunny, long and dry days are very common in December.
Cons:
With a low of 15°C, December can be a bit cold. Consider bringing a warm sweater and/or jacket.
Peak season! December is where it gets truly busy. Large crowds are to be expected.
Events Christmas is not celebrated as a holiday in Vietnam, but it is still recognized to a degree and there may be Christmas decorations and Christmas music playing in shops and restaurants.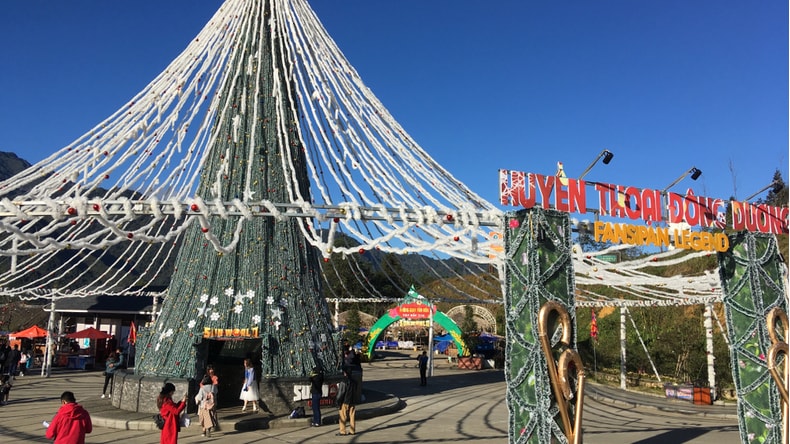 Christmas celebration in Vietnam.

What to pack:
Even though the air might feel cold, the sun's rays can still be harmful. Always pack sun protection like sunscreen, long sleeve shirts or hats/caps. With a stunning 29°C the sea is nice and warm! Perfect for outdoor water activities as the water might be warmer than the air temperature. Be sure to pack bathing suits and towels. A sweater and/or jacket is not a bad idea as it can get quite chilly in the evening and out of the sun.
READ THIS NEXT
May marks the start of a hot summer although the heat in this month is by and large endurable. It …
Read more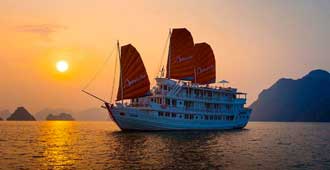 Discover the charming and exotic landscapes of Halong bay on an all-inclusive luxury cruise!
QUESTION FORUM:
Halong Bay: Questions
Free ITINERARY planning with us!
Planning your trip with our Halong local experts, we will help you with:
Accomodation: Find the best hotels/homestay or BnB.
Tours: Connect you to the trusted tour operator in Halong bay.
Cruises: Find the best cruise on your date!
It is all FREE