Insight Guides
Explore The 5 Best Floating (Fishing) Villages in Halong Bay
Almost completely surrounded by waters and limestone formations, Halong Bay comes as no surprise with many fishing villages. A mix of famous and lesser-known floating fishing villages offers wonderful spectacle and a lovely atmosphere. We have selected for you five of the most beautiful fishing villages that are worth a visit in Halong Bay.
Cua Van Fishing Village - the largest and oldest fishing village in Halong Bay
Location: Hung Thang precincts, Halong City, around 20km from the mainland attached to both Halong Bay and Lan Ha Bay. (View on map)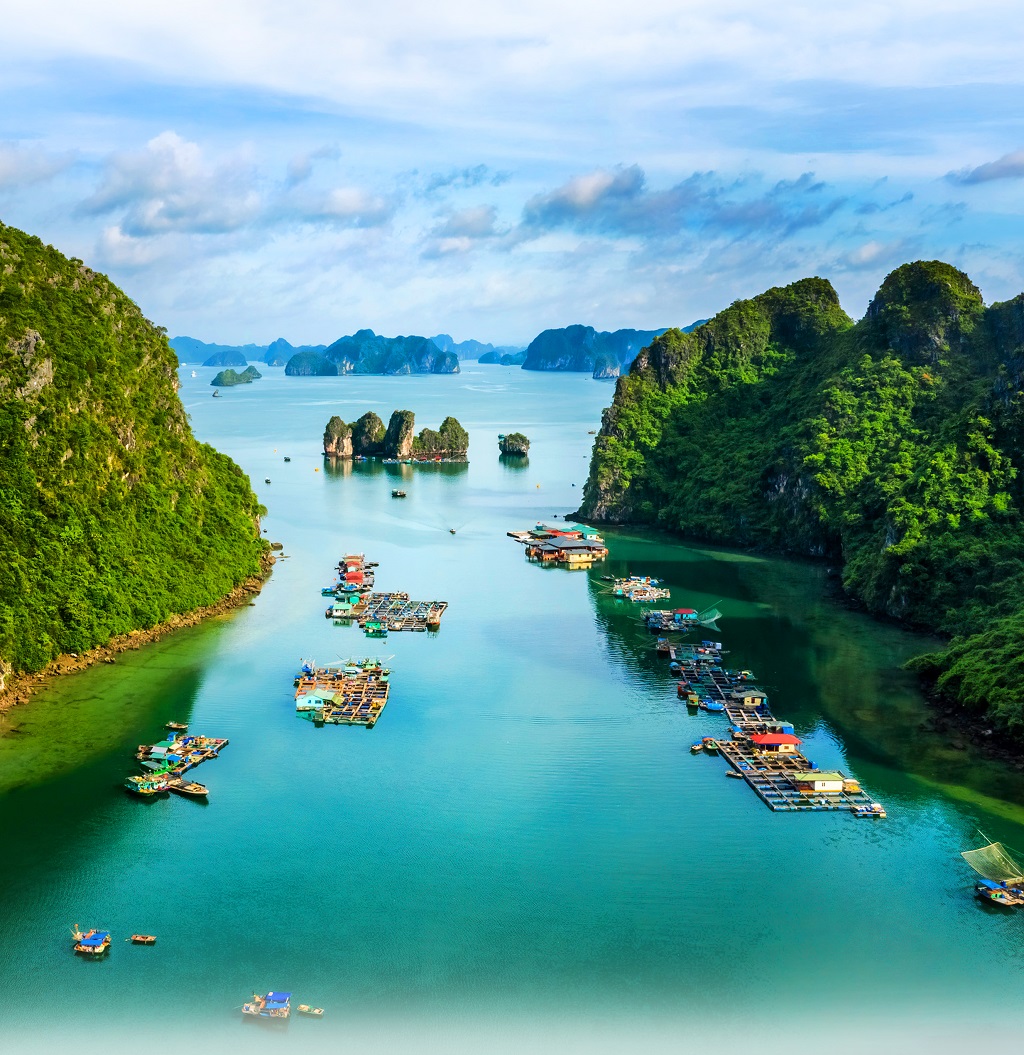 Photo: Vietnamtourism.gov.vn

Cruises with itineraries to the village: Paradise Elegance Cruise, Paradise Sails, Aclass Stellar Cruise, Aclass Legend Cruise
Regarded as a gem of Halong Bay, Cua Van Fishing Village is shortlisted as one of the most ancient and beautiful fishing villages in the world. Within 2 hours of cruising, you will approach Cua Van Fishing Village idyllically situated amidst jade-green waters and towering limestone mountains. At the present, although a vast majority of indigenous inhabitants have resided in other places, a few locals still choose to stay there daytime to earn a living.
Coming to Cua Van Floating Fishing Village, you will be embraced pristine natural scenery and tranquility. Apart from the picturesque surroundings, the highlight of the village is a host of colorful houseboats, rafts, and boats attached to each other. You will also have a chance to meet native residents who are very friendly and hard-working.
Viet Hai Fishing Village - the mesmerizing village with plenty of things to do
Location: Cat Hai District, Hai Phong Province, around 6 miles (10 km) from Cat Ba Town. (View on map)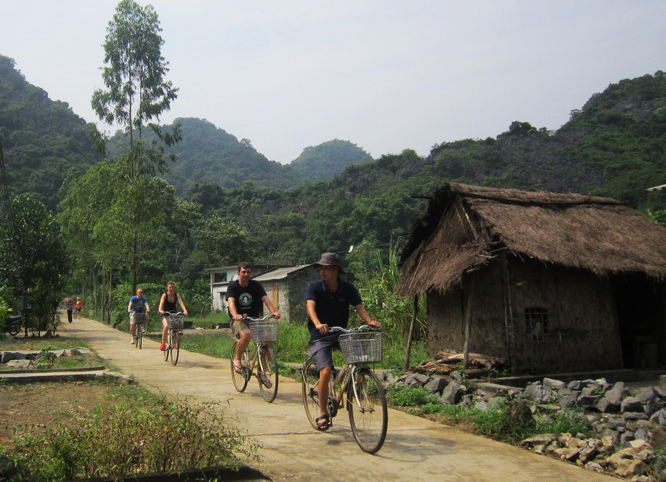 Photo: Dulichdaocatba.com.vn

Cruises with itineraries to the village: Era Cruise, Stellar of the Seas, Heritage Line Ginger Cruise, Mon Cheri Cruise, Aspira Cruise
Viet Hai Fishing Village belongs to Lan Ha Bay and Cat Ba Island which is located in the center of the lush Cat Ba National Park. The village is a not-to-miss destination for throngs of tourists to Lan Ha Bay, especially foreigners. Natural landscapes, ecological attractions, and an array of exciting activities to do are the most impressive features of Viet Hai Fishing Village.
Despite thriving tourism activities, local people here still remain farming and fishing works as their main livelihood. Viet Hai Village provides visitors with a lot of enjoyable experiences. You can ride a bicycle around winding village roads fringed by lush trees and then stop over traditional stilt houses and restaurants to enjoy traditional cuisine. Additionally, you should also not miss kayaking, swimming, boat paddling, trekking, and cooking.
Vung Vieng Fishing Village - the least-touristy floating village on Bai Tu Long Bay
Location: In the center of Bai Tu Long Bay about 24km from the mainland. (View on map)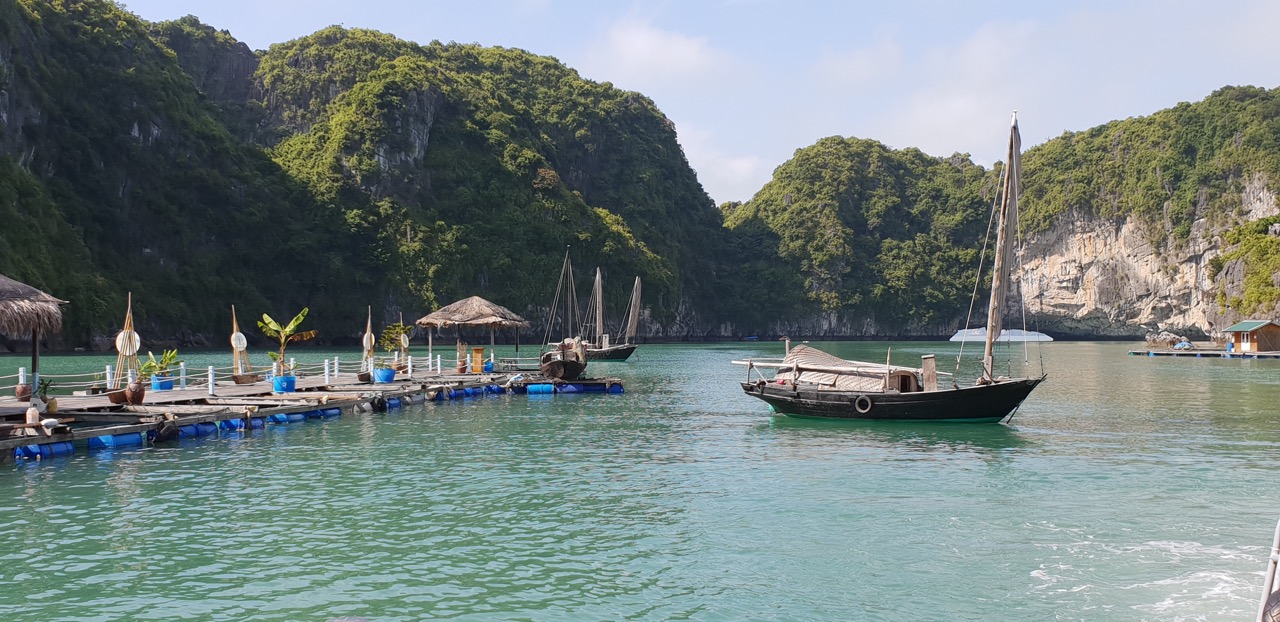 Photo: Ahalong.com

Cruises with itineraries to the village: Paloma Cruise, Swan Cruise, La Regina Royal Cruise, Huong Hai Sealife Cruise, Dragon Legend Cruise
Vung Vieng Fishing Village is a prominent tourist attraction in the pristine Bai Tu Long Bay. It is perfectly suited to seasoned travelers seeking a rustic atmosphere and local life experiences. Vung Vieng Fishing Village comprises around a hundred tiny, colorful raft houses standing next to each other.
This primitive village is blessed with majestic landscapes, limestone islets formed thousand years ago, and an abundance of wildlife species. Here you will absolutely get away from the bustling life and indulge in a refreshing, fisherman-being experience as well as join water-based activities.
Cong Dam Fishing Village - the lesser-known village
Location: Bai Tu Long Bay, far away from the mainland.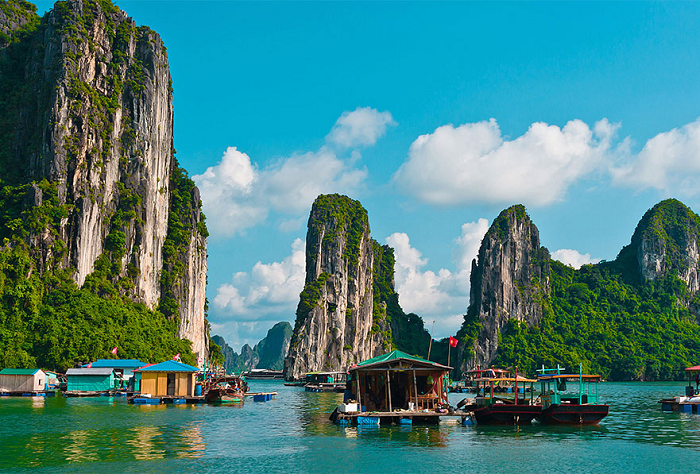 Photo: Vinpearl.com

Cruises with itineraries to the village: Paloma Cruise, Dragon Legend Cruise, Athena Cruise, Renea Cruise
Cong Dam Fishing Village is an isolated and under-the-tourist-radar attraction thus defining itself as a non-touristy paradise for international travelers. Its unspoiled natural splendor was formed dating back almost 340 million years ago.
Similar to other ancient fishing villages, Cong Dam Fishing Village is dotted with a few clusters of floating houses in different hues against a staggering mountain backdrop. These are home to over 120 locals with fishing as their way to make ends meet. Bountiful interesting activities await you to experience. For example, you can embark on a traditional bamboo boat or kayak around the village to contemplate the majestic beauty, visit caves, and soak up the sunshine on the beach.
Ba Hang Fishing Village - the quieter alternative to Cua Van Fishing Village
Location: Halong Bay, about 3km from Tuan Chau International Port to the south (View on map)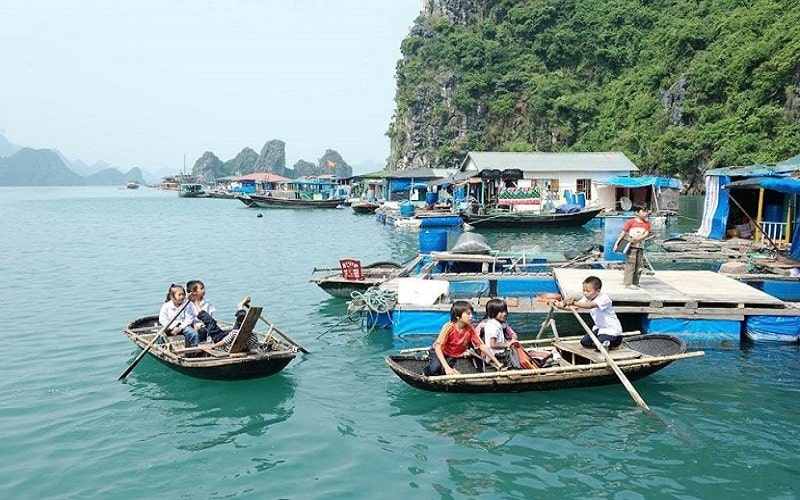 Photo credit: Dulichvietnam.com.vn

In the proximity of Thien Cung Grotto, Ba Hang Fishing Village is another outstanding tourist site in Halong Bay emerging as an ancient yet small village with only around 50 households settling there. Each family stays in a small 5-10m² floating house. Surrounded by a peaceful and rustic ambiance, Ba Hang Fishing Village brings a sense of utmost relaxation. This is also well-known as the filming site for the blockbuster "Kong: Skull Island".
Accessing Ba Hang Fishing Village, you can breathe the freshest air, meet warm-hearted people, and engage in extraordinary farming and fishing activities.
Questions and Answers
(0)
Be the first to ask a question on this page
READ THIS NEXT
Are you looking for the best ways to contemplate the splendid beauty of Halong Bay? Halong Bay in fact can …
Read more
Mesmerizing Halong Bay needs almost no introduction as a wonderful destination with spectacular scenery and an abundance of things to …
Read more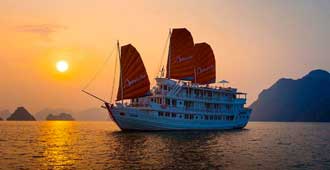 Discover the charming and exotic landscapes of Halong bay on an all-inclusive luxury cruise!
Meet local experts
Need to create your own Halong bay trip?
Call us now: +84 354 64 1421 (Whatsapp)
Customize Your Tour
QUESTION FORUM:
Halong Bay: Questions