Are you looking for the best ways to contemplate the splendid beauty of Halong Bay? Halong Bay in fact can be enjoyed in various ways, suiting different budgets and types of travelers.
Diverse options, however, can be a bit confusing, especially for first-timers. Most visitors choose a day or overnight cruise gliding through incredible rock formations on Halong Bay. At the same time, adventure seekers may be more fond of hiking trips or thrilling sports activities. Meanwhile, getting on a seaplane and watching the bay from above especially allure tourists with better budget.
Our article below aims to provide you with instructions on the most wonderful ways to see Halong.
Option 1: Embark on an overnight cruise
Cost: USD$120 - USD$300/room/night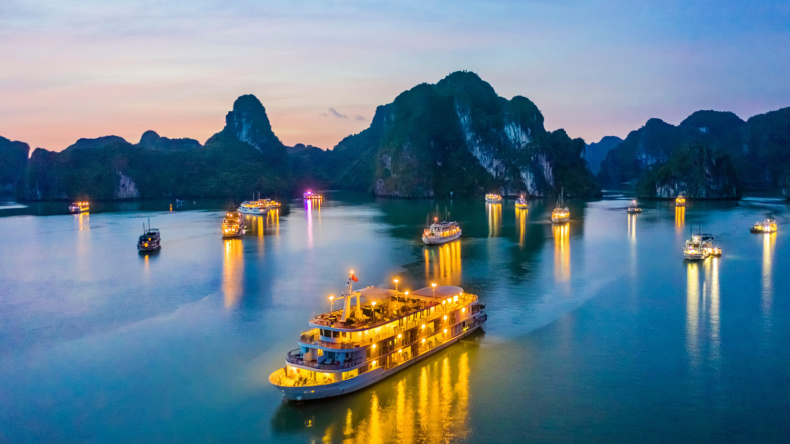 Overnight cruises in Halong bay

Taking an ordinary overnight cruise to enjoy Halong Bay's views and experience typical activities is the most popular choice for casual travelers. This is also the ultimate way to get close to the natural wonders. A vast selection of cruise types ranging from junk boats to mid-range and luxurious cruises enables you to have multiple cruise experiences. Additionally, frequent promotions from cruise operators and travel agencies are an advantage that you can take a cruise vacation at a better price.
If you travel on a tight budget, you can choose Indochina junk, Glory Legend cruise, Oriental Sails, Renea cruise, and Aclass Stellar cruise. Meanwhile, cruises like Stellar of the Seas, Heritage cruise Binh Chuan, and Paradise Elegance are the best options for a high-quality family overnight stay as well as a romantic and luxurious honeymoon. 2 days 1 night and 3 days 2 nights are the most popular options for a cruise vacation on Halong Bay.
The whole journey comprises a variety of things to do both onboard and onshore that are similar no matter what cruise type you choose. The most radical difference between traditional and luxurious cruises is just the quality of services and accommodations. For instance, on the ship, you can join tai chi class in the early morning, a sunset party in the afternoon, and night entertainment like squid fishing, and singing karaoke. When it comes to outdoor programs, you will have a chance to visit well-known tourist attractions in the Halong Bay area, do kayaking, swim on the beach, and explore caves and fishing villages, and so on.
Option 2: Take a day cruise (4 - 8 hours)
Cost: USD$50 - USD$100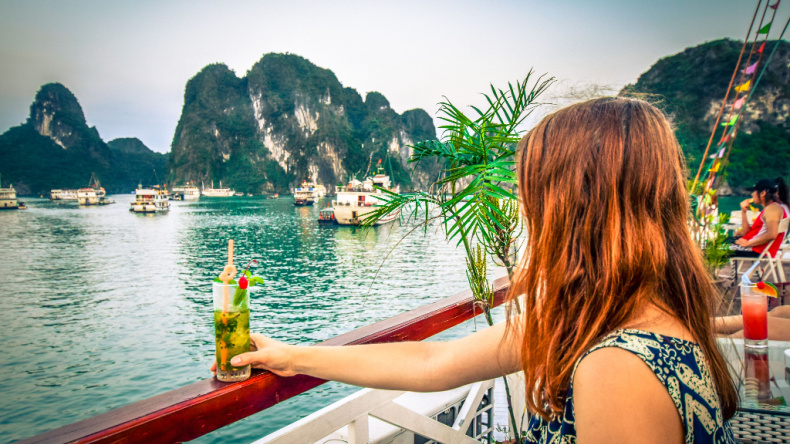 Halong bay view from a day cruise trip!

Similar to overnight cruises in terms of sailing itineraries and activities, day cruises are a better option if you are pressed for time or want to have more time exploring the inner city. This is also perhaps the best cruise option for budget-conscious travelers. A day cruise tour can last from 4 to 8 hours. There are 5 main routes for day cruises to visit Halong Bay:
Route 1: Thien Cung Cave - Dog Rock, Ba Hang fishing village, Dinh Huong (Lu Huong) Islet, Fighting Cocks (Ga Choi), Hoa Cuong fishing village.
Route 2: Sung Sot cave, Titov or Soi Sim Island, Me Cung Cave, Fairy Lake or Trong Cave or Trinh Nu (Virgin) Cave or Luon Cave and Bo Nau Cave.
Route 3: Cua Van fishing village - Fairy Cave - Ba Ham Lake.
Route 4: Co Cave - Father Cave - Vung Vieng fishing village - Cap La - Cong Dam fishing village or ecological zone Tung Ang - Cong Do Island or Xep Islet.
Route 5: Port - Gia Luan Dock (Cat Ba - Hai Phong): Dog Rock, Ba Hang fishing village, Dinh Huong Islet, Fighting Cocks (Ga Choi), Hoa Cuong fishing village.
Among those, route 2 is the most popular and common one. Apart from admiring the bay views, you can also engage in various activities like kayaking, swimming, mountain climbing, and cave exploring. Normally, included in the ticket price is entry to tourist attractions and meals onboard.
Some prominent day cruises that you can consider are Jade Sails cruise, Genesis Day cruise, Estella Premium Day cruise, Paradise Luxury Day cruise, Orchid Day cruise, and so on.
Option 3: Take a seaplane tour over Halong Bay
Cost: USD$100 - USD$120 per pax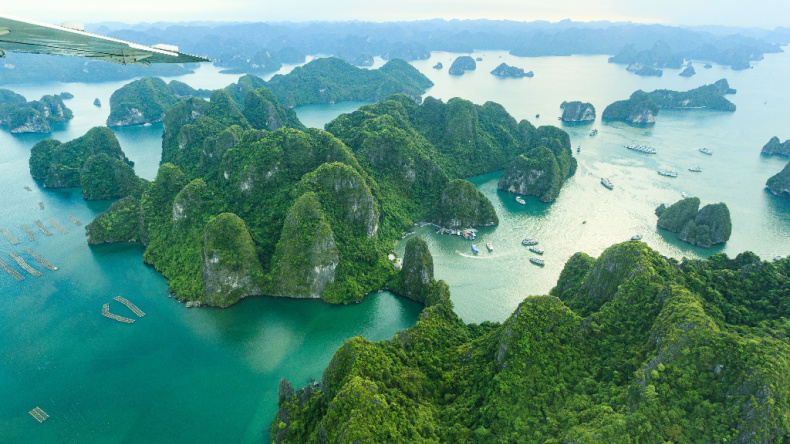 Aerial view of Ha Long bay from a seaplane flight

The list of the best ways to see Halong Bay cannot miss a seaplane tour that allows you to enjoy a stunning bird's eye view over hidden corners of Halong Bay from a close distance. Needless to say, this service is not cheap but the experience is also incredible. Thus, if you have a generous traveling budget, this activity must be included in your bucket list.
This form of traveling is exclusively provided by Hai Au aviation company, the firm that also offers seaplane flights between Hanoi airport and Halong city. Uniquely, the seaplane can take on and take off above water bringing fascinating experiences for passengers. You will be able to capture the most beautiful scenery of the bay while sitting next to the window.
The scenic flight lasts 25 minutes flying at a low altitude from 300 - 150m. There are around 8 scheduled flights a day and you can book through travel companies or Hai Au aviation. In addition, if you travel in a group, you can book a charter flight with prices varying from VND 23.900.000 (USD$1039) (fixed itinerary) - VND 35.900.000 (USD$1560) (optional itnerary).
Option 4: See Halong Bay from Queen Cable Car and Sun Wheel
Cost: USD$11 - USD$15/ pax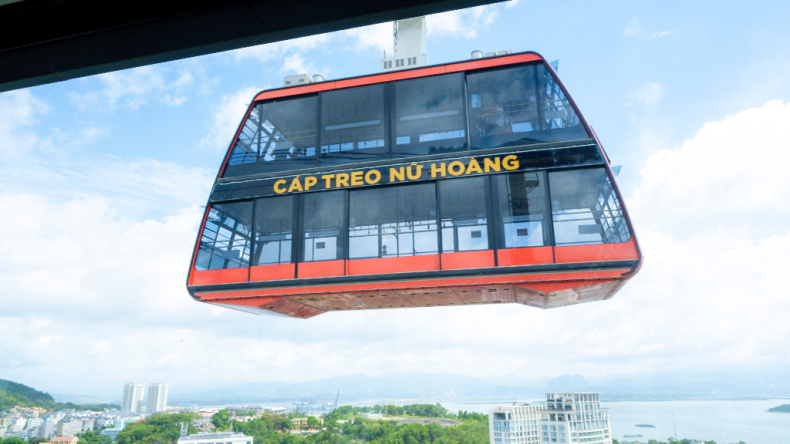 Queen cable car

This option is maybe the most extraordinary when it comes to seeing Halong Bay as you will enjoy its beauty from a bit far distance. Interestingly, sitting on the cable car or Sun Wheel provides a similar experience like on a seaplane and you do not really need to spend a huge amount of money for this.
Queen Cable Car and Sun Wheel belong to Sun World Halong entertainment complex, a hub for games and fascinating activities suiting various kinds of travelers from children to adults. To be more specific, Queen Cable Car proudly wins 2 World Guinness Records as the cable car system with the highest passenger capacity in a cabin (up to 230 passengers in a cabin at one time) and the tallest cable car tower, measuring 188,88 meters.
The cable car runs to the top of Ba Deo hill offering you joyful experience admiring the charming beauty of Halong from above. The two-way ride takes 5 minutes and costs VND 350.000/ adult and VND 250.000/ child above 1.3m.
Regarding Sun Wheel, standing 215m above sea level, this is an ideal point for you to capture the panoramic view of Halong Bay. This is one of the biggest rotating wheels in Vietnam. The wheel has 64 cabins accommodating 1.200 guests per hour. As you buy a ticket for Queen Cable Car, you can enjoy a ride on Sun Wheel free of charge.
Option 5: Enjoy Halong Bay views from the top of Titop Island
Cost :Included in cruise itinerary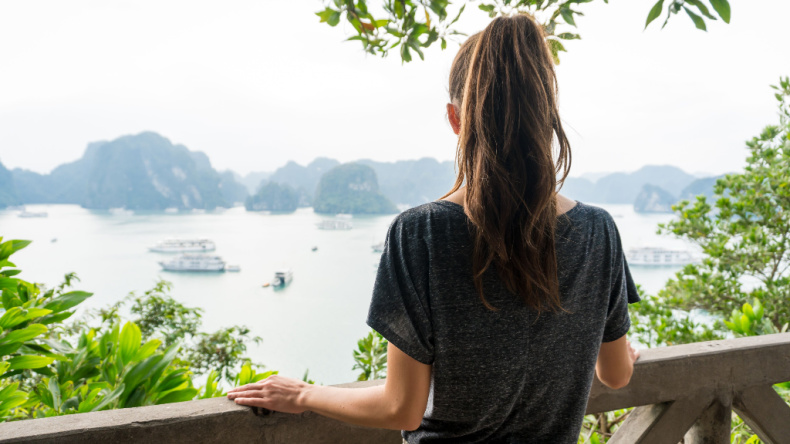 Titop island peak

Titop Island is a not-to-be-missed attraction for visitors, especially those who seek a great place to watch the bay's views. Only 7-8k from Halong City, Titop Island is included in almost all itineraries of cruises on Halong Bay. The man-made beach on the island has a unique crescent shape and white sand that a lot of tourists enjoy swimming there.
As you climb around 400 steep steps to the peak of Titop island, you can grasp the majesty of Halong Bay from a 100-meter altitude. To the north, Bai Tho mountain and the iconic Bai Chay bridge appear in your eyes while mighty limestone mountains cover the three remaining sides.
Titop island is easy to approach as you can book a day cruise on route 2 or an overnight cruise sailing through Halong Bay.
Option 6: Capture Halong Bay's panoramic scenery from Bai Tho mountain
Cost: Free of charge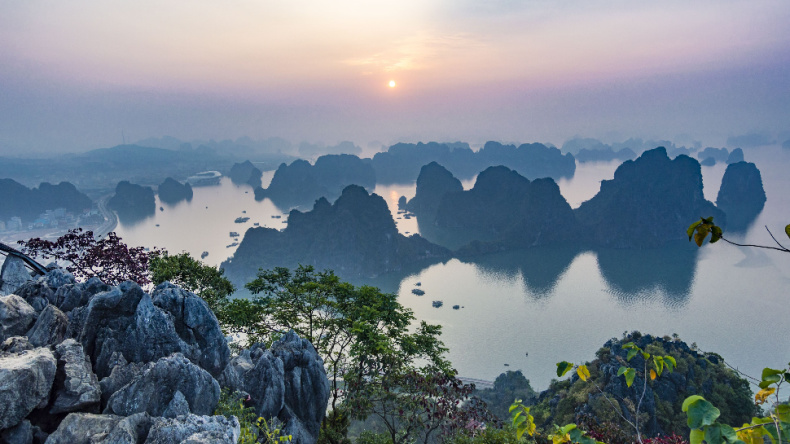 Halong sunrise from Bai Tho mountain

Climbing to the top of Bai Tho mountain is the cheapest way to enjoy the staggering views of Halong Bay from above. All you need to do is prepare for a hiking trip to the top of the mountain which is 200 meters above sea level. It usually takes hikers 30 minutes. You should wear comfortable and breathable clothes and pack necessary things to bottles of water, sun hat, sunscreen, insect repellent and camera.
Bai Tho mountain is accessible by two ways, the first one is through 104A Le Thanh Tong street (open free daily from 5:30 am to 7 pm). The second way is passing Long Tien street, next to Long Tien pagoda.
Summary
Ways to see Halong Bay

Summary

Cost

Ratings

Overnight cruise

- Most popular

- A variety of cruise options

- Reasonable price

- Various activities

USD$120 - USD$300/room/night

9/10

Day cruise

- Cheap

- Time-saving

- Various activities

USD$50 - USD$100/pax

8/10

Seaplane tour

- Expensive

- Extraordinary, unforgetful experiences

- Capture beautiful views from different corners

USD$100 - USD$120/pax

8.5/10

Queen cable car and Sun Wheel

- Similar experiences like seaplane tour

- Cheap

- Can do many times per day

USD$11 - USD$15/ pax

8/10

Titop Peak

- Enjoy panoramic views of Halong Bay

- Inexpensive

- Require good physical strength

Included in cruise itinerary

8.5/10

Bai Tho Mountain

- One of the best spots to admire Halong Bay

- Inexpensive

- Require physical strength to climb to the top

Free of charge

8.5/10
Local tips
Halong Bay is best to be admired during the sunset.
You should avoid climbing mountains or taking cable cars during foggy and rainy days because the gloomy skies and poor vision will affect your view of Halong Bay. On these days, taking a cruise or an overnight cruise is a wiser choice.
Prepare suitable items for each activity. For example, you need comfortable clothes, insect repellent, sunscreen, and a pair of sports shoes for doing outdoor activities while it is more hassle-free when enjoying Halong Bay's view from a cruise.
Questions and Answers
(0)
Be the first to ask a question on this page
READ THIS NEXT
Vietnamese New Year is known as Tet, Tet Nguyen Dan, or Lunar New Year in Vietnam. It is the most …
Read more
Hanoi Old Quarter has long been known as the historical and cultural hub in the heart of Hanoi Capital.
Read more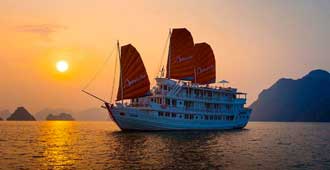 Discover the charming and exotic landscapes of Halong bay on an all-inclusive luxury cruise!
Meet local experts
Need to create your own Halong bay trip?
Call us now: +84 987 24 6600 (Whatsapp)
Customize Your Tour
QUESTION FORUM:
Halong Bay: Questions