Insight Guides
Is Halong Bay Worth Visiting? 12 Reasons to Visit Halong Bay
Halong Bay is renowned worldwide for its diverse complex of limestone islands, pristine beaches, and wonderful cave system. The city center is also scattered with entertainment venues where you can take part in thrilling games or simply wander around.
Halong Bay can be visited almost all year round and plentiful seasonal cuisine options make it hard to skip. In addition, as a big tourism hub, it has developed various high-quality services like seaplane flights and snorkeling or scuba diving at affordable prices. The only problem to keep in mind is that the bay is usually touristy and especially overcrowded in the peak domestic tourist season from June to August so you need to book services further in advance and prepare for price rises.
So, is Halong Bay really worth it? Halong Bay should truly be on everyone's bucket list. With its unique landscape of rock formation over an emerald body of water and impressive biodiversity, Halong Bay will easily be your once-in-a-lifetime experience.
In case you are still wondering whether to visit Halong Bay, here are 12 reasons why you should pay a visit there.
1. A renowned UNESCO World Heritage Site
Halong Bay is included in many tourists' bucket lists when traveling to Vietnam. It is because the site is well-known worldwide as a UNESCO World Heritage Site.
A journey to Halong Bay will take you through some of the most picturesque scenery in the world. Halong Bay allures visitors with outstanding features including thousands of limestone islands and islets rising above jade-green waters, unique geological and cultural values, and quaint floating fishing villages dating back thousands of years ago.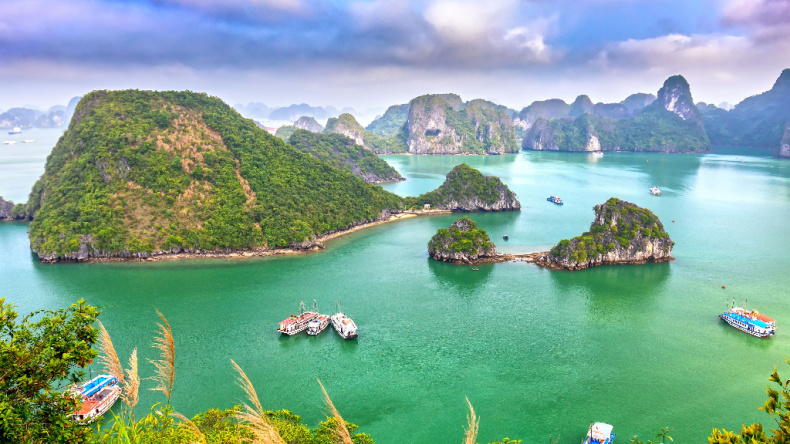 2. Primitive nature
Halong Bay is definitely a go-to destination if you are a nature lover. From untouched beaches to ancient floating villages, secluded islands, and an amazing system of natural caves and grottoes, natural beauty is what the bay draws your attention to. Notably, a vast majority of islands on Halong Bay are uninhabited and thus have no human footprints. Moreover, it is also home to Cat Ba Island which is filled with dense jungles and fauna and flora richness. A trekking tour through Cat Ba national park allows you to see many endangered species like Cat Ba langurs or Golden-headed langurs and soak up the rustic, fresh atmosphere.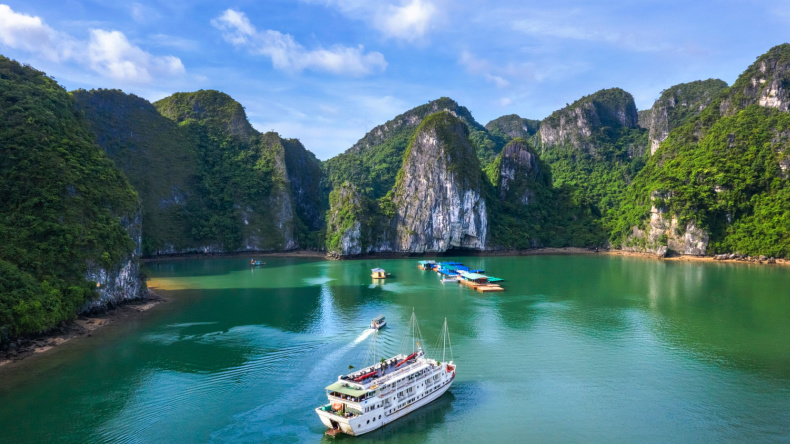 3. One-of-a-kind geological formations
Thanks to an extensive system of marvelous caves, grottoes, and towering limestone karsts, Halong Bay is a top destination for sightseeing. Natural geological movements formed millions of years ago have created numerous stalactites and stalagmites in different shapes and sizes. Surprise Cave is the largest and most beautiful cave on the bay. Besides, you should not miss a visit to Heaven Grotto, Luon Cave, Dark & Bright Cave, and Thien Canh Son Cave. Here you can combine a kayaking trip or leisurely sit on a bamboo boat and admire the picturesque scenery.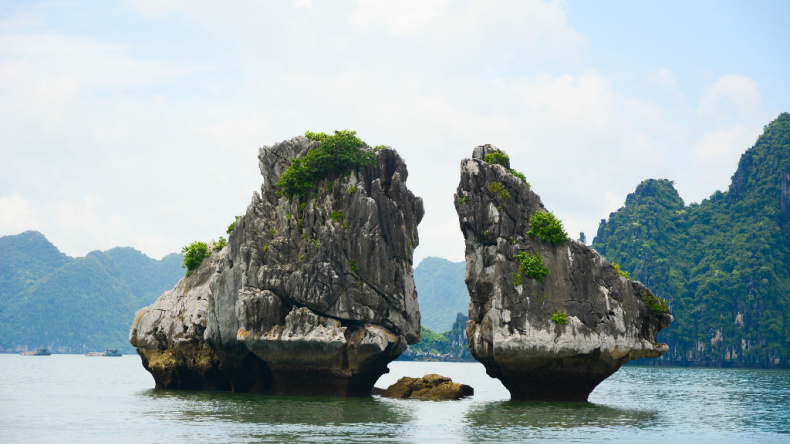 Fighting cocks islet - the symbol of Halong bay!

4. Diverse seafood and local cuisine
Consider yourself a seasoned traveler, you cannot miss a refined culinary journey full of super-fresh seafood and regional dishes in the land of descending dragons. The best local specialties can be found in Halong night market and restaurants along Bau Chay road. The best food you should try in Halong Bay are nodding cake, austriella corrugata, Tien Yen hill chicken, grilled chopped squid, sipunculus nudus, horseshoe crab, noodles with mantis shrimp, and so on.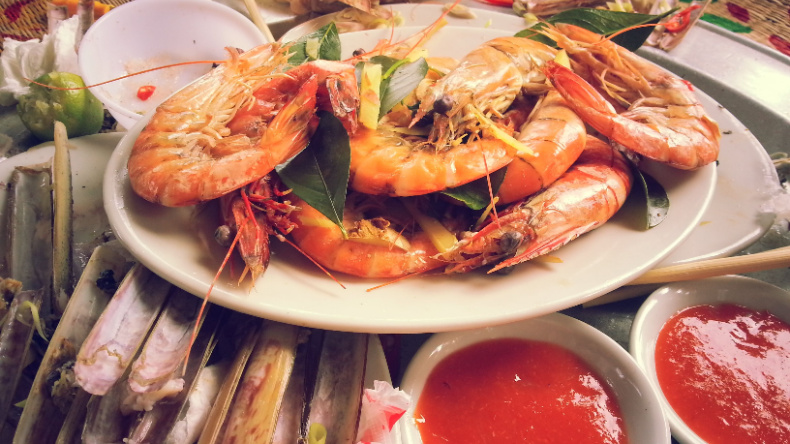 5. Multiple activities that suit different types of travelers
Halong boasts a big tourism hub in northern Vietnam where you can find many forms of entertainment. Apart from cruising, you and your families or groups of friends can get entertained in the Halong Entertainment complex, and take part in many interesting games. Meanwhile, if you are looking for adventurous experiences, trekking through jungles and hiking to the mountain are highly recommended. Moreover, Halong is also a famous religious site for pilgrims. You can take a pilgrimage to Yen Tu Mountain or Ba Vang pagoda and join many religious festivals and activities here.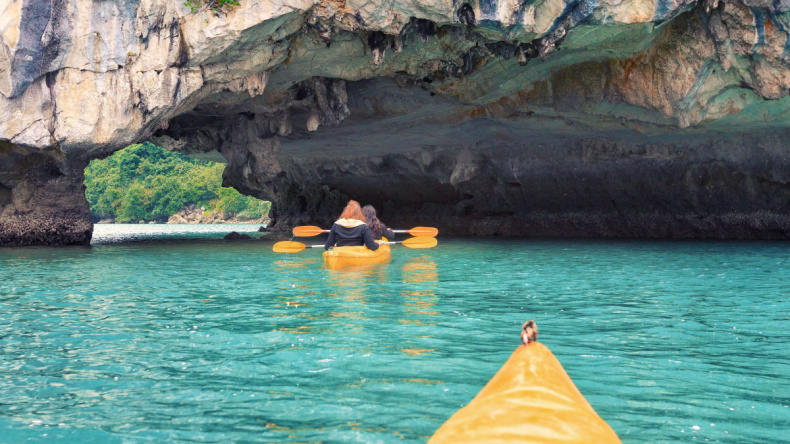 6. Easy accessibility
Diverse means of transportation enable you to transfer to Halong Bay effortlessly. Options vary from bus, D-car limousine, and private taxi to seaplane and train. From Hanoi, you can easily take a bus, a private D-car or a tourist coach to Halong Bay following new, high-quality highways. The total transfer time is around 3 - 3.5 hours. Meanwhile, the shortest and most convenient way to transfer from Hanoi to Halong Bay is to take a 45-minute seaplane flight from Noi Bai International airport to Tuan Chau Marina. The price is from US$175 to US$385/pax. Train is the cheapest and least common option if you are not pressed for time and expect to admire a scenic drive through the delta.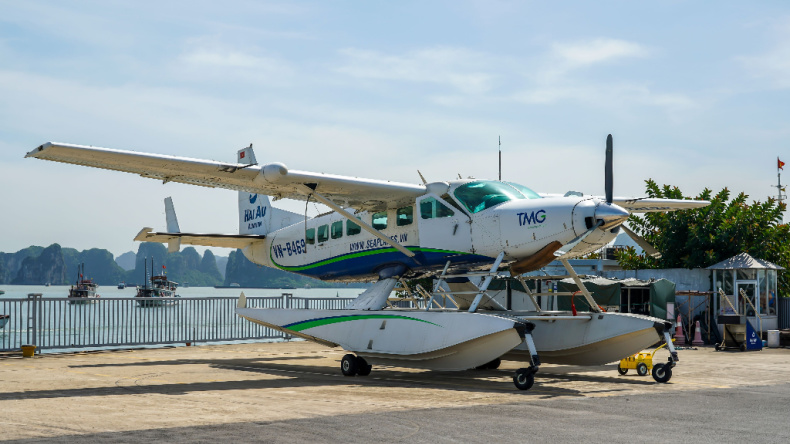 7. Various types of accommodation
Visiting Halong Bay, you can experience a variety of accommodations. The most popular option is to spend a night sleeping on a cruise ship. In addition, hotels and resorts are available with different styles and price ranges. For instance, you can choose to stay in Vinpearl Halong resort & spa idyllically on Reu Island. The room rate starts from US$110/room/night. Besides, rustic-style resorts on Cat Ba Island are ideal options if you want to soak up tranquility and be close to nature. Also, contemporary-style hotels abound in the city center that can help you save a great amount of budget.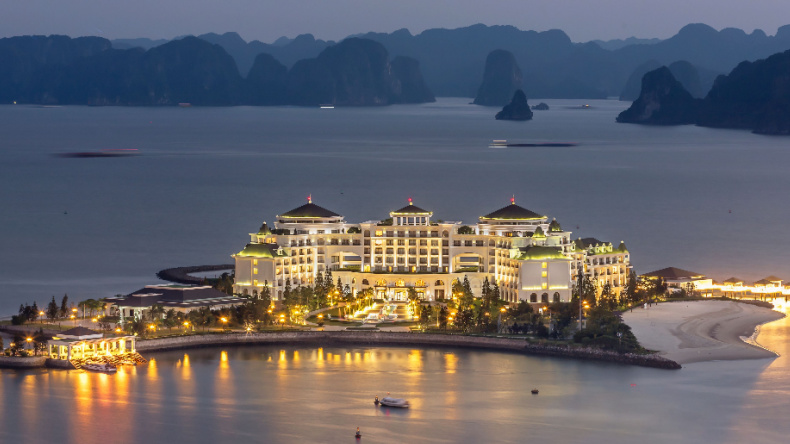 8. Affordable prices
Halong Bay is a budget-friendly tourist destination for a majority of domestic visitors as well as foreigners. Inclusive overnight cruise packages normally cost from US$100/pax if you choose a 2d1n mid-range overnight cruise while the price for a premium cruise ranges from US$160 - US$300/pax. The package usually includes meals, activities onboard, and entrance tickets to sightseeing spots. Moreover, if you choose to stay in the city center, accommodation prices and services are also very reasonable.
Besides, transportation costs from nearby areas to Halong Bay are inexpensive. The ticket prices for bus or tourist coaches to Halong Bay are from US$5-US$10/pax/one way while it is much higher when you choose D-car Limousine or seaplane flights.
9. Developed services
Apart from typical activities like cruising, kayaking, swimming, or mountain climbing, visitors to Halong Bay have numerous chances to participate in exciting and thrilling activities. For instance, a 25-minute seaplane tour takes you over Halong Bay admiring its marvelous structures from a low altitude. Additionally, you can book a snorkeling or scuba diving tour to contemplate colorful coral reefs and the diverse marine system.
10. A fantastic overnight cruise experience
Whether you spend 1 night or 2 nights on an overnight cruise ship, there are various typical activities awaiting you to explore onboard. In the late afternoon, you will join a sunset party drinking, listening to live music performances, and chilling out in a relaxing atmosphere followed by a hearty dinner or BBQ. Afterwards, you can take part in board games, squid fishing, or singing karaoke upon your preferences. A night sleeping onboard is also an extraordinary experience as you will have an indulgent night's sleep, being embraced by the serenity and peace in the anchor area. Moreover, early birds can also experience a lot of morning activities like practicing tai chi, yoga class, and taking stunning photos at dawn.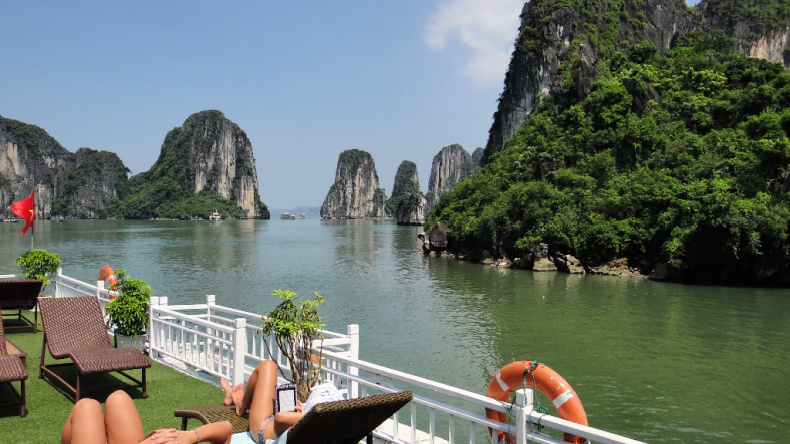 11. It can be visited almost all year round
Featuring a tropical climate weather pattern with four distinct seasons, Halong Bay, in fact, can be visited at any time during the year except for the stormy season from June to August. Its peak tourist season is from October to April when the temperatures are endurable and there is a low amount of rainfall. With a high number of sunshine hours, the visibility is also clear for you to enjoy outdoor activities.
12. Plenty of nightlife activities
Halong Bay is known as a safe and friendly city for experiencing nightlife activities. Although it is not as vibrant and bustling as big cities like Hanoi or Ho Chi Minh City, nightlife in Halong Bay still has its own unique features. Instead of sleeping overnight onboard, you can spend a night doing various things such as wandering around the night market, watching the Water Music show on Tuan Chau Island, and taking a street food tour.
FAQs
Is Halong Bay safe?
Halong Bay in general is a safe and friendly place of interest. You do not need to worry about major crimes but should still be cautious and avoid going out too late at night.
Are you interested in indulging in hot springs?
Halong Bay is one of the top choices for hot springs. Yoko Onsen Quang Hanh, a Japanese-style village with hot springs, is a destination you should not miss out on.
Is Halong Bay or Lan Ha Bay better?
Each bay has unique features and various things to offer, it is really up to you to decide where to go. Halong Bay is a better choice when it comes to vibrating entertainment, developed services, and exciting nightlife. Meanwhile, you should visit Lan Ha Bay for more primitive attractions and a tranquil atmosphere. A large number of upscale cruises also have sailing itineraries on this bay.
Is Halong Bay a budget-friendly destination?
Yes, Halong Bay provides a wide range of accommodations and services that are reasonably priced and suitable for different guests' demands. For example, if you are a budget-minded traveler, you can opt for mid-range cruises and typical water activities like swimming and kayaking. Meanwhile, with a better budget, you can afford a seaplane trip over Halong Bay or a luxury overnight cruise.
Questions and Answers
(0)
Be the first to ask a question on this page
READ THIS NEXT
Vietnamese New Year is known as Tet, Tet Nguyen Dan, or Lunar New Year in Vietnam. It is the most …
Read more
Hanoi Old Quarter has long been known as the historical and cultural hub in the heart of Hanoi Capital.
Read more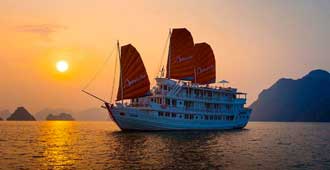 Discover the charming and exotic landscapes of Halong bay on an all-inclusive luxury cruise!
Meet local experts
Need to create your own Halong bay trip?
Call us now: +84 987 24 6600 (Whatsapp)
Customize Your Tour
QUESTION FORUM:
Halong Bay: Questions