Mesmerizing Halong Bay needs almost no introduction as a wonderful destination with spectacular scenery and an abundance of things to do. The vibrating Halong city itself also hosts a number of features to discover.
In addition to exploring Halong Bay and Halong city, you can also hop over to neighboring areas and enjoy different aspects of local life. These activities can bring you once-of-a-lifetime experiences. Plan your trip with our bucket list of 26 things to do in Halong Bay below.
1. Discover marvelous caves
Cave exploring is a must-do activity on Halong Bay. Thanks to unique geological and archeological values, the amazing cave system on Halong Bay dating back thousands of years ago become a signature for any first-timers.
Caves and grottoes have been formed with intricate stalactites and stalagmites and winding, mysterious chambers. Some notable giant and beautiful caves are Surprise Cave, Thien Cung Cave, and Luon Cave on Halong Bay, Dark and Bright Cave on Lan Ha Bay, and Thien Canh Son Cave on Bai Tu Long Bay. Those caves are ideally located on prominent islands with easy access by tender boats and thus suitable for both adults and children to visit.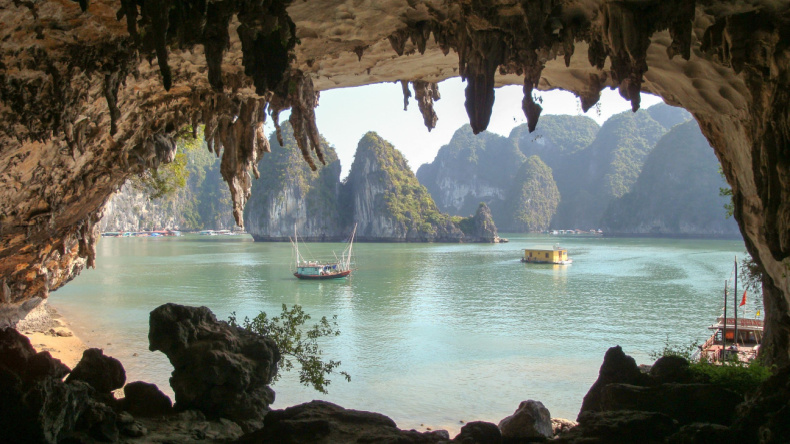 Bo Nau Cave - Halong Bay

2. Visit ancient fishing villages and delve deeper into fishermen's daily lives
Halong Bay is home to a number of thousand-year-old rustic floating villages with fishing as the main livelihood. Among those, Cua Van floating village is the largest and oldest one on Halong Bay. Coming there, you can have a glimpse of colorful houseboats and rafts sitting next to each other. There are also chances to meet local people and get to know their daily lives as well as work tasks.
Besides, Viet Hai fishing village is also a promising destination where you can experience a lot of activities such as cycling, trekking, boat paddling, and swimming.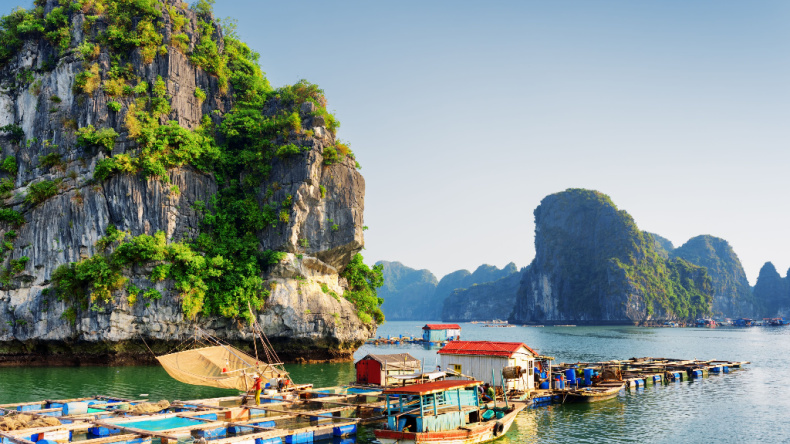 Floating village in Halong bay

3. Take a seaplane tour
Hai Au aviation company provides one of the most exciting experiences for tourists on Halong Bay flying over the bay on a seaplane.
This kind of tour is a bit expensive but worth trying, especially during sunny days with clear vision. Each flight lasts 25 minutes. You will be able to contemplate the mesmerizing beauty of Halong Bay from a low altitude of 300 to 150 meters and take stunning photos. There are a few scheduled flights per day and you can book this service through Hai Au aviation or travel agents.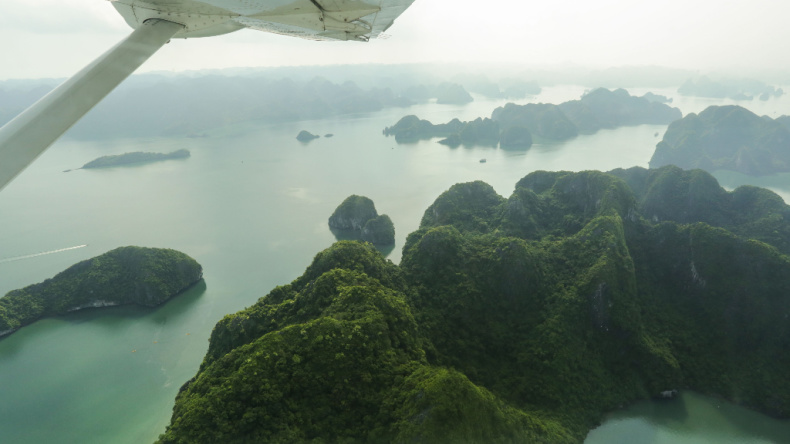 Halong bay from a seaplane sightseeing flight

4. Go kayaking
Kayaking is a typical activity included in any traveler's bucket list while visiting Halong Bay. This has been by far the best way to admire the bay's beauty at a close distance and in a relaxing way.
You and your partner can row a kayak independently around famous kayaking areas spots like Luon cave, Vung Vieng fishing village, Tung Sau pearl farm, Cong Do island, Ba Trai Dao area, Ao Ech area, and so on. Almost all-day and overnight cruises have this activity in the itinerary. Alternatively, you can leisurely sit on a bamboo boat rowed by a local and enjoy the bay's view. The best time for kayaking is from March to June and October to December when the weather is predictable without cancelations due to storms and heavy rains.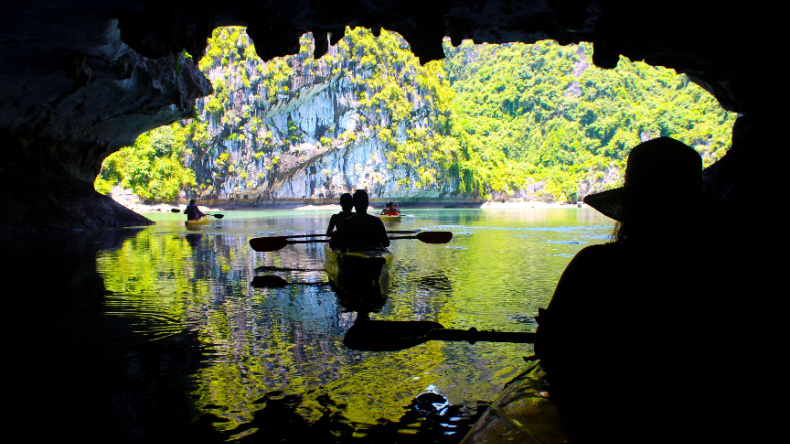 Kayaking through a cave in Halong bay

5. Check in 5-star hotels and resorts
Besides picturesque seascapes and interesting cultural values, Halong Bay is also a prominent destination for upscale vacations in luxurious hotels and resorts. Top high-end accommodations in Halong Bay are Vinpearl resort and spa Halong, Wyndham Legend Halong, Royal Halong Hotel, and Royal Lotus Halong resort & villas. Those are great alternatives for overnight cruises that enable you to have more time to explore Halong City.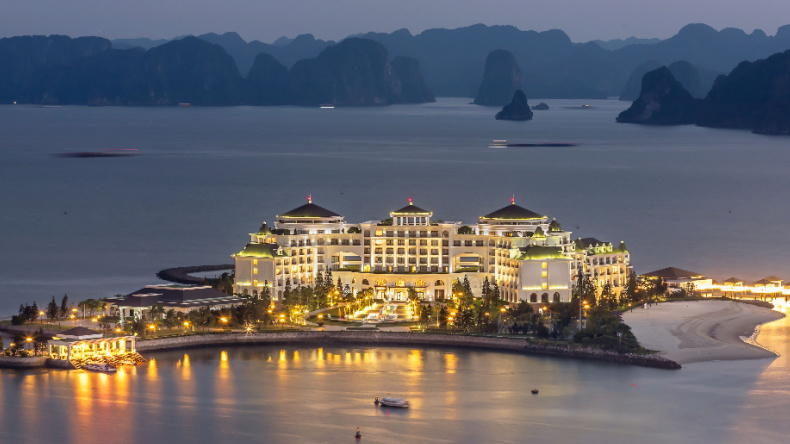 Vinpearl Resort & Spa Hạ Long - The only 5-star resort in Halong area!

6. Stay overnight on a cruise ship
A trip to Halong Bay cannot be completed without its most fascinating activity which is sleeping on a cruise. You can choose either 1 night or 2 nights onboard.
Apart from an indulgent night's sleep, an overnight cruise offers you a lot of fun-filled night entertainment such as playing board games, night squid fishing, singing karaoke, watching movie night, and so on. In the early morning, there is a tai chi or yoga session on deck before breakfast.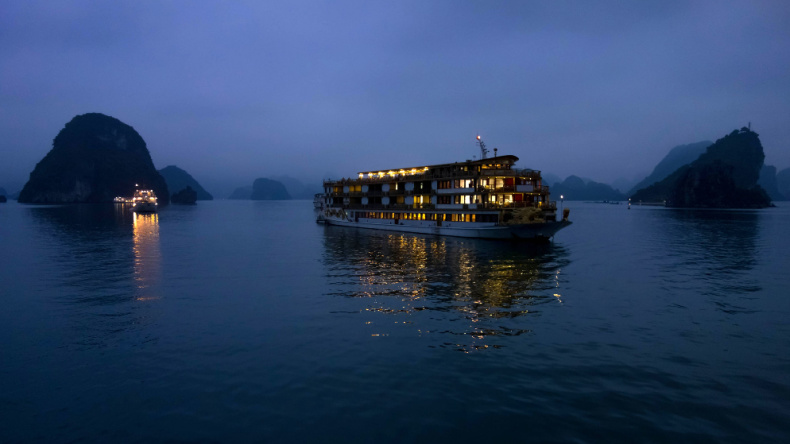 Overnight cruises docking near Ti Top Island

7. Take part in extreme sports (rock climbing, kite surfing, water motor riding)
Halong Bay boasts a treasure trove of adventure experiences for seasoned travelers. You can seek the thrills of exotic excursions while exploring hidden lagoons and mysterious caves on a kayak boat, climb dangerous rock formations, or pump up for parasailing. Apart from that, taking a trek through dense jungles is an ideal adventure for wild nature lovers. Those adventurous options allow you to discover Halong Bay in your own way.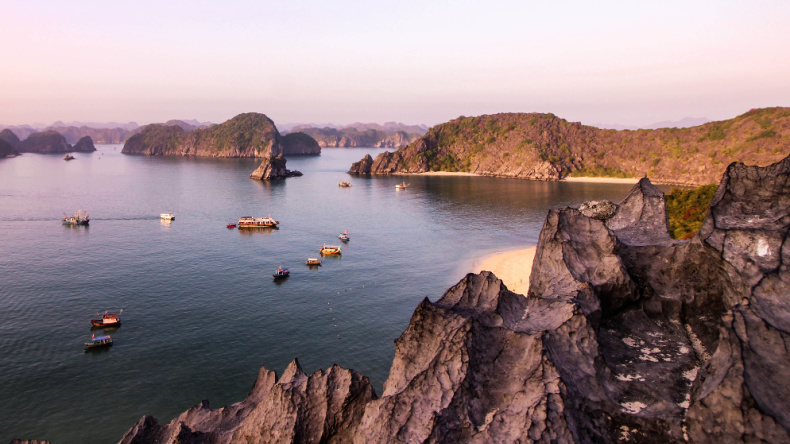 Halong formations are suitable for rock climbing activities

8. Take a day cruise
Embarking on a day cruise is a great option if you are pressed for time but still want to capture the splendor of Halong Bay. Day cruises on Halong Bay are numerous with different traveling time (4 - 8 hours). Those cruises follow 5 main routes to famous tourist sites on Halong Bay, Lan Ha Bay, and Bai Tu Long Bay. Route 2 to Thien Cung cave - Dau Go - Dinh Huong - Fighting Cock islet - Sung Sot cave - Titop island is the most popular one.
Highly recommended day cruises on Halong Bay that you should take into consideration are Jade Sails cruise, Genesis Day cruise, Estella Premium Day cruise, Paradise Luxury Day cruise, and so on.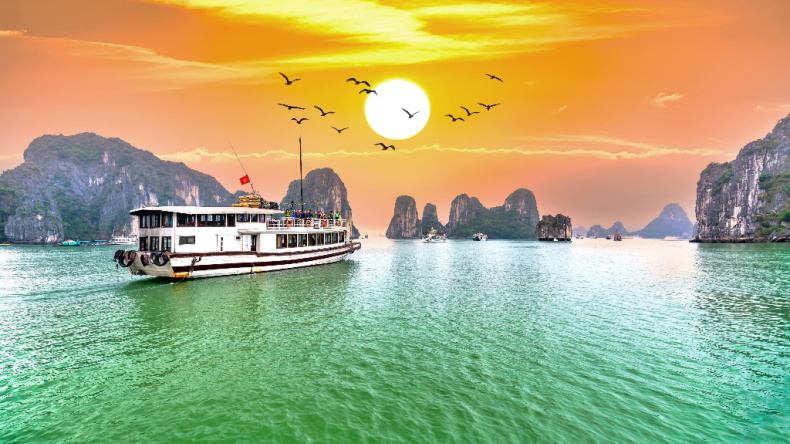 Small day boat cruising around Halong bay!

9. Explore Sun World Halong Park
Sun World Halong Park is renowned as a world-class amusement complex in northern Vietnam where regardless of your preferences, you will definitely get entertained. The park can be visited year-round but best to come between May to September.
The park is located in the city center, a short walk from the Bai Chay area. It includes three major areas: Queen Cable Car & Mystic Mountain, Dragon Park, and Typhoon Water Park. Here you can engage in multiple water-based activities, thrilling games with distinct difficulty levels, and extreme feelings such as Mystery Journey, Cyclone Dance, or Reptile Army. The ticket prices vary from 750.000 - VND 550.000 full combo per adult or child above 1.3m and child below 1.3m respectively.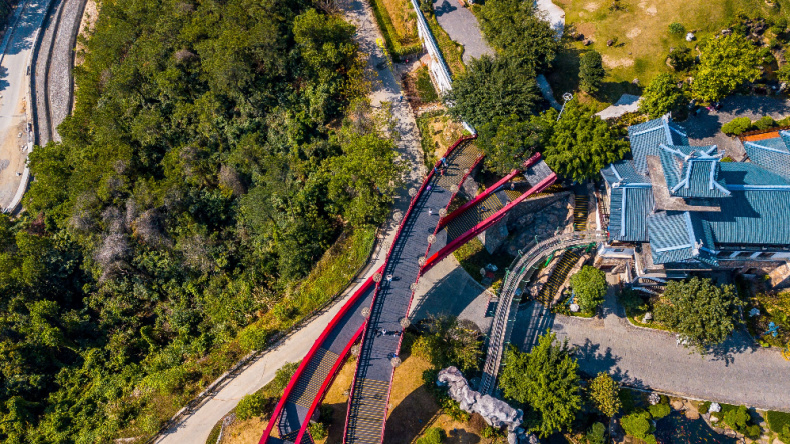 Sunworld Halong Complex

10. Play at King Kong amusement park on Tuan Chau Island
Tuan Chau Island is a precious pearl of Quang Ninh province possessing Tuan Chau Park or King Kong Park - a large entertainment venue. The highlights of the park are exciting games such as slides, fairy trains, spinning wheels, and roller coasters. More interestingly, in this water park, you have an opportunity to watch great performances of dolphins and seals.
With a long and beautiful coastline, Tuan Chau beach is also a good spot for swimming, relaxing, kayaking, windsurfing, and jet-skiing. Additionally, if you prefer golf, there is an international-standard golf course including 27 holes on this island.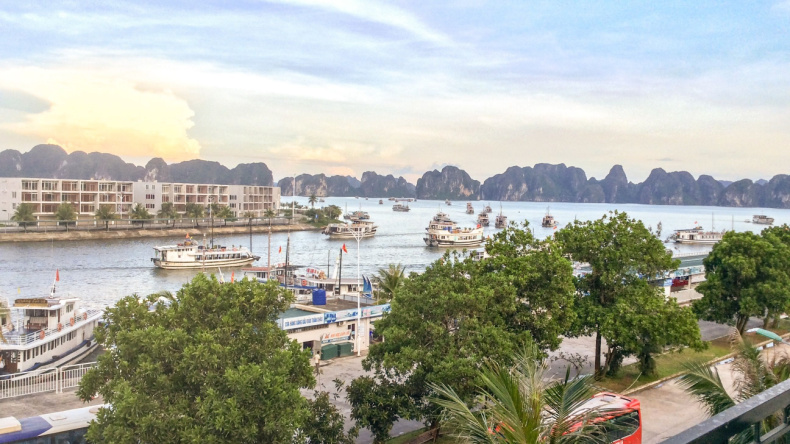 Tuan Chau Island, Halong Bay

11. Watch Water Music Show on Tuan Chau Island
Watching the Water Music show is one of the most exciting night activities when you visit Tuan Chau Island, which is a 30-minute transfer from the mainland. The show lasts 40 minutes comprising many impressive music performances shaped by water and fire under vivid lights.
The show has a large scale accommodating up to 12.000 seats. The entrance ticket prices vary from VND 30.000 to VND 250.000/per person depending on the position.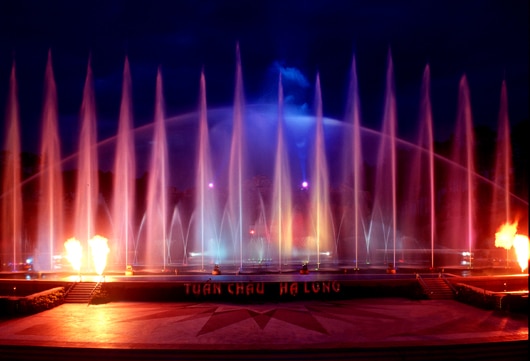 Water music show in Tuan Chau island (Photo: Dulichkhatvongviet.com)

12. Wander around Halong night market
One of the best ways to soak up the local atmosphere is to take a leisure walk around the Halong night market. This is a complex of over 300 stalls where you can find almost everything from clothes, and souvenirs to local dishes. The best part of this market is perhaps to sample local specialties namely grilled chopped squid, horseshoe crab, and nodding cake.
The night market boasts a vibrant atmosphere and is quite safe but you should still pay attention to personal properties. Besides, do not forget to bargain to get better prices for items.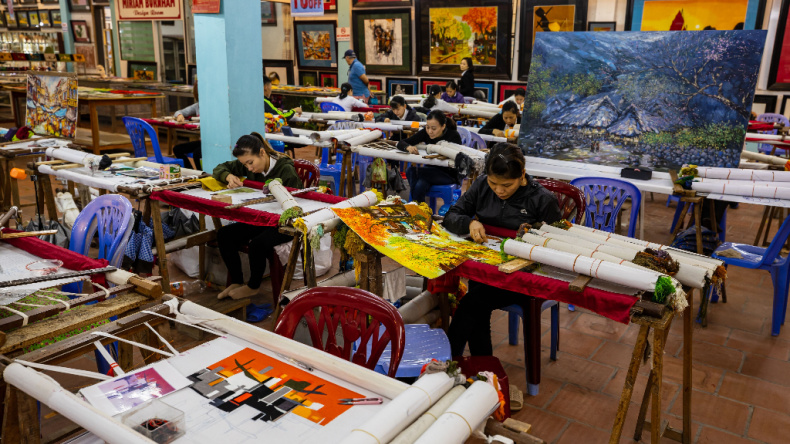 Art crafts inside Halong market

13. Sample local seafood and specialties
Halong is regarded as a primary destination for fresh seafood and a diverse range of special local cuisine. It is best known for "cha muc" (grilled chopped seafood) which can be found in any local market, "sam" (horseshoe crab), oyster, "ngan" (austriella corrugata), and more. What's more, you can also have a chance to try exotic dishes like nodding cake, "sa sung" (sipunculus nudus), or delicious Halong yogurt.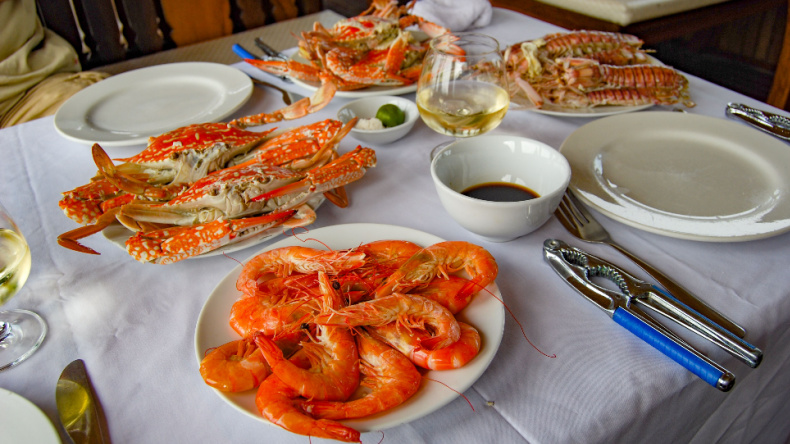 Seafood in Halong bay

14. Visit Quang Ninh Museum
Quang Ninh museum is a favorite place of interest if you are a culture vulture or do not enjoy outdoor activities. The museum boasts a unique black exterior modeled after coal, a unique feature of Quang Ninh province.
The museum comprises three floors. The ground floor showcases exhibitions of the sea and nature. The second floor is home to artifacts and archeological objects and the third floor is for historical values of the coal mining industry. The museum opens from 8 am to 5 pm Tuesday to Sunday. The price ticket is only VND 40.000/ adult and VND 10.000/ child.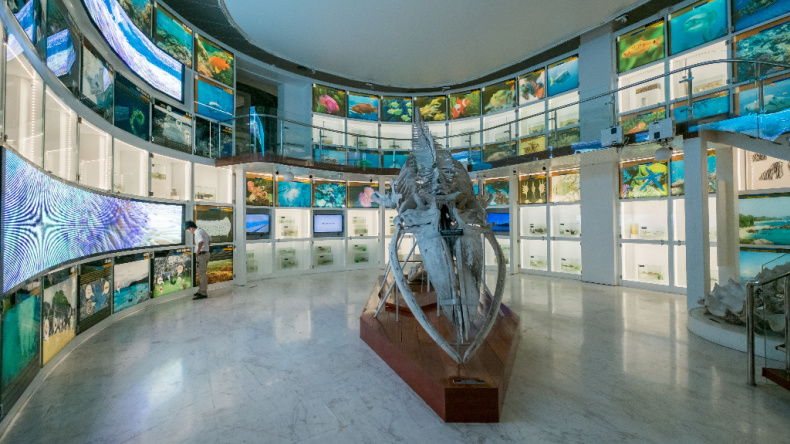 Quang Ninh Museum

15. Visit 3D Funny Art Halong museum
3D Funny Art Halong museum is another great option for museum enthusiasts. It is located inside the Marine Plaza shopping center in Halong City.
The museum consists of various exquisite and vivid exhibitions with different themes such as Parody, Aquarium, Adventure, and animals. Families with children are particularly keen on visiting this attraction to take photos and enjoy the exhibitions. The ticket price is around VND 80.000/ person.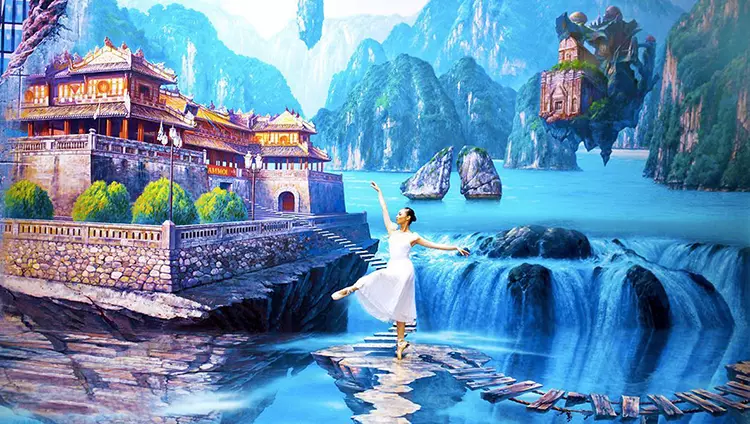 3D Art Halong Museum (Photo: Luxstay.vn)

16. Take part in teambuilding activities on Bai Chay beach
The man-made Bai Chay beach is a tourist-friendly beach in close proximity of Halong Bay coast. Numerous accommodations and recreational amenities have been built around the beach making it a favorite destination particularly for teambuilding activities.
Coming there, not only can you swim in cool water, but also join various activities like surfing, biking, and drinking. Moreover, sampling seafood and great cuisines in nearby restaurants is a great choice for you and your team.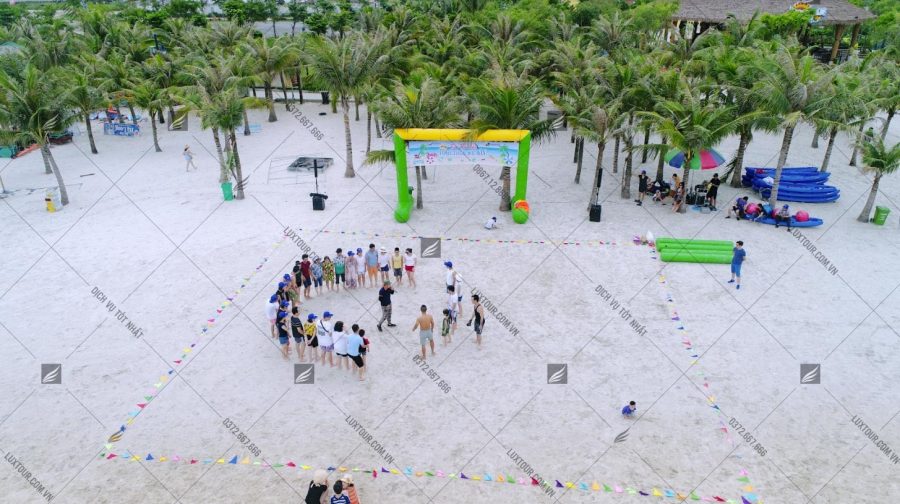 Teambuilding acivities at Bai Chay beach (Photo: Luxtour.com.vn)

17. Check in Bai Chay bridge
The cable-stayed Bai Chay bridge is the symbol of the modernity and fast-paced development of Halong city and Quang Ninh province. Thus, you should not miss a chance to take stunning photos of this bridge when the lights turn on.
The bridge is measured 435m long connecting Hon Gai and Bai Chay areas on Highway 18. With its impressive design, Bai Chay bridge is a well-known check-in spot for tourists and local people there.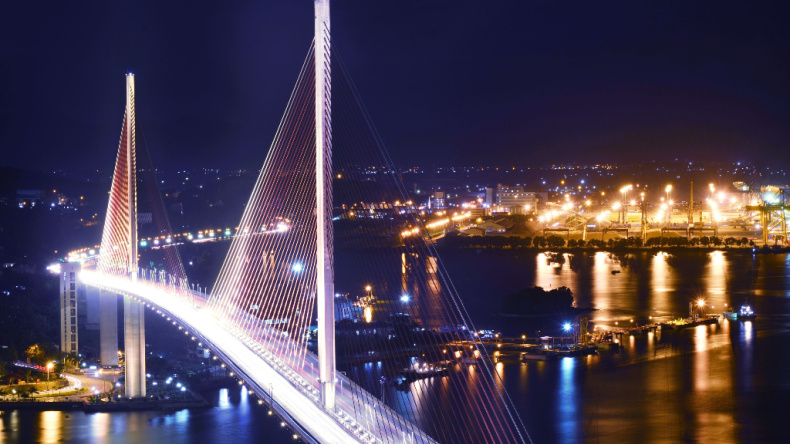 Beautiful Bai Chay Bridge at Night

18. Visit Ba Vang pagoda
Located in the west of Uong Bi city, Ba Vang pagoda has a long-lasting history dating back to the reign of King Le Du Tong in 1676. Covering a large area, Ba Vang pagoda plays a crucial role in Vietnam's religion and attracts thousands of pilgrims every year.
The most notable feature of the pagoda is its internal three-door gate alongside an extensive collection of wooden statues and valuable antiques. The most ideal time to visit Ba Vang pagoda is during the first lunar month as it falls in the festival time with a lot of bustling activities.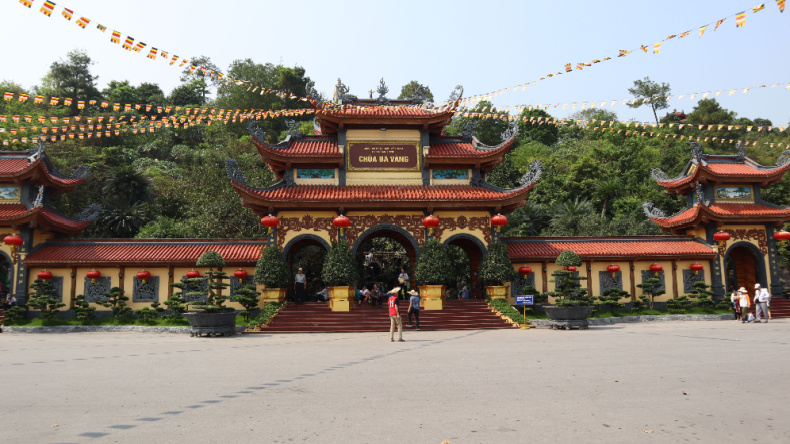 Ba Vang Pagoda, Quang Ninh (Photo by nhatminhcapital via Shuttlestock)

19. Visit the Complex of Yen Tu Monuments and Landscapes
If you seek integration of history, religion, and nature, the ultimate option is the Complex of Yen Tu Monuments and Landscapes. The site is also one of the most famous religious attractions of Vietnam. Within the complex, there are a number of major attractions namely Truc Lam Yen Tu Zen Monastery, Dong Pagoda, Giai Oan Spring, Yen Tu national forest, and other Buddhist sanctuaries. Additionally, Yen Tu mountain features a primary destination for hikers to trek to the top and admire panoramic landscapes.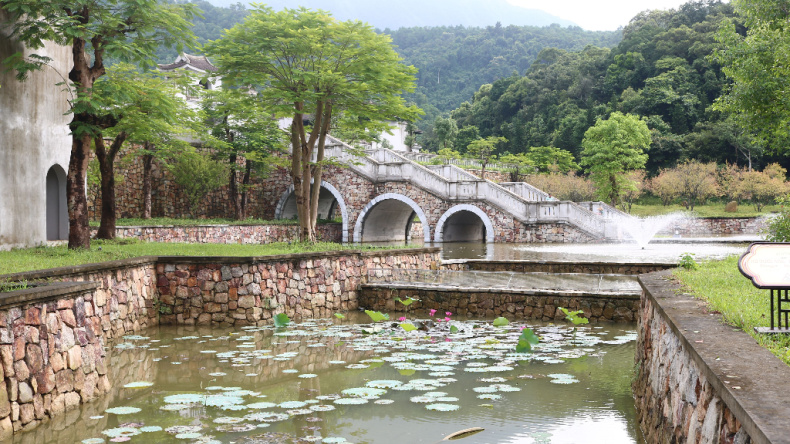 Yen Tu Mountain Landscapes

20. Dine out in Cua Vang restaurant
With a prime location on 32 Phan Chu Trinh street, Bai Chay ward, Halong City, Cua Vang restaurant is one of the most luxurious restaurants in the city. This great dining venue can cater to a large number of guests (250 guests). The restaurant comprises 3 floors over an area of 350 sqm. Here you can find an extensive menu of fresh seafood and special dishes cooked in wooden pots.
Location: 32 Phan Chu Trinh street, Bai Chay ward, Halong City
Opening hours: 10 am - 10 pm
Tel: 0203 826 274
Price: from VND 500.000 per person
Website: Facebook Page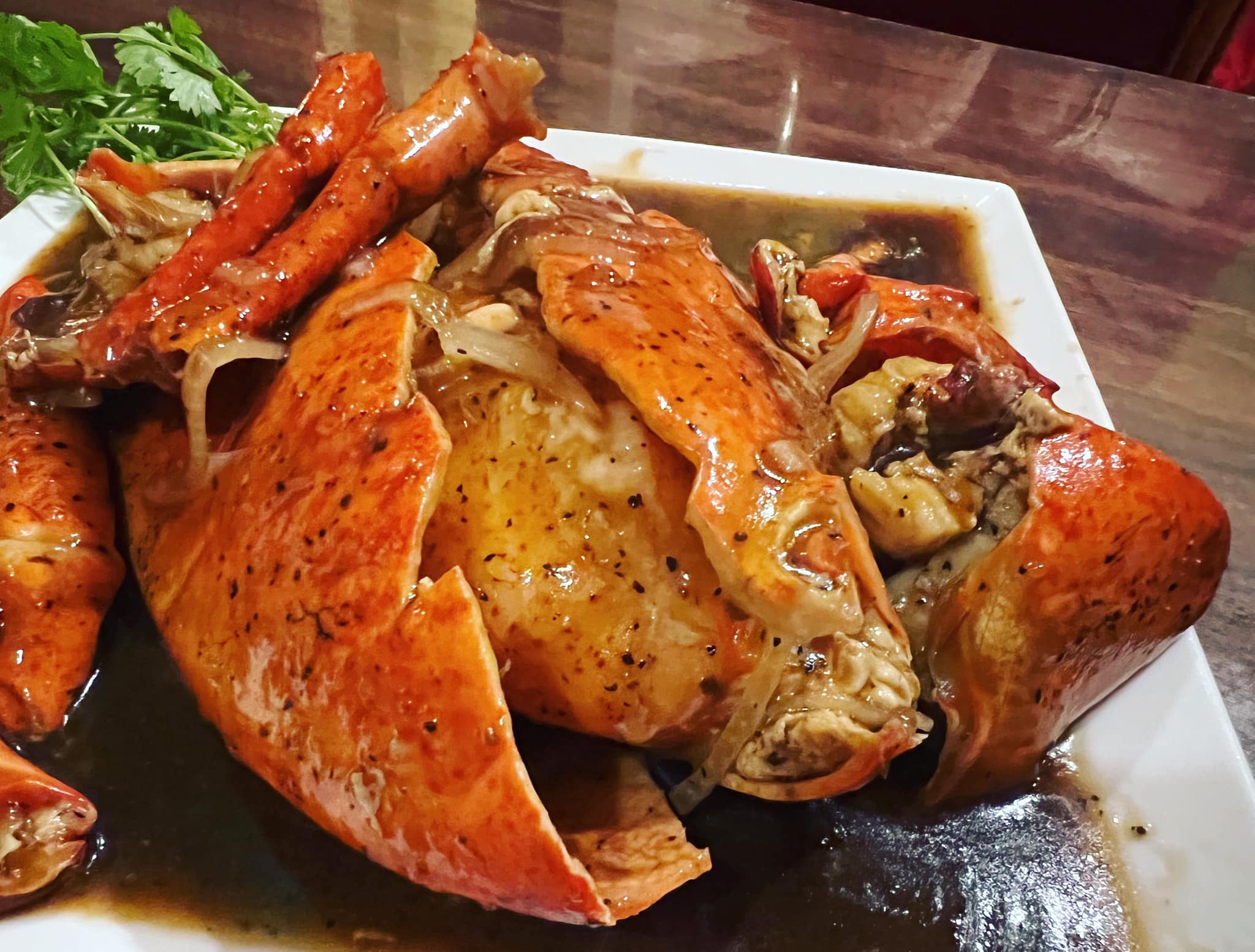 Cua Vang Restaurant - One of the best seafood restaurants in Halong bay area!

21. Swim on primitive beaches
Blessed with pristine beaches, Halong Bay is an ideal place for swimming and sunbathing. The beaches are surrounded by limestone islands resulting in calm waves and a refreshing atmosphere.
Some of the best locations for swimming on Halong Bay are Ba Trai Dao beach, Titop beach, Cat Co beach 1, 2, 3 and Soi Sim beach. However, those beaches can sometimes be overcrowded, especially during peak tourist season.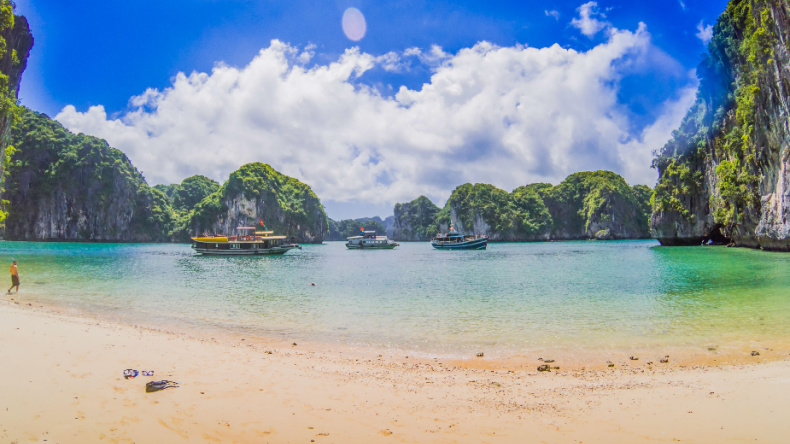 22. Visit Halong Flower Park
Located on Le Thanh Tong street, Bach Dang ward, Halong city, Halong Flower Park is a favorite attraction for both locals and tourists coming for leisure activities. Spreading over a large area, the park has a lot of features such as a central flower square area, a reserved area, and a place for outdoor fitness and sport.
Halong Flower Park attracts visitors most in the afternoon to watch the sunset, do exercise, and take beautiful photos. The park is free of charge and opens all day.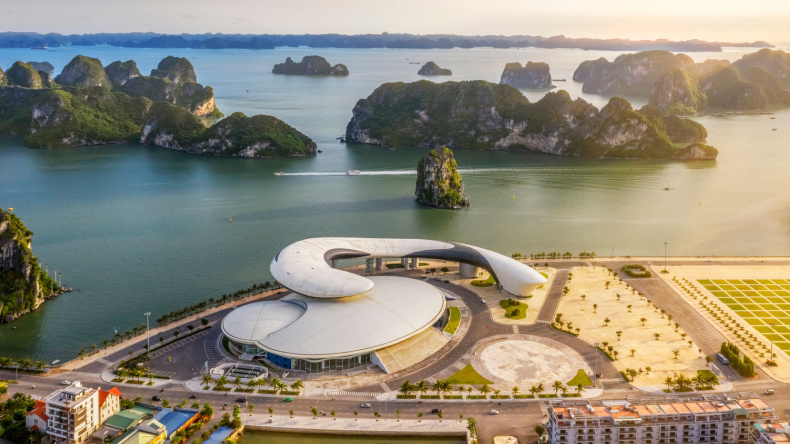 Halong city

23. Explore Cat Ba island
Along with Halong Bay, Cat Ba Island is a hidden gem witnessing a surge of visitors, especially nature lovers in recent years. The vast majority of the island is Cat Ba national park which hosts a plethora of dense jungles, rich fauna and flora system, and a variety of wild species. An excursion to Cat Ba Island may bring you a chance to see golden-headed langur, an endemic species.
It is ideal to visit Halong Bay and then take a high-speed ferry to Cat Ba Island. Here you can take part in a number of activities like swimming, kayaking, snorkeling, trekking, and rock climbing.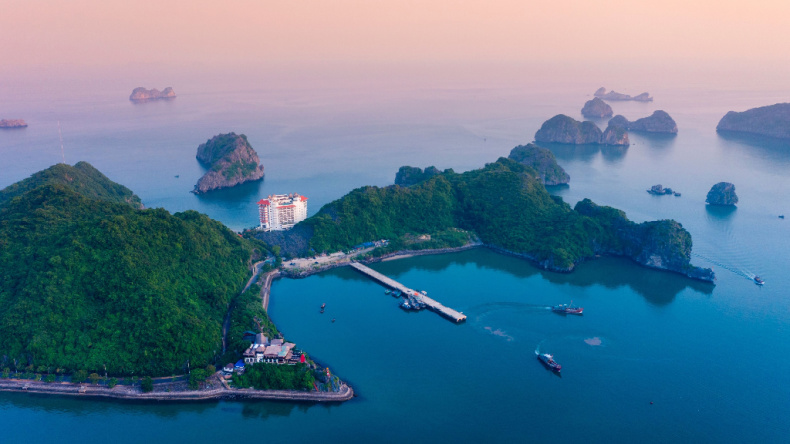 Cat Ba Island from above

24. Take a snorkeling or scuba diving tour
Snorkeling or scuba diving is one of the most fabulous underwater activities on Halong Bay that you should not miss. The bay's emerald water is bestowed with stupendous marine life. You can find hundreds of coral reefs and sea creatures contributing to the rich sea biodiversity.
Snorkeling and scuba diving tours are best to be enjoyed in Cat Ba island, Lan Ha Bay, Cong Do area, Vung Ha island, and Co To island. You can combine a snorkeling/ scuba diving tour with a stay in a rustic-style resort on Cat Ba island.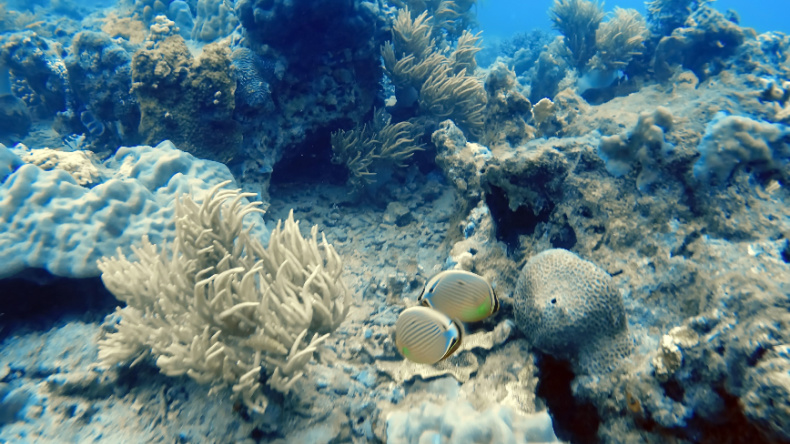 25. Watch the sunset at Cannon Fort
Cannot Fort, a historical area on Cat Ba Island is a well-known spot for admiring the sunset. The site is set on a hill with a height of 177m. As you take a 30-minute hike through the narrow jungle trail to Cannot Fort, a breathtaking panoramic view of Cat Ba Island will pay off. Incredible views asides, you will have a glance at a former war zone and its remnants. The entrance fee is VND 40.000 per person.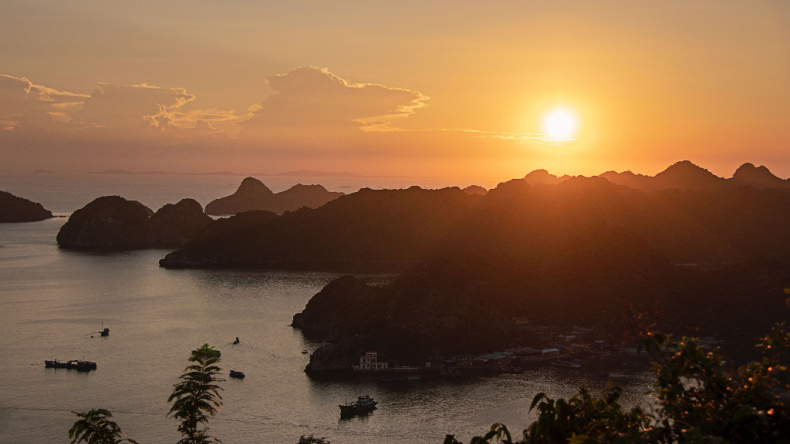 Sunset view from Cannon Fort, Cat Ba Island

26. Climb Bai Tho mountain
Climbing Bai Tho mountain, the mountain of poetry and mystery, you will be overwhelmed by mind-blowing scenery. The peak of Bai Tho mountain is in fact a prominent attraction for hikers to enjoy the city's panoramic views. With a height of 200 meters, you can easily reach the peak within one hour. Make sure you carry essential items for mountain climbing and a good camera to capture the incredible views of Halong Bay.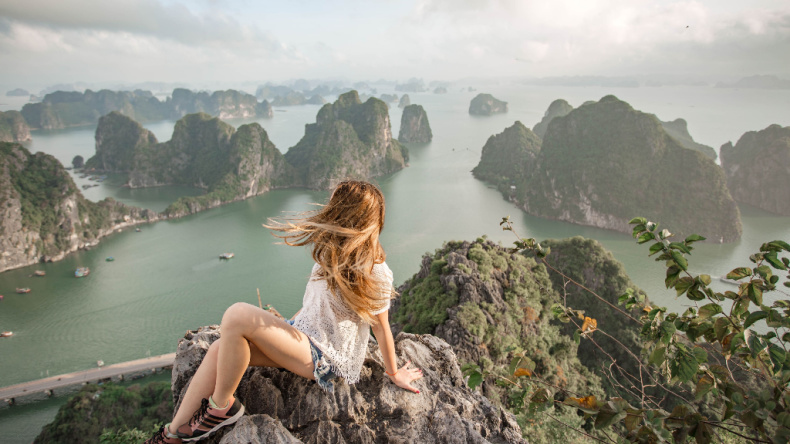 Halong bay view from Bai Tho Mountain

Questions and Answers
(0)
Be the first to ask a question on this page
READ THIS NEXT
Vietnamese New Year is known as Tet, Tet Nguyen Dan, or Lunar New Year in Vietnam. It is the most …
Read more
Hanoi Old Quarter has long been known as the historical and cultural hub in the heart of Hanoi Capital.
Read more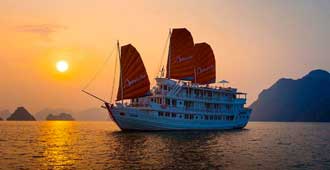 Discover the charming and exotic landscapes of Halong bay on an all-inclusive luxury cruise!
Meet local experts
Need to create your own Halong bay trip?
Call us now: +84 987 24 6600 (Whatsapp)
Customize Your Tour
QUESTION FORUM:
Halong Bay: Questions